What is the worst thing you can give a person with a Lego addiction. A punch card that states if you buy 10 Lego minifigures you get one free. The boys got theirs and I got this little cutie. Three punches down, seven to go!!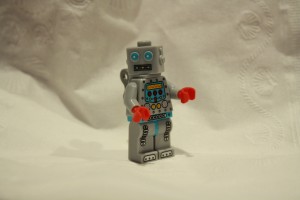 Grayson Manor Haunting (Addison Lockhart Series, Book One)
Cheryl Bradshaw

(54 Reviews)
Genre: Horror | Mystery, Thriller & Suspense
FREE for a limited time
When Addison Lockhart inherits Grayson Manor after her mother's untimely death, she unlocks a secret that's been kept hidden for over fifty years. For Addison, it seems like she's finally found the house of her dreams…until the spirit of Roxanne "Roxy" Rafferty comes to call. Who is Roxanne, why is she haunting Grayson Manor, and how will Addison's connection reveal a key to her own past that she thought no longer existed?
Click here to get this book for FREE
(also available from Amazon. CO.UK  DE  FR  IT  ES  CA )
° ° ° ° ° ° ° ° ° ° ° ° ° °
Cutter (Gail McCarthy Mystery series)
Laura Crum


(23 Reviews)
Genre: Contemporary Fiction | Mystery, Thriller & Suspense
FREE for a limited time
Western horse themed mystery series featuring an equine veterinarian.When veterinarian Gail McCarthy finds a horse trainer dead at the bottom of a gully, she finds no shortage of suspects among the hostile girlfriends, angry horse owners, and legendary rivals he left behind.This is the first book in the Gail McCarthy mystery series.
Click here to get this book for FREE
(also available from Amazon. CO.UK  DE  IT  ES  CA )
° ° ° ° ° ° ° ° ° ° ° ° ° °
Promise of Departure
LW Montgomery


(14 Reviews)
Genre: Literary Fiction
FREE for a limited time
Facing divorce, a broken mechanic packs his motorcycle and heads to Haiti to repair his own crumbling life.
My dearest little Maggie,
I'm sorry in ways you may never understand. Please know that I never wanted to leave you….
It wasn't the traditional birthday letter Greg had written his daughter four times before. But traditions, like everything else, had utterly unraveled.
Adrift in a workaday society he no longer recognizes, Greg is rattled in unexpected ways by the heartbreak in Haiti that clear January morning when he spots an unusual opportunity in the looped nightly news, something he can do – a small way he just might be able to help.
Click here to get this book for FREE
(also available from Amazon. CO.UK  DE  FR  IT  ES  CA )
° ° ° ° ° ° ° ° ° ° ° ° ° °
Cherry Cobbler – Book 2 of the Blackberry County Chronicles
JoHannah Reardon


(19 Reviews)
Genre: Religious Fiction | Romance | Religion & Spirituality
FREE for a limited time
Quirky, funny, lighthearted Cherry is starting to panic. She's pushing 30 and has a bit of a weight problem. But most of all, she is looking for love in all the wrong places. For her, the wrong place is thinking she could handle missionary life with a young Indiana Jones look alike. Her complete failure to understand herself unfolds as she realizes the treasure she has been missing is right under her nose.
Click here to get this book for FREE
(also available from Amazon. CO.UK  DE  FR  IT  ES  CA )
° ° ° ° ° ° ° ° ° ° ° ° ° °
Flings and Arrows
Debbie Viggiano


(7 Reviews)
Genre: Humor | Romance
FREE for a limited time
Steph Garvey has been married to husband Si for 24 years. Steph thought they were soulmates. Until recently. Surely one's soulmate shouldn't put Chelsea FC before her? Or boycott caressing her to fondle the remote control? Fed up, Steph uses her Tesco staff discount to buy a laptop. Her friends all talk about Facebook. It's time to get networking.
Si is worried about middle-age spread and money. Being a self-employed plumber isn't easy in recession. He's also aware things aren't right with Steph. But Si has forgotten the art of romance. Although these days Steph prefers cuddling her laptop to him. Then Si's luck changes work wise. A mate invites Si to partner up on a pub refurbishment contract.
Son Tom has finished Sixth Form. Tom knows where he's going regarding a career. He's not quite so sure where he's going regarding women and lurches from one frantic love affair to the next.
Widowed neighbour June adores the Garveys as if her own kin. And although 70, she's still up for romance. June thinks she's struck gold when she meets salsa squeeze Harry. He has a big house and bigger pension – key factors when you've survived a winter using your dog as a hot water bottle. June is vaguely aware that she's attracted the attention of fellow dog walker Arnold, but her eyes are firmly on Harry as 'the catch'.
But then Cupid's arrow misfires causing madness and mayhem. Steph rekindles a childhood crush with Barry Hastings; Si unwittingly finds himself being seduced by barmaid Dawn; June discovers Harry is more than hot to trot; and Tom's latest strumpet impacts on all of them. Will Cupid's arrow strike again and, more importantly, strike correctly? There's only one way to find out….
Click here to get this book for FREE
(also available from Amazon. CO.UK  DE  FR  IT  ES  CA )
° ° ° ° ° ° ° ° ° ° ° ° ° °
Fallen Autumn
MH Marguerite


(11 Reviews)
Genre: World Literature | Fantasy | Teen & Young Adult
FREE for a limited time
Fourteen year old Petra is an average teenager until her life is suddenly turned upside down when the trees in the forest plead for her help.Shortly thereafter, Petra learns from her grandmother that she will die in a matter of weeks if she does not realize and fulfill a particular quest determined before her birth.She seeks help from her best friend Ty, and even comes to rely on her arch nemesis, Isabel, while discovering her true destiny.
Filled with sentient animals, Greek and Native American mythology as well as determined gnomes, Fallen Autumn follows Petra's urgent search for answers to pursue this journey, her utter dismay discovering who—and what—she really is and the gauntlet of turmoil endured by the one being she is spiritually connected to.She must save this one life if she wishes to save herself—and ultimately, the entire world—from complete annihilation.
Click here to get this book for FREE
(also available from Amazon. CO.UK  DE  FR  IT  ES  CA )
° ° ° ° ° ° ° ° ° ° ° ° ° °
AVAILABLE FOR $3.99
The Sisterhood
Helen Bryan


(850 Reviews)
Genre: Family Saga | Historical Fiction | Contemporary Fiction | Women's Fiction
Menina Walker was a child of fortune. Rescued after a hurricane in South America, doomed to a life of poverty with a swallow medal as her only legacy, the orphaned toddler was adopted by an American family and taken to a new life.
As a beautiful, intelligent woman of nineteen, she is in love, engaged, and excited about the future—until another traumatic event shatters her dreams. Menina flees to Spain to bury her misery in research for her college thesis about a sixteenth-century artist who signed his works with the image of a swallow—the same image as the one on Menina's medal.
But a mugging strands Menina in a musty, isolated Spanish convent. Exploring her surroundings, she discovers the epic sagas of five orphan girls who were hidden from the Spanish Inquisition and received help escaping to the New World. Is Menina's medal a link to them, or to her own past? Did coincidence lead her to the convent, or fate?
Both love story and historical thriller, The Sisterhood is an emotionally charged ride across continents and centuries.
Click here to get this book for $3.99
(also available from Amazon. CO.UK  IT  ES  CA )
° ° ° ° ° ° ° ° ° ° ° ° ° °