How about we just have a little chicken humor?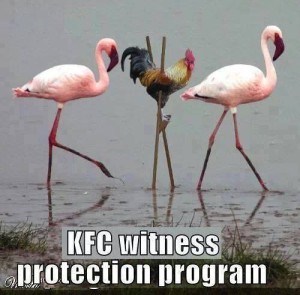 The Dragon Beshrewed – Illustrated (Tatterwing Book 1)
M.M. Stauffer

(13 Reviews)
Genre: Horror | Fantasy
FREE for a limited time
It's common enough for a book of dragons to center on a young wizard harnessing his power, or a knightly lad (usually a farmhand) learning to vanquish evil. The Merlins and Arthurs, if you will. Too rarely do we get to glimpse the other side of the coin. The Madam Mims and Morgan le Fays certainly had their own humble beginnings, but those stories are seldom told. Those climbs to power are somehow neglected.
But within the pages of The Tatterwing Chronicles you'll find such a story. A story of a young girl taking her first steps to becoming a notorious witch known as Tatterwing. A story of her rise to power, her flirtation with the darkness, and her tendency to ride the line between hero and villain as the odds stack against her.
Book one finds young Medo as a child of thirteen living deep in the bowels of the swamp, before she's seen the outside world. Before anyone has heard her name.
Click here to get this book for FREE
° ° ° ° ° ° ° ° ° ° ° ° ° °
Wild Game (Book One of The Game Trilogy 1)
Blayne Davis


(11 Reviews)
Genre: Action & Adventure | Mystery, Thriller & Suspense
FREE for a limited time
A backstage pass into a world you never knew existed. Inside a ruthlessly played game that will leave you speechless.
Behind modern glass doors, high above the streets of Manhattan, an underground operation works around the clock. The Ivy League boys wearing pinstriped suits are discreetly siphoning off millions in the world's gambling markets. Their information is brilliant and their execution is flawless, as they plunder the world of sports betting.
An unlikely betrayal sets off a chain reaction that puts the AQSR Group on the radar of the FBI and international police. Investigators and prosecutors start to unravel a sophisticated conspiracy that shocks to the core. They have the case of a lifetime and won't stop until they get what they want. But they've met their match with opponents equally determined not to get caught.
A story with twists and turns that cut deep into the secret lives of men playing a game that none can afford to lose. This high-stakes thriller will keep you in suspense as you crisscross the globe in luxurious settings from Nassau to Macau.
Click here to get this book for FREE
° ° ° ° ° ° ° ° ° ° ° ° ° °
Trees In The Wind: And Two Other Very Short Stories (Flash Fiction)
Inge Moore


(2 Reviews)
Genre: Women's Fiction | Contemporary Fiction | Mystery, Thriller & Suspense
FREE for a limited time
Trees in The Wind, and Two Other Very Short Stories (Flash Fiction) is a collection of three pieces of flash fiction based on the following ideas:
1. Trees In The Wind: Did you have a childhood friend who later vanished from your life? Have you ever wondered what became of him or her?
2. Our Country: What if some people's predictions came to be…?
3. The Star Dollars: The Star Dollars or Die Sternentaler (German) is a German fairy tale collected by the Brothers Grimm in Grimm's Fairy Tales.
Just suppose a little girl fell in love with this delightful tale, especially the illustration at the end, with the beautiful stars falling into the main character's lap. Then what if she lived her life according to this story's motto?
Click here to get this book for FREE
° ° ° ° ° ° ° ° ° ° ° ° ° °
Jordan's War – 1861
B.K. Birch


(2 Reviews)
Genre: Literary Fiction | Historical Fiction | Teen & Young Adult
FREE for a limited time
Behind official historical documents and studied texts, there are countless families whose lives were forever altered by atrocities and ruthlessness of war. Jordan's War is the story of Jordan Sinclair, a twelve-year-old boy whose family endures and eventually triumphs during one of the most turbulent times in American history.
Virginia has seceded from the Union. The Civil War has begun. With no slaves in the region, the Sinclair family attempt to carry on as if nothing has changed. But even with their isolation from the battlefields, they cannot sustain neutrality as Jordan's cousins and neighbors answer the Confederate call to arms. The harder they try not to align themselves to either side, the more the conflict is thrust upon them.
In all of this confusion, Jordan learns that family loyalties can either save their lives or get them all killed as lawlessness thrives and peace is a distant dream.
Click here to get this book for FREE
° ° ° ° ° ° ° ° ° ° ° ° ° °
Trash To Treasure: 30 Crafts That Takes Old Junk & Turns It Into Usable Stuff You Will Love!
Kitty Moore


(11 Reviews)
Genre: Crafts, Hobbies & Home
FREE for a limited time
From the Best Selling Arts & Crafts Writer, Kitty Moore, comes . This book will improve your creativity, craft skills, and expand your repertoire of design capabilities.
If you are struggling with creative ideas, If you want to show off your craftiness, Or if the idea of receiving a full list of ready-to-go crafts appeals to you…THEN THIS BOOK IS FOR YOU!
This book provides you with a step-by-step guide to create your very own arts and crafts items! Are you ready to experience crafts at a whole new level? Some of the crafts you will receive in this book include:
Craft 1 Dresser Into Towel or Fabric Storage
Craft 2 Dresser Into A Bathroom Vanity
Craft 3 Dresser Into A Bookcase
Craft 4 Dresser Into A Television Cabinet
Craft 5 Dresser Into A Child's Toy Bench
Craft 6 Dresser Into A Wine Bar
Craft 7 Dresser Into A Child's Dress-up Box
Craft 8 Dresser Into A Kitchen Island
Craft 9 Dresser Into A Pet Bed
Craft 10 Dresser Into A Shoe Cabinet
Craft 11 Drawer Into A Bookcase
Craft 12 Drawer Into A Raised Storage Box
Craft 13 Drawer Into An Ottoman
Craft 14 Drawer Into A Planter Box
Craft 15 Drawer Into A Nesting Box
Craft 16 Drawer Into Under Bed Storage
Craft 17 Drawer Shadow Box
Craft 18 Drawer Into Bathroom Storage
Craft 19 Drawer Communication Center
Craft 20 Drawers Make A Cat Playground
Craft 21 Old Sweater Into Warm Mittens
Craft 22 Skateboard Headboard
Craft 23 Tire Into An Ottoman
Craft 24 Iron Fence Makes A Side Table
Craft 25 Drop Cloth Patio Curtains
Craft 26 Canning Jar Patio Lanterns
Craft 27 Pallet Porch
Craft 28 Bench From Old Chairs
Craft 29 Wooden Chest Home Office
Craft 30 Arbor From Old Doors
Click here to get this book for FREE
° ° ° ° ° ° ° ° ° ° ° ° ° °