Hey Guys! They wrote something on me. Can you see what they wrote? Guys!!??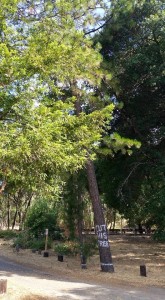 Saving Forever – Part 1: A Romantic Love Story
Lexy Timms


(128 Reviews)
Genre: Sagas | Romance
FREE for a limited time
Sometimes the heart needs a different kind of saving… find out if Charity Thompson will find a way of saving forever in this hospital setting Best-Selling Romance by Lexy Timms
Charity Thompson wants to save the world, one hospital at a time. Instead of finishing med school to become a doctor, she chooses a different path and raises money for hospitals – new wings, equipment, whatever they need. Except there is one hospital she would be happy to never set foot in again–her fathers. So of course he hires her to create a gala for his sixty-fifth birthday. Charity can't say no. Now she is working in the one place she doesn't want to be. Except she's attracted to Dr. Elijah Bennet, the handsome playboy chief.
Will she ever prove to her father that's she's more than a med school dropout? Or will her attraction to Elijah keep her from repairing the one thing she desperately wants to fix?
** This is NOT Erotica. It's Romance and a love story. **
* This isPart 1 of a Five book Romance Series. It does end on a cliffhanger*
Click here to get this book for FREE
° ° ° ° ° ° ° ° ° ° ° ° ° °
Pit of Vipers (Sons of Kings Book 2)
Millie Thom


(5 Reviews)
Genre: Action & Adventure | Historical Fiction
FREE for a limited time
In Pit of Vipers, the second book in the Sons of Kings trilogy, the lives of Alfred of Wessex and Eadwulf of Mercia continue to unfold against the ever increasing threat of Danish raids. Now back in his homeland, Eadwulf sets out on his determined quest for revenge, whilst Alfred's leadership skills develop at the courts of his successive brothers. Before long, those skills will be put to the test… The Danes' invasion of the Anglo-Saxon kingdoms in 865 is merciless and relentless. Every year more Norse ships come to join their comrades in a quest to plunder for wealth and gain domination over the people. The Wessex king is now Aethelred, Alfred's last surviving brother, and Alfred becomes his trusted second-in-command. Whilst the Danes take kingdom after kingdom, Alfred and Aehelred wait with baited breath for them to set their sights on Wessex. By 869 their worst fear is realised. In the meantime, Eadwulf follows leads to the objects of his revenge.
Click here to get this book for FREE
° ° ° ° ° ° ° ° ° ° ° ° ° °
To My Sons: Lessons for the Wild Adventure Called Life
Bear Grylls


(94 Reviews)
Genre: Religion & Spirituality
FREE for a limited time
This humorously illustrated book is a collection of wisdom that renowned adventurer Bear Grylls wants to share with his sons about the risks, tumbles, and victories of a well-lived life. Mountain climber, world-record holder, and internationally known television personality Grylls knows a thing or two about adventure. The greatest adventure he's experienced, though, is raising his three boys. In To My Sons, Grylls shares the quotes, Scripture verses, and spiritual wisdom he has learned through the literal ups and downs of an exciting life. Featuring cartoons from well-known sketch artist Charlie Mackesy, this book is a poignant primer for boys and men of all ages.
Click here to get this book for FREE
° ° ° ° ° ° ° ° ° ° ° ° ° °
Just Compensation: A Lucas Wade Western
Raylan McCrae


(10 Reviews)
Genre: Westerns
FREE for a limited time
When a town comes under attack by a greedy, land grabbing relic of the past, lawman Lucas Wade comes to seek Just Compensation. Wade uses tough talk, a quick draw, and a deadly aim to draw the line between right and wrong. His attempt to get justice for those who can't find it for themselves will be clouded by a past love, her jealous husband, and a new taboo infatuation. Can even a hard man like Wade face down a series of known gunslingers, including the gun fight of his life?
Click here to get this book for FREE
° ° ° ° ° ° ° ° ° ° ° ° ° °
Cogar's Despair (Cogar Adventure Series Book 1)
Nate Granzow


(18 Reviews)
Genre: Action & Adventure | Mystery, Thriller & Suspense
FREE for a limited time
Mounting an unprovoked artillery attack on the South Korean island of Yeonpyeong, North Korea has pushed international relations to the breaking point. With the civilian death toll mounting by the minute, the world stands by with bated breath, awaiting the coming of a second Korean War. The Chicago Herald prepares to send their best reporter to cover this desperate event as it spirals out of control. Only, their best also happens to be the most crass, alcoholic, and prodigious womanizer the journalism world has ever seen. His name is Grant Cogar. A man so familiar with dodging shrapnel and sleeping in foxholes that it feels like sport, Cogar readily agrees to travel to Seoul — a vacation opportunity, as he sees it. But upon arrival, he quickly finds that the story he was meant to uncover has nothing to do with politics or war, but is instead hidden in the faint traces of white powder beneath an old friend's nose. Quietly pursuing a network of violent drug smugglers into downtown Shanghai, China, Cogar will need to use every ounce of his cunning and cleverness to outwit these hardened criminals, keep his friend and himself alive, and come away with an article his readers want to cut out and tape to their refrigerators. The first of the Cogar series, this action-adventure novel seamlessly joins hilarity with white-knuckled excitement.
Click here to get this book for FREE
° ° ° ° ° ° ° ° ° ° ° ° ° °