As you all know the Basset family and my Partner in Crime's family went on a wonderful vacation together to Lake Oroville, and one of my favorite things to do is take a boat and jet-ski ride through the lake discovering waterfalls and little beaches that hide treasures. We do a lot of treasure hunting and are very successful. We find spoons, fishing lures, and even an anchor or two. With the lake level dropping one foot every day, each day reveals new treasures. On one particularly successful excursion we found something I was not expecting. Bear tracks. I always seem to vacation near bears. After a few quick pictures we decided it was time to go. They looked very fresh, and I was fresh meat, so yaaaa….time to go.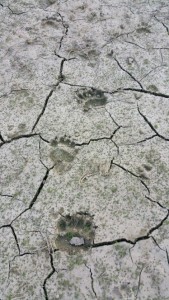 Feels Like Home: A Southerland Family Contemporary Romance (Southerland Series Book 1)
Evelyn Adams


(39 Reviews)
Genre: Women's Fiction | Contemporary Fiction | Romance
FREE for a limited time
From New York Times and USA Today bestselling author Evelyn Adams…
Tired of living under the shadow of her mother's bad choices, Autumn Maddox left home the first chance she got. But when her carefully constructed life crumbles around her, Autumn's forced to return to the small southern town that never let her forget she came from the wrong side of the tracks.
Jude Southerland, the town doctor, is used to taking care of people and with a pedigree that has the Ladies Auxiliary reaching for their fans, he's easily the town's most eligible bachelor – a status he has no intention of changing. That is until he almost runs down the Maddox girl he never noticed in school and suddenly finds her lush curves, dark curls and blue eyes consuming his thoughts, day and night.
Autumn would like nothing more than to live happily ever after with Jude. But with every local matron in the valley trying to marry him off to their own daughters, she knows they won't let her forget that she's not good enough and never will be. With the chance to finally find happiness, can she overcome her family history and find the confidence she needs to believe in herself or will she let love pass her by?
Click here to get this book for FREE
° ° ° ° ° ° ° ° ° ° ° ° ° °
The Other Side of the Bay
Sean Dietrich

(20 Reviews)
Genre: Contemporary Fiction | Literary Fiction
FREE for a limited time
Small towns have a way of burying things, and small-town people have a way of keeping things that way. With reminiscence and narration, a local sheriff must comb through his own humid world to unravel the truth behind the death of a local boy. But it's not as easy as it seems, because no one is talking. The Other Side of the Bay is a remarkable portrait of the unique people in the Panhandle of Florida. The story weaves itself into the tall longleaf forests, and along the crests of the uneasy bay, telling a tale of the human spirit. This is a novel of how things aren't always as black and white as they ought to be, and how right and wrong aren't always easy to tell apart. It's an evocative tale that delivers its reader to the apricot sun rises and sepulchral storm clouds of their own bittersweet memories.
Click here to get this book for FREE
° ° ° ° ° ° ° ° ° ° ° ° ° °
The Hungering Saga Complete (Large Text)
Heath Pfaff


(264 Reviews)
Genre: Contemporary Fiction | Fantasy
FREE for a limited time
THREE complete – full length – novels for one GREAT PRICE! This is the LARGE TEXT edition.It is exactly the same as the other edition in all other respects.
Twisted by black magic and driven by soul crushing loss, Lowin Fenly, a young scribe-turned-knight, struggles to hold onto his humanity as he battles to rescue that which he values most in the world. Along the way he will be forced to make friends of his enemies, and enemies of his friends. He will grow from a boy no one has heard of, into a man destined to leave the land forever changed, but how will he be remembered? Will he be Sir Fenly, Hero of the People, or will he be Lowin the Dread, a monster to terrify children? The Hungering Saga is a sweeping story that begins in familiar fantasy territory, and quickly twists many of the genre staples back upon themselves. These books contain violence and sexual situations.
Click here to get this book for FREE
° ° ° ° ° ° ° ° ° ° ° ° ° °
The House of the Wicked
D. M. Mitchell


(86 Reviews)
Genre: Mystery, Thriller & Suspense
FREE for a limited time
1880: Stephen Denning is an artist arriving in Porthgarrow. It is an isolated Cornish fishing community, largely untouched by the modern, developing Victorian world, hanging onto its old traditions, superstitions and beliefs – a community that lives with a disturbing secret. So too does Denning. He is a reluctant visitor, and though he is supposedly joining his one-time artist friend Terrance Wilkinson to form an artists' colony it is circumstances that force him there. Denning is still haunted by the brutal death of a young woman in Brittany, and shouldering guilt for the fact that he covered up for Wilkinson when he suspects the man of having been been involved with the murder. But Porthgarrow is haunted by its own demons and secrets. He learns about the savage murder of a woman by her husband Jowan Connoch thirteen years previously, and of Jowan's son who has returned to Porthgarrow to uncover the truth and to clear his father's name. Yet it is far from over. Before long three more people are destined to die in Porthgarrow before the village gives up its sinister secrets, and Stephen Denning will learn of his own family's mysterious involvement. The house of the Wicked is peopled with larger than life characters – the powerful businessman Gerran Hendra and his beautiful daughter Jenna; the Reverend Biddle who collects photographs of the dead; Benjamin Croker, the journalist; and Tunny, the village wise man and healer. From its atmospheric Gothic undertones to its shocking and unexpected end, 'The House of the Wicked' is D. M. Mitchell at his darkest and most imaginative best. Some secrets will not stay buried…
Click here to get this book for FREE
° ° ° ° ° ° ° ° ° ° ° ° ° °
American Survival (DeLeo's Action Thriller Singles Book 5)
Bernard Lee DeLeo


(21 Reviews)
Genre: History | Action & Adventure | War | Mystery, Thriller & Suspense
FREE for a limited time
American Survival follows a family fighting in the last stages of a guerrilla war, against a group of countries using infiltration across our borders, of soldiers and bio-weapons. After high tech transfers to Red China, and the breakdown of our border security result in four long years of war. The pace quickens as the family encounters the last desperate assault from the enemies arrayed against them. Homecoming involves battling a government plot in the end to use the gangs in the major cities as a ploy to again disarm America, and build a police state. The tenacity of this family and their friends to regain what they thought lost forever faces the final challenge.
Click here to get this book for FREE
° ° ° ° ° ° ° ° ° ° ° ° ° °
Mason Jar Gifts from the Heart: Easy and Fun, Homemade Gifts for Every Occasion (DIY Gifts & Projects)
Olivia Henson


(15 Reviews)
Genre: Crafts, Hobbies & Home | Cookbooks, Food & Wine
FREE for a limited time
Gift giving is supposed to be fun but often times we end up stressed out and at a complete loss. Budgeting, especially for the holiday season when you are giving out many gifts can also be an added worry. But, what if you could make something in your kitchen that would be fast and easy but would be met with absolute delight? And what if creating those gifts was nearly as fun as getting them?Sounds almost too good to be true, doesn't it? It's not! The following gifts are all created from items that you can easily find and probably have in your own home right now. There are recipes for food gifts (always a crowd pleaser) as well as spa quality gifts of beauty and of course, some trinkets and toys for children of all ages. You do not need special skills- just a Mason jar and some simple ingredients, a few minutes of time and a list of people you want to surprise with a lovely, handmade gift from the heart.
Click here to get this book for FREE
° ° ° ° ° ° ° ° ° ° ° ° ° °