For years the baby bassets didn't even notice we had a cat. Until one day, about a year or so ago, they found him.  They realized that the giant fuzzy pillow was actually a living creature and was fun to pet and hug. Now, a twenty pound cat isn't easy to move when you weigh only seventy pounds yourself, but a growth spurt in my oldest basset has opened up a whole new world of possibilities and very often I have to put a stop to it. It seems lately the only peace he gets is in the early morning, before the kids wake up. It's a tough life being so cute.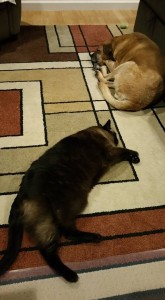 Shake the Trees
Rod Helmers


(15 Reviews)
Genre: Mystery, Thriller & Suspense
FREE for a limited time
This plot-driven thriller introduces Tillis – a Southern-fried sleuth with a slow drawl, a warped sense of humor, and a steel-trap mind.When $150 million evaporates into the digital ether, popular Florida Governor Chuck Lord calls on Tillis to investigate.As vengeance and greed pervade a cast of co-conspirators that start dropping like flies, Tillis matches his unconventional style against the psychotic genius of his adversary and a double cross by unseen hands.
Click here to get this book for FREE
° ° ° ° ° ° ° ° ° ° ° ° ° °
A Deconstructed Heart
Shaheen Ashraf-Ahmed


(11 Reviews)
Genre: Historical Fiction | Literary Fiction
FREE for a limited time
Mirza is a middle-aged Indian college professor whose wife has left him. He moves out of his house into a tent in his back garden, where he sets up an outdoor classroom and serves tea to his kind but bewildered neighbors. He is visited by the irritable spirit of his long-dead teacher, Khan Sahib, who is befuddled by the dysfunctions of modern life. In the north of England, Mirza's niece, Amal, is finishing up her last year of college before she is expected to join her parents in their new home in India. Asked by her father to talk her uncle back into his senses, she moves into Mirza's house, and they soon are connected by their shared loneliness. She meets Rehan, Mirza's student, and is intrigued by the path of certainty he has built over his own loss and loneliness–a certainty that is threatened by his growing feelings for her. When Rehan disappears, Amal's suffering forces Mirza to face the world once more. Together, Mirza and Amal must come to a new understanding of what it means to be an immigrant family when the old traditions have unraveled. A Deconstructed Heart is a novella that explores the breakdown and rebuilding in one immigrant family trying to adapt: how lines in families and cultures are forcibly redrawn, how empty space can be reframed by a tent into a new definition of home… but how, no matter how hard we may try to forget, the past refuses to be contained.
Click here to get this book for FREE
° ° ° ° ° ° ° ° ° ° ° ° ° °
Stones: Data (Stones #1)
Jacob Whaler


(151 Reviews)
Genre: Science Fiction | Mystery, Thriller & Suspense | Fantasy | Teen & Young Adult
FREE for a limited time
#1 Amazon Thriller! A New Take on Good versus Evil! A novel that will blow your mind and open your eyes!
Alexander the Great. Genghis Kahn. Julius Caesar. Attila the Hun. Mao. Stalin. For thousands of years, the Stones have been hidden among us, giving a privileged few power to rule over masses, destroy empires and create new ones. It's near the end of the 21st century. When Matt Newmark was ten years old, his mother was killed in a vicious corporate assassination. For the last twelve years, he's been living off grid under the over-protective care of his father, running from dark forces, trying to stay alive.
Now Matt finally has a chance to break away and start a new life. On the eve of a trip to Japan, he finds a dark rock in the shape of a claw. Life is never the same again. With the help of a Shinto priest, Matt discovers it's a Stone, a piece of ancient alien technology that gives him a sweeping view of history and control over time, matter and energy. But Matt is not alone. Mikal Ryzaard has a Stone of his own and a burning vision to eliminate suffering from the earth and bring back Paradise. With all the resources of a massive multinational corporation behind him, he tracks down Matt and makes him an offer. Join me or die.
Click here to get this book for FREE
° ° ° ° ° ° ° ° ° ° ° ° ° °
Accidentally Amish (Valley of Choice Book 1)
Olivia Newport

(112 Reviews)
Genre: Religious & Inspirational Fiction | Religion & Spirituality | Romance
FREE for a limited time
Escape the helter-skelter of the modern culture and join software creator Annie Friesen, hiding at the home of an Amishman. With her high-tech career in jeopardy, Annie runs from fast-paced Colorado Springs — and straight into the hospitality of San Luis Valley's Amish community. There she meets cabinetmaker Rufus Beiler, and the more time she spends with him, the more attracted she becomes. When Annie finds she shares a common ancestor with Rufus, she feels both cultures colliding within her. But is her love for Rufus strong enough for her to give up the only life she's ever known?
Click here to get this book for FREE
° ° ° ° ° ° ° ° ° ° ° ° ° °
The Lone Ranger: Vendetta
Howard Hopkins


(17 Reviews)
Genre: Action & Adventure | Westerns
FREE for a limited time
The Masked Man in a brand-new adventure! From out of the past comes a mysterious killer systematically murdering anyone with a connection to the Masked Rider of the Plains former identity. When all signs point to Butch Cavendish, a man long dead, The Lone Ranger finds himself trapped in a deadly game of cat and mouse with the life of his faithful Indian companion hanging in the balance!
Click here to get this book for FREE
° ° ° ° ° ° ° ° ° ° ° ° ° °