I gotta stop eating so much. This year for Halloween I am going to be a Pink Power Ranger, MORPHIN TIME! If I get too fluffy I will be less of a super hero, and more like a cute little pig. Pink is a hard color for a redhead already to pull off, so stretching the costume to the limit will create quite a vision. I think to balance it out I will wear high heals. Like really high…maybe a foot taller high. That should do it. The higher the heals I find, the more I can eat now. You will hear later of a terrible fall I had from 3 feet high. But the cake would have been worth it.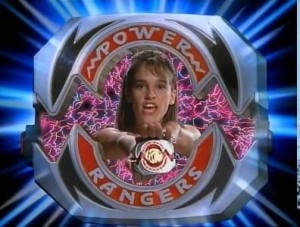 At God's Mercy: Historical Fiction Mystery
L. L. Fine


(270 Reviews)
Genre: World Literature | Mystery, Thriller & Suspense
FREE for a limited time
A new Jewish mystery classic. Poland, World War II. A desperate young Jewish woman sacrifices her life to save her baby twins from the terrible death that awaits them. Decades later, in New York, Rabbi Jeremiah Neumann discovers the existence of his long lost twin. He rushes headlong to meet him – but is shocked to discover that his identical twin is a priest. The two brothers travel to Poland to find out who they truly are. Page by page they uncover the terrible secret of their bloodcurdling heritage. A long-dormant evil is resurrected, and once again threatens to take the twins' lives. Will they survive the new storm? At God's Mercy is a captivating book that is hard to put down.It will take you deep behind the frontiers of human atrocity, where cruelty meets courage, and faith meets fate.Its chilling storyline bites hard at religious establishment and raises hard questions regarding Judaism, Christianity, human nature, faith and existence.
Click here to get this book for FREE
° ° ° ° ° ° ° ° ° ° ° ° ° °
Morium (Morium Trilogy Book 1)
S.J. Hermann


(36 Reviews)
Genre: Horror | Teen & Young Adult
FREE for a limited time
If you had the powers to avenge yourself… would you? Bullied… Years of shame… Lexi and Nathan knew pain. MORIUM is the story of Alexandria and Nathan… and Stacy. Three teenagers who were victims of bullying all through high school. They kept their torment a secret from their family and tried to cope in their own way. They only had each other. Their friendship saw them through the seemingly endless years of suffering. But hope was in sight… they will be graduating soon. The vision of a new life away from the bullies and the constant humiliation, gave them something to look forward to. If only that day came sooner. One night, Lexi and Nathan saw an object fall from the sky and went to investigate. As they touched the rock, a strange power entered their bodies. Suddenly, they're not helpless anymore. They can get revenge for all the suffering and pain they had to endure. How will they use these powers? MORIUM discusses the moral dilemma of doing what's right against getting revenge. When your dignity has been shattered and your life has been a living hell… what is RIGHT?
Click here to get this book for FREE
° ° ° ° ° ° ° ° ° ° ° ° ° °
The Best Man: A Dark Comedy
Duncan Whitehead

(20 Reviews)
Genre: Humor & Entertainment | Humor & Satire
FREE for a limited time
From The Author of The Award Winning and Bestselling Series The Gordonston Ladies Dog Walking Club Trilogy.
Plastic surgeon, Brad Chance, is looking for love. Fit, handsome, successful and all round nice guy, he thinks he has found the perfect woman. A twist of fate though changes everything, and after returning from completing charity work abroad he finds himself living a man's worse nightmare. Enter Mike, womanizer, Playboy and Brad's best friend. He needs a best man, and Brad is his guy, but at the end of the day who will REALLY be THE best man? With a twist so shocking it will leave readers spellbound, and a sucker punch ending that will leave them breathless, Duncan Whitehead once again delivers the perfect blend of dark comedy, irony and tragedy.
Click here to get this book for FREE
° ° ° ° ° ° ° ° ° ° ° ° ° °
Texas Range War
Chet Cunningham


(21 Reviews)
Genre: Classics | Westerns
FREE for a limited time
Best friends and partners build a Texas ranching empire together, but for reasons long forgotten they split their holdings and the split escalates into a full blown Texas Range War.
Click here to get this book for FREE
° ° ° ° ° ° ° ° ° ° ° ° ° °
The Mall Fairies Sweet Tooth Cookbook
Conda V Douglas

(18 Reviews)
Genre: Cookbooks, Food & Wine
FREE for a limited time
Swoop here, one of the main characters from the tween fantasy series, The Mall Fairies, with a little bit about this bestselling #3 in desserts cookbook. The fairies and pixies of The Mall Fairies series inspired our author, Conda, to write this series of Mall Fairy short stories, each with a (real) recipe from the story. So, here's the cookbook chock-a-block full of fairies' tales and fun, easy and most of all sweet recipes! Chocolate molasses cake, banana bread, sugar cookies, pumpkin pie and more delightful desserts await you here.
Click here to get this book for FREE
° ° ° ° ° ° ° ° ° ° ° ° ° °