I bought my sweet kitty a Christmas house scratching post. He doesn't quite fit. I wonder if they have an expansion kit.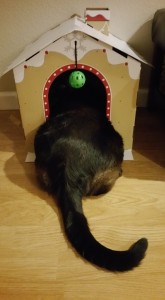 Return To Sender: An Alex Glauberman Mystery (The Alex Glauberman Series Book 1)
Dick Cluster


(30 Reviews)
Genre: Mystery
FREE for a limited time
HE WENT TO THE POST OFFICE… AND ENDED UP IN BERLIN
Meet reluctant detective Alex Glauberman — just a guy who fixes foreign cars, a 41-year-old divorced father with a brilliant British girl friend. But he's got a complication right now — he's trying to survive chemo. And then Gerald Meyer, a stranger he meets at the P.O., asks him to mail a package to Meyer's daughter. Easily done, but too late, Meyer changes his mind. And turns up dead. But now the package is gone, and clearly dangerous! Will Meyer's daughter be the next victim? Worse, is Alex about to be arrested for murder? Out of those fears is born Alex's career as an international detective — because the stranger's daughter lives in Berlin, and he doesn't know how to contact her. Too intrigued to let it go (and also because he's a mensch) Alex sets off on an adventure that takes him to London and Berlin in the last years of the Wall, in a search for package, perpetrators, and to prove his own innocence. Along the way he's plunged into the wreckage of Gerald Meyer's life, a wake that includes the daughter, half-German and half-Jewish, as well as an underworld network, unusual banking transactions, blackmail, shadowy neo-Nazis, and a city in which, as Meyer's daughter puts it, "Under all the showy stuff, Berliners are frightened of so many things." Police detectives in two countries don't make it any easier, but Alex learns to cope, trading bits of information while explaining his actions with metaphors such as the Yiddish meaning of his family name.
Click here to get this book for FREE
° ° ° ° ° ° ° ° ° ° ° ° ° °
Blood and Gasoline
Elias Anderson


(41 Reviews)
Genre: Parenting & Relationships | Literary Fiction
FREE for a limited time
His father suffering with fatal cancer, Cody is forced to reunite with the violent, alcoholic tyrant of his childhood. Requiring expensive, live in care, Cody is tethered to the old man by guilt and duty, and there is no one else but him to step up to the task. Feeling trapped, Cody becomes desperate for a different life. While restrained by caring for his father, Cody meets Perla, and the different life he dreamed of begins taking shape. When he brings her home to meet his father, however, Avery snaps, insulting and degrading the woman Cody has fallen in love with. Every relationship has secrets. Some darker than others , including the drunken accident that left Cody without a mother. With time running out, Cody and his father work to shed light on their dark past before cancer claims the relationship each of them seeks. Things get better, but as always, it is only for a while…
Click here to get this book for FREE
° ° ° ° ° ° ° ° ° ° ° ° ° °
A Western Romance: Benton Yancey: Taking the High Road (Book 7) (Taking The High Road Series)
Morris Fenris


(17 Reviews)
Genre: Romance | Westerns
FREE for a limited time
After he is nearly destroyed by a professional tragedy, Dr. Benton Yancey and his handyman/friend, Adam Zantner, join a wagon train heading overland west to reach their destination of Whitfield, California, where Ben had been invited to serve as town physician. It is an idyllic setting, in an idyllic countryside. Ben is summoned to meet with the power behind the throne, Charles Holcomb, a man apparently wealthy beyond measure. The new doctor easily settles into a comfortable routine of meeting various Whitfield officials and caring for his patients. Patient care extends to weekly visits at the local orphanage, managed by a compassionate lady named Madonna Bellini. While attending to various curious injuries to the resident children, Ben meets Mrs. Bellini's assistant and an orphan herself, Jessamine Lassiter. Being a Yancey, for whom every event moves at a faster speed than for the average human being, Ben is captivated by the lovely young lady. Intelligent and charming, she seems to return his interest. Until outside affairs interfere. One of the orphanage's young girls almost dies of a self-inflicted abortion; some of the boys have acquired surprising bruises and fractures; another twelve-year-old suffers a scalded hand. Too many secrets lie buried beneath the town's shiny utopian exterior, secrets that threaten Ben's future and the safety of the girl he has come to love. To find out exactly who is the serpent in this Garden of Eden, and the reason for it, Ben must call in the troops: his Pinkerton Man brother, John, and twin U.S. Marshals, Thomas and Travis. Once again the Yancey clan is doing what they do best, at the forefront of crime and passion.
Click here to get this book for FREE
° ° ° ° ° ° ° ° ° ° ° ° ° °
Holiday Recipes: 150 Easy Recipes and Gifts From Your Kitchen
Bonnie Scott


(65 Reviews)
Genre: Cookbooks, Food & Wine
FREE for a limited time
Give a gift of love this holiday season with homemade favorites from your kitchen. Everyone leads such busy lives, and gifts from your kitchen are thoughtful and much appreciated tokens of affection for family, friends and co-workers. This 150 holiday recipe collection includes strategies to make your preparations easier, as well as tips to make your finished products tastier and more attractive. Also included are loads of unique ideas to package your creations for gifts that are memorable and maybe even photo worthy. Holiday Recipes not only has 150 recipes for your holiday table, but has all kinds of ideas for gifts from your kitchen, including an internet address for free printables – Christmas cookie pouches, bag toppers and hang tags for your baked goods. Give your homemade gifts in style this year.
Click here to get this book for FREE
° ° ° ° ° ° ° ° ° ° ° ° ° °