I just can't get this kitty out of my head. What is he thinking I wonder. This is exactly what the rain is doing to my hair, but my hair is red, so I look more scary clownish. Which is funny, because I am afraid of clowns.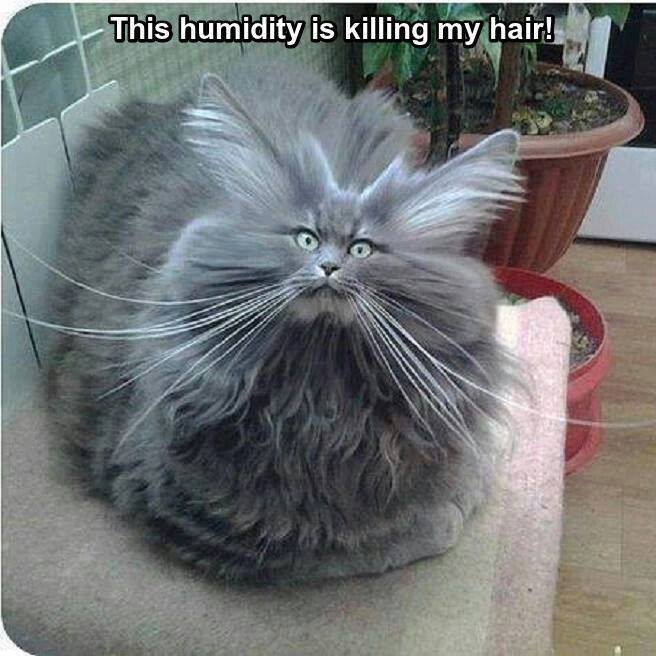 Dourado: A Dane Maddock Adventure (Dane Maddock Adventures Book 1)
David Wood


(120 Reviews)
Genre: Action & Adventure | Thrillers
FREE for a limited time
A sunken treasure. An ancient Biblical artifact. A mystery as old as humankind. On January 25, 1829, the Portuguese brig Dourado sank off the coast of Indonesia, losing its cargo of priceless treasures from the Holy Land. One of these lost relics holds the key to an ancient mystery. But someone does not want this treasure to come to light. When her father is murdered while searching for the Dourado, Kaylin Maxwell hires treasure hunter and former Navy Seal Dane Maddock and his partner Uriah "Bones" Bonebrake, to locate the Dourado, and recover a lost Biblical artifact, the truth behind which could shake the foundations of the church, and call into question the fundamentally held truths of human existence. Join Dane and Bones on a perilous adventure that carries them from the depths of the Pacific to ancient cities of stone as they unravel the mystery of the Dourado.
Click here to get this book for FREE
° ° ° ° ° ° ° ° ° ° ° ° ° °
Cowabunga Christmas: Corsario Cove Cozy Mystery #1
Anna Burke


(19 Reviews)
Genre: Mystery | Teen & Young Adult
FREE for a limited time
"Are you telling me we have a dead Santa on our hands?" It's a Cowabunga Christmas in Corsario Cove for newlyweds, Kim and Brien. Surf's up at the exclusive resort they've chosen as their honeymoon destination. The Sanctuary Resort and Spa at Corsario Cove has everything: a spectacular location with scenic views of the Pacific Ocean, luxurious accommodations, 5-star cuisine, spa services, and a staff that aims to anticipate and meet your every need. A romantic midnight swim in the Club Level terrace pool changes everything when an unexpected guest drops in wearing a Santa Suit with a couple bullet holes in it! Who killed Santa? Kim and Brien are soon swept up in murder and mayhem trying to unravel the mystery.
Click here to get this book for FREE
° ° ° ° ° ° ° ° ° ° ° ° ° °
Dragon Unchained (The Dragon Unchained Trilogy Book 1)
Susan Tietjen


(9 Reviews)
Genre: Fantasy | Teen & Young Adult | Romance
FREE for a limited time
Lady Theona McArthur thinks opening The Keeper, a forbidden ancient relic, will help her find the love of her life. At least that's what her dreams tell her. But instead of being shown where this handsome boy with violet eyes lives, she becomes possessed by evil spirits and is imprisoned for violating the laws of Kildaria. Then rumors of war bring a foreign prince to seek an alliance with Kildaria, and Theona's shocked that Prince Gideon Seville is the young man of her dreams, the one with the violet eyes. When Theona is condemned to death for transgressing the law, those evil spirits — the shades of sorcerers long dead — offer her one reprieve. Just learn to use magic she never knew she had to return them, and their two ferocious dragons, to mortality, and they'll set her free. She has no choice but to comply, but she fears that if the sorcerers don't destroy her, the lure of magic could. Her chance friendship with Prince Gideon blossoms into the love of a lifetime, but even together, will they have what it takes to beat the odds against evil sorcerers, magical dragons, war, and death?
Click here to get this book for FREE
° ° ° ° ° ° ° ° ° ° ° ° ° °
Charlie Had His Chance (Charlie Tiptree Book 1)
Ellis Major


(5 Reviews)
Genre: Literary Fiction | Humor & Entertainment | Humor & Satire
FREE for a limited time
Charlie Tiptree is young, wealthy and jealous of his creature comforts. So why on Earth does he take in Lance Savage, someone he last saw at school twelve years ago and now a distinctly unstable ex-soldier? Is Charlie's altruism going to prove a blessing or a curse? One thing soon becomes apparent; Lance is a catalyst for sudden and dramatic change in Charlie's idle existence. When Lance's skills prove useful in helping a friend of Charlie's evade justice the pair are asked to 'keep an eye on' the very poor, very beautiful but very unsympathetic Rowena Hepple. Is Charlie actually going to help, or end up making an enemy for life? An unsavoury disaster beckons. Even whilst embroiled in other dramas, is it possible that Charlie could ever stop kicking himself for his own idiocy, or being scared of Rowena? And, even more unlikely, could Rowena ever stop despising him – and, if so, how could this ever happen? And where does Lance, and everyone else for that matter, fit in?
Now here's the challenge for anyone who's read this far. Charlie Had His Chance doesn't sit readily in any category. It's part buddy movie, it's part adventure and it's part romance. Aspects of the book are even funny in a dark kind of way. If you have a taste for the absurd and amoral, leavened with a little drama and sorrow, read it. If you're looking for a specific genre then best not take up the challenge. Ellis Major would much prefer you have some idea of what you're getting into and relish it rather than ending up disappointed. About the Author Ellis Major has written many books but this is the first to see the light of day. Ellis lives in London, is happily married and has always delighted in the faintly surreal and absurd – and hopes that others might learn to as well.
Click here to get this book for FREE
° ° ° ° ° ° ° ° ° ° ° ° ° °
The Other Side of Life
Andy Kutler


(24 Reviews)
Genre: Historical Fiction | War
FREE for a limited time
December 1941, Pearl Harbor. A peaceful Sunday morning turns into a devastating attack on American soil. Naval officer Malcolm "Mac" Kelsey is severely wounded while defending his ship. A flawed man abandoned long ago by his alcoholic wife, Kelsey has been mired in despair and hopelessness following the accidental death of Lucy, the young daughter he considers the only redemptive aspect of his life. Near the point of death, Kelsey is brought to what he believes to be an afterlife where he is offered an opportunity to shed his past memories and embark upon an alternate path in another place and time. Eager to escape his torment and begin a more tranquil existence, Kelsey accepts, only to feel quickly betrayed as he soon finds himself back in the midst of battle, this time as a Union soldier at the dawn of the Civil War. Through Antietam, Gettysburg and four years of relentless fighting, Kelsey attempts to cast aside his painful past while trying to survive the horrors of combat. He crosses paths with compelling figures on both sides of the conflict determined to persevere and return to those they left behind. Idealistic Ethan Royston, promoted from the enlisted ranks, believes in preserving the Union but is plagued by insecurity and self-doubt. His closest friend, West Point-trained Cal Garrity, remains loyal to his home state of Virginia despite his misgivings about the virtue of the Southern cause. The war will divide these friends, just as it will divide Garrity from his adoring wife, Emily, the charismatic and headstrong daughter of a prominent Norfolk shipbuilder, forced to face the onset of war alone. Each will endure unimaginable hardship and brutality that will forever reshape their core beliefs and values. Each will find their strength and resolve tested as they search for self-purpose, humanity, and reconciliation. Most of all, Mac Kelsey will discover the very essence of life and death, and whether the new beginning he has long coveted will bring him the inner peace he has so desperately sought.
Click here to get this book for FREE
° ° ° ° ° ° ° ° ° ° ° ° ° °