Last night I was checking my Facebook for the last time, and I was shocked to see how elaborate some parents are making St Patrick's day. I giggled when I saw a few traps that the kids made and thought that was cute. I laughed when I they mentioned green pee in their toilets. Haha… But when I heard some kids are asking for gifts such as Xboxes and bikes, I just about lost it. ARE YOU KIDDING ME!!??? No No No. I am not doing this. I am tapping out. No more presents, no more elaborate plans and adventures. You know what my kids are doing? They are wearing a green shirt and getting food in their lunch. Yes I give them food everyday, but I just wanted to remind them they are not neglected when they go to school and their friends tell them about all the great stuff the Leprechaun left them. You're fed.. and you wont get pinched because your wearing green. THERE! MAMMA LOVES YOU!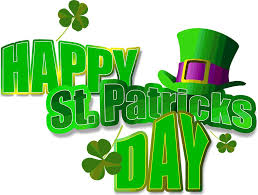 Black Flagged Alpha (The Black Flagged Series Book 1)
Steven Konkoly


(632 Reviews)
Genre: Thrillers | Suspense
FREE for a limited time
BLACK FLAGGED ALPHA: Daniel Petrovich, the most lethal operative created by the Department of Defense's Black Flag Program, protects a secret buried in the deepest vaults of the Pentagon. Blackmailed into executing one final mission, Daniel's carefully constructed "life"rapidly disintegrates into a relentless federal manhunt–and a "24-style" race against the clock to suppress the shocking truth about his past. To survive, he'll release the darkest side of his concealed identity. A dark side with few boundaries–and even fewer loyalties. Black Flagged lays the foundation for a gritty, high-octane series exploring the serpentine link between covert operations and government agency politics.
Click here to get this book for FREE
° ° ° ° ° ° ° ° ° ° ° ° ° °
Jealous Love: Romantic Suspense Thriller
Maya Moss


(7 Reviews)
Genre: Teen & Young Adult | Suspense | Contemporary Fiction | Women's Fiction
FREE for a limited time
A criminal-defense attorney, Mark Janis, exhibits increasingly erratic behavior as his jealousy builds over his new girlfriend's ex. His girlfriend Leah Winston has a child with her ex-boyfriend, Brayden Carter, and they have a connection that seems to defy their split. Mark is working on defending a company from corporate fraud. Leah is getting tired of rescuing companies from greed but it's a good job and she needs the money for her daughter. She's recently started to date Mark because he's been making advances on her for a while. She figures that he has a steady income and insurance and she thinks perhaps he would be a good provider for her daughter. But this move is more due to world-weariness and practicality than gold-digging or romance. She figures she's an adult and mother now and she has to make practical, not romantic decisions. Mark has a secret history of paranoid behavior and he begins to wrongly suspect that the ex-boyfriend is hacking his email account and listening in on his phone conversations. Matters escalate until Mark confronts Brayden, shoots and attempts to kill him. Brayden records everything on his smartphone. Leah and Brayden were young parents who weren't together long before the arrival of their daughter. The stress of raising a child and trying to figure out their lives and build a career tore them apart. But they've always held a candle for each other and harbor a secret desire to get back together. Will Brayden survive the tragedy and will he and Leah ever get back together?
Click here to get this book for FREE
° ° ° ° ° ° ° ° ° ° ° ° ° °
Tabitha (Girls from the Mountain, Book 1)
Vikki Kestell


(119 Reviews)
Genre: Religious & Inspirational Fiction | Religion & Spirituality
FREE for a limited time
Rescued from a life of depravity, Tabitha gives her heart to God and her life to nursing. As this tenacious, redeemed woman perseveres toward her vocation, her temper and stubborn independence threaten to derail her aspirations. Will Tabitha pass the trial by fire that is necessary for God to truly use her? And what is Tabitha to do with her feelings for Mason Carpenter, the man who simply refuses to give up on her? Is it even possible for God to ordain a shared future for two such different people, both with fervent callings upon their hearts? When the Great War erupts in Europe, Carpenter leaves for England to train British pilots to fly reconnaissance missions over Belgium and France. Soon after, Tabitha hears God asking her to nurse the war wounded. However, because America has not joined in the fight, Tabitha has few options. Will the elite British Nursing Service make a place for her? Will they accept the services of an American volunteer? And will Tabitha and Mason overcome the differences that stand between them?
Click here to get this book for FREE
° ° ° ° ° ° ° ° ° ° ° ° ° °
The Time Travel Trailer
Karen Musser Nortman


(100 Reviews)
Genre: Sports & Outdoors | Science Fiction
FREE for a limited time
A 1937 vintage camper trailer half hidden in weeds catches Lynne McBriar's eye when she is visiting an elderly friend Ben. Ben eagerly sells it to her and she just as eagerly embarks on a restoration. But after each remodel, sleeping in the trailer lands Lynne and her daughter Dinah in a previous decade — exciting, yet frightening. Glimpses of their home town and ancestors fifty or sixty years earlier is exciting and also offers some clues to the mystery of Ben's lost love. But when Dinah makes a trip on her own, separating herself from her mother by decades, Lynne has never known such fear. It is a trip that may upset the future if Lynne and her estranged husband can't team up to bring their daughter back.
Click here to get this book for FREE
° ° ° ° ° ° ° ° ° ° ° ° ° °
Honey: 22 Lessons on How to Use Honey for Medicinal Purposes and Learn Its Amazing Healing Powers
Sheri Nash


(91 Reviews)
Genre: Health, Fitness & Dieting
FREE for a limited time
Do you know how beneficial honey can be? In 22 Lesson you will learn most of its healing powers Honey is such a great ingredient to have in your pantry. It can be used in order to sweeten many of your dishes without having to add in any extra quantity of sugar or sweetening agents that can be bad for your health. But other than the fact that it tastes good, there are many uses that can come from using honey each day. The benefits are so many and they cannot be over emphasized. This guidebook is going to spend some time looking over some of the more popular uses for honey and can help to explain why it is such a great thing. Most of the benefits highlighted here are benefits that are just right there staring at you but you do not know they are there. It is even possible that you have heard of some benefits of honey but do not know the extent to which honey is beneficial to the human body. This book is meant to serve as an eye opener to this awesome combination of the immense combination of things that honey can be used for and their benefits. With all of the things that honey is able to do for your health, you will be amazed that you are not already enjoying some of these awesome benefits in your daily routine. This is most probably as a result of the lack of knowledge regarding the uses and benefits of honey. Knowledge, they say is power. If you were to know as much as half the uses and benefits of honey, I am so sure you will maximize the knowledge to your advantage. In this guidebook you will learn so many things about honey. Some of these include: • Some of the many ways to maximize the use of honey • Some of the great benefits of honey in our day to day living and health • Some of the health concerns that honey can help with • How honey can be a great addition to your beauty regimen • How honey can be used to treat many common illnesses and diseases • The right type of honey to be used and why • The difference between raw honey and processed honey and the effects There is just so much that you do not know about honey and for such a simple ingredient, it really is able to help you out with so many different things. Check out this guidebook to learn more and to get started using this miracle ingredient today.
Click here to get this book for FREE
° ° ° ° ° ° ° ° ° ° ° ° ° °