Baby ducks. Until yesterday they were just those cuddle little critters that I would say awwww to from afar. Friends of ours decided this year instead of getting new chickens they would get two baby ducks. OH. MY. GOSH! These little guys are just about the cutest things I have ever seen. And they are pretty darn funny. Up close I realized just how funny shaped baby ducks are with their tiny wings and huge bills. God must have been giggling when he made those guys. What I liked best about them was their inability to run fast. I don't like to have to run after cute critters. I like them slow and wobbly like these two. I like to use my energy cuddling them and not running after them. MY! What big feet you have!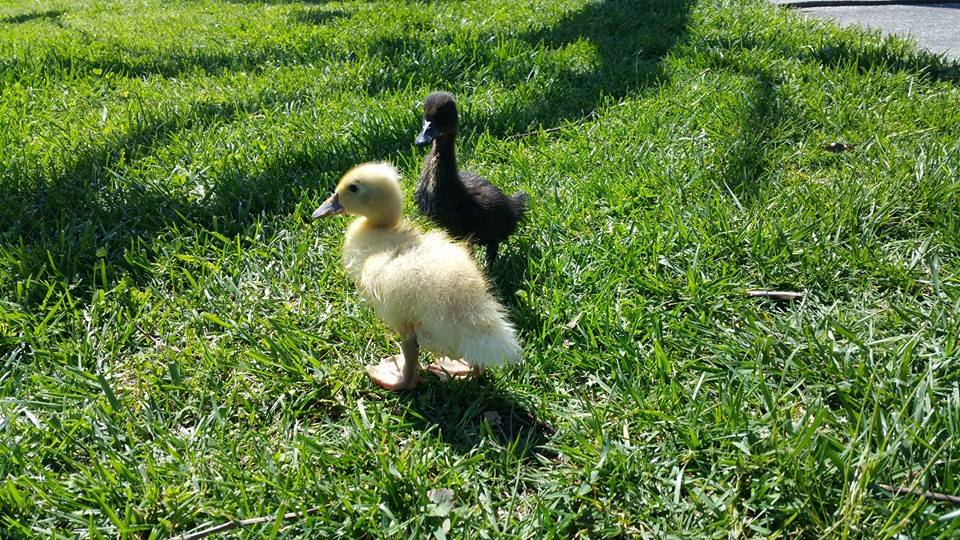 Draykon (The Draykon Series Book 1)
Charlotte E. English


(273 Reviews)
Genre: Fantasy | Science Fiction
FREE for a limited time
When shy and retiring Llandry Sanfaer discovers a mesmerising new gemstone, she suddenly becomes the most famous jeweller across the Seven Realms. Demand for the coveted stone escalates fast; when people begin dying for it, Llandry finds that she herself has become a target. Lady Evastany Glostrum has her life in pristine order. Prestigious, powerful and wealthy, she is on the verge of crowning her successes with the perfect marriage. But when her closest friend is murdered for the jewellery she wears, Eva is drawn into the mystery surrounding the curious "istore" gem. The emergence of the stone is causing chaos across the Seven. Gates between the worlds are opening at will, pulling hordes of creatures through from the shadowy Lower Realm and the glittering Uppers. As Eva works to discover the culprit behind the spreading disorder, Llandry must learn the truth about her precious istore stone – before she herself becomes a victim. Draykon is a full-length, high fantasy mystery novel of 95,000 words (approx. 380 pages). It is the first book in the Draykon Series. A second edition was issued in July of 2012 featuring a map of the world and a glossary of terms.
Click here to get this book for FREE
° ° ° ° ° ° ° ° ° ° ° ° ° °
Chasing Ivan
Tim Tigner


(42 Reviews)
Genre: Mystery | Thrillers
FREE for a limited time
Rumor has it there's a Russian you can turn to if you're very rich, and need dirty deeds done without a trace. The CIA calls him Ivan the Ghost because he's operated for years without leaving a trail or revealing his face. Until now. For the first time in history, Ivan appears to have slipped. The CIA's new director sets Agent Kyle Achilles on an intercept course, surveilling the daughter of a British politician. Then Ivan pulls off a masterful con, and Emily vanishes. With Emily's life, his career, and America's reputation at stake, Achilles partners with an unlikely new agent he meets in France. Together they attempt to get one step ahead of the legendary Russian, while rubbing elbows with the ultra-rich in a high-tech international chase.
Click here to get this book for FREE
° ° ° ° ° ° ° ° ° ° ° ° ° °
Wyoming Dream
Curtis Hawk


(1 Review)
Genre: Teen & Young Adult | Action & Adventure | Westerns
FREE for a limited time
"There are eight of them!" Luke called out. Wesley drove the horses hard. They crashed through a wide, shallow riverbed and continued on the other side. Suddenly, Wesley pulled the wagon to an abrupt stop and jumped to the ground. "Get down from there!" He ordered. "We can't outrun them. We'll have to fight them off." Luke grabbed hold of the woman and dragged her down from the wagon behind him, pulling her toward a cluster of nearby trees. Wesley started off through the woods ahead of them. "Where the hell are you going?" Luke called after him. "Around the other side of those rocks dag nabit, we can get them from two directions that way." "Just watch yourself be careful!" "You do the same!" Luke, still holding tightly to the woman's arm, looked around quickly. Spotting a slight rise in the otherwise flat terrain, he moved toward it, kneeling, pulling his hostage to the ground beside him. Luke's mind was racing as he took aim. If these Indians were her people coming to rescue her, how could he shoot them with her sitting right next to him? She was pulling at the knotted rope with her teeth, but stopped when she realized Luke was watching her. Luke turned, raised his rifle and sighted on the nearest target. "Turn back," He said aloud. "Please turn back." Luke felt a blast of air just above his head, then heard a soft thud. He only looked back long enough to see an arrow lodged in the tree behind him. "That was too damn close!" He took aim once again. He heard the report of Wesley's gun and watched as one of the Indian men tumbled from his horse. Two of the others exchanged a quick glance, then turned and hurried off in the direction of the rifle blast. Five Indians on horseback were still coming toward him, closing in fast. He pulled the trigger, and one of them fell, he continued to shoot. By the time the second man hit the ground, the rest of them had pulled their horses back, calling out to each other. They turned and fled. Luke let out a steadying breath, lowering his rifle. Looking back toward the Indian woman, his eyes met hers. She slowly looked away. "I'm sorry about all of this," he muttered. She glanced up at him. Luke let out a steadying breath. "Wesley!" He called out. "They're gone." He didn't answer. "Wesley?" Luke stood and looked toward the large rocks. "Wesley! Where are you?" He hurried across the uneven ground toward the heap of gray stone boulders. "Wesley?" He rounded the nearest corner and stopped short.
Click here to get this book for FREE
° ° ° ° ° ° ° ° ° ° ° ° ° °
Fakers (A Canaan Island Novel Book 1)
Meg Collett


(39 Reviews)
Genre: Romance | Women's Fiction | Contemporary Fiction
FREE for a limited time
Kyra Aberdeen is a YouTube sensation. Her bubbling personality and fresh beauty capture her audience each week, but they don't know the truth — she's just faking it. Beneath the surface of light-hearted smiles is a simmering darkness threatening to pull Kyra under. When Kyra moves to Canaan Island and buys her deceased mother's childhood home, she hopes to confront the lurking shadows haunting her every step. But when she meets her grumpy contractor, even her best-laid plans start to unravel. Hale Cooper is as brutally honest as he is intriguing. He hates fakers, and isn't afraid to call Kyra on her false personality. Yet, she is drawn to him, and the unexpected attraction to a man who challenges her to be her true self lands her in unchartered waters. But if she lowers her guard and allows herself to be honest with Hale, will the darkness creep in too?
Click here to get this book for FREE
° ° ° ° ° ° ° ° ° ° ° ° ° °
Nola
Stephanie Lisa Tara


(20 Reviews)
Genre: Children's eBooks
FREE for a limited time
Nola was the last American Northern White Rhino, one of three–now left on the planet. Poaching has destroyed Nola's species due to the fallacy that rhino horns are thought to possess magical medicinal powers. Extinction is an ugly word. What to do? Listen to Nola, herself: You Ask Why? The truth is this: Some want, what's not theirs (And there it is.) What To Do? Love what you've got! (And not what you don't) Matters a lot! World leaders paused to mark Nola's death on November 22, 2015, her name made headlines around the globe. Extinction is forever. Nola knew this. She forgave us, I think. She only asks that we honor her story.
Click here to get this book for FREE
° ° ° ° ° ° ° ° ° ° ° ° ° °