My poor pup. The only thing he wants in life is to not be harassed by a gang of chickens. I heard him whining outside and this is what I found. Soon after this picture was taken they stole his food. I am beginning to question his worth as a guard dog. Maybe he is retired and I hadn't seen the memo. Either way, I am thinking of promoting the ladies to guard chickens. They seem brave.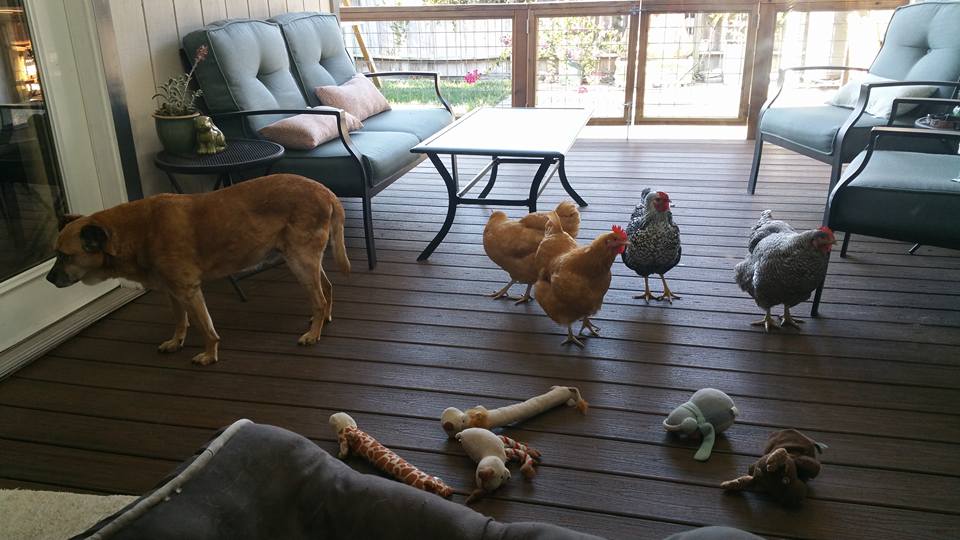 a=B005ALW6GU&p=0&db=1476169200″>
Let Us Prey: Gotcha Detective Agency Mystery Book 1
Jamie Lee Scott


(386 Reviews)
Genre: Mystery | Romance | Crime Fiction
FREE for a limited time
From USA Today bestselling author Jamie Lee Scott – Gotcha Detective Agency Mystery Series, Book 1. (2nd Edition (updated and re-edited)).
A former secret service agent turned private detective, Mimi Capurro. A disgraced NFL player turned homicide detective, Nick Christianson. A snarky (who knows what his background really is) computer forensics specialist, Charles Parks, trying to keep them from killing each other. And now they must find the killer of a New York Times bestselling author's assistant. Gotcha Detective Agency was hired to protect the author, when it was the assistant who really needed protection. And now it's a race to see who can find the killer. Mimi is determined to make up for puking all over Nick's crime scene by solving the murder before he does. Who will solve this case first? If you like your murder mysteries with a bit of romance, a dash of snark, and a few dead bodies, USA Today bestselling Gotcha Detective Agency Mysteries are the crime novels for you!
Click here to get this book for FREE
° ° ° ° ° ° ° ° ° ° ° ° ° °
Shayla's Story (The Mathews Family Book 2)
Beverly Preston


(198 Reviews)
Genre: Romance | Sagas
FREE for a limited time
Shayla Clemmins has a score to settle. John Mathews is sexy as sin. Shayla Clemmins has the textbook life: a great career, house in the hills of Malibu, and the perfect boyfriend, who also happens to be the Governor's son. However, perfection is never what it seems. Questioning her relationship with a man who worships politics more than her, Shayla escapes reality for the seductive sunsets of Greece for her uncle's wedding. When John travels to Greece for his mother's wedding, the wealthy adrenaline junkie will try anything once, including Shayla Clemmins. But, one lust-filled weekend of romance will never be enough. Shayla quickly realizes there's more to John than a set of biceps and great abs. Their intense passion is impossible to ignore, but is it enough? Enough to last a lifetime? When his high-octane lifestyle threatens to rip them apart, will he be able to protect and rescue her?
Click here to get this book for FREE
° ° ° ° ° ° ° ° ° ° ° ° ° °
Snapdragon Book I: My Enemy
Brandon Berntson


(25 Reviews)
Genre: Fantasy | Teen & Young Adult
FREE for a limited time
A stranger arrives in Ellishome, Colorado astride a black horse. His face is that of death, but he is no bogeyman. He is a purveyor of lost souls, and he has come to Ellishome to claim the lives of men, women, and children for a bigger, blacker enterprise. Seth Auburn, an innocent boy, is deeply affected by the horrors suddenly plaguing his small town. When Ben, a magical tiger appears in the meadow beyond his backyard, the stranger is suddenly all too real, and Ben needs Seth's help. Bound together by time, Ben and his Immortal Companion are searching for the only thing to set them free: division, granted only through the heart and mind of an innocent child. With a gang of newfound friends, and with Ben leading the way, Seth and his companions travel to a mysterious palace high in the mountains above Ellishome, Colorado. There, something precious and magical is waiting for them: a talisman that will aid them in destroying Ben's Immortal Companion forever. If Seth and his companions fail, it will mean not only the end of the town and people they hold dear, but of countless worlds altogether.
A magical novel of darkness, fantasy and redemption – the bonds of love and friendship, and the power of good over evil – Snapdragon is an epic tale of fantasy, horror, and adventure. Don't miss the magical conclusion in Snapdragon Book II: In the Land of the Dragon.
Click here to get this book for FREE
° ° ° ° ° ° ° ° ° ° ° ° ° °
The Legend Of A Gunfighter
James Butler
Genre: Westerns | Action & Adventure
FREE for a limited time
This book contains all eight of the Jeremiah Tucker Westerns
Click here to get this book for FREE
° ° ° ° ° ° ° ° ° ° ° ° ° °
Country Crock-Slow Cooker Recipes (Delicious Recipes Book 11)
June Kessler


(26 Reviews)
Genre: Cookbooks, Food & Wine
FREE for a limited time
There is precious little time left to cook home cooked meals, and that is one reason why we love the crock-pot or slow cooker. Many slow cooked recipes are so simple that all you need to do is fill you cooker and forget about it until mealtime. For the ultimate time-saving recipes, try the 3-ingredient Dinners, which can be prepared in no time at all. A slow cooker meal is just the ticket during the holidays, too, when you need to spend time with family and friends. To help you breeze through the holidays, I have included some of great family and holiday- recipes for a complete holiday buffet and party ready favorites, make cooking and life easier. Enjoy:
Click here to get this book for FREE
° ° ° ° ° ° ° ° ° ° ° ° ° °