My sweet chickies have been cooped up for so long because of the weather, and I felt so guilty. When we finally have a break in the rain, and I sent them free on the yard, they spend it inside another house. You should have heard the mean clucks they gave me when I wouldn't let them out before, and then they do this!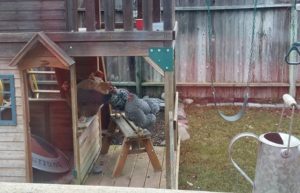 Before He Sees (A Mackenzie White Mystery—Book 2)
by Blake Pierce

(36 Reviews)
Genre: Suspense | Mystery | Women's Fiction
FREE for a limited time
From Blake Pierce, bestselling author of ONCE GONE (a #1 bestseller with over 600 five star reviews), comes book #2 in a heart-pounding new mystery series.
In BEFORE HE SEES (A Mackenzie White Mystery — Book 2), FBI agent-in-training Mackenzie White struggles to make her mark in the FBI Academy in Quantico, trying to prove herself as a woman and as a transplant from Nebraska. Hoping she has what it takes to become an FBI agent and leave her life in the Midwest behind for good, Mackenzie just wants to keep a low profile and impress her superiors. But all that changes when the body of a woman is found in a garbage dump. The murder bears shocking similarities to the Scarecrow Killer — the case that made Mackenzie famous in Nebraska — and in the frantic race against time to stop a new serial killer, the FBI decides to break protocol and give Mackenzie a chance on the case. It is Mackenzie's big break, her chance to impress the FBI — but the stakes have never been higher. Not everyone wants her on the case, and everything she touches seems to go wrong. As the pressure mounts and the killer strikes again, Mackenzie finds herself as a lone voice in a sea of experienced agents, and she soon realizes she is in way over heard. Her entire future with the FBI is in jeopardy. As tough and determined as Mackenzie is, as brilliant as she is in hunting down killers, this new case proves an impossible riddle, something just beyond her reach. She may not even have time to crack it as her own life falls apart around her.
A dark psychological thriller with heart-pounding suspense, BEFORE HE SEES is book #2 in a riveting new series — with a beloved new character — that will leave you turning pages late into the night.
Click here to get this book for FREE
° ° ° ° ° ° ° ° ° ° ° ° ° °
Lazy Love
by Kirsten Osbourne


(66 Reviews)
Genre: Romance
FREE for a limited time
On the surface, Valerie Dobson has the perfect life. She's the star of a popular network drama. She has a loving boyfriend of eight years. Everything she touches turns to gold. But underneath her beautiful exterior, lies a beautiful soul with secrets. Jesse Savoy has been in love with his lovely co-star since the day they met, and if not for her boyfriend, he'd have begged her to marry him years before. As soon as her relationship fizzles, he drags her off to Vegas for the marriage he desperately wants. Will her fears of intimacy keep her from having the marriage they want? Or will they be able to overcome them together?
Click here to get this book for FREE
° ° ° ° ° ° ° ° ° ° ° ° ° °
Wreckers Gate: An Epic Fantasy Series (Immortality and Chaos Book 1)
by Eric T Knight


(29 Reviews)
Genre: Action & Adventure | Fantasy
FREE for a limited time
It's a suicide mission with only one purpose. The king wants Wulf Rome dead. When General Wulf Rome gets his orders to chase the marauders into the fiery hell of the Gur al Krin desert, he knows the king has finally decided to eliminate his too-popular general. What he doesn't count on is causing the apocalypse. Somehow Wulf Rome survives both the marauders and the desert, but he ends up in a lost catacomb deep beneath the desert sands, where he finds a strange axe embedded in a massive, ancient wall. When he pulls it free, he unleashes a nightmare of epic proportions. Now it looks like the apocalypse has come. Monsters and diseases plague the land. There is no defense, no enemy even to strike against. Out of the chaos a mysterious stranger calling himself Lowellin appears. Lowellin claims to be immortal. He claims to be the world's only hope. But the weapons he offers the land's beleaguered defenders are dangerous and chaotic and Wulf Rome soon begins to doubt his true motives. Thus does immortality sow the seeds of chaos…
Click here to get this book for FREE
° ° ° ° ° ° ° ° ° ° ° ° ° °
Kiss Chronicles
by Virginia Sanders


(16 Reviews)
Genre: Humor & Entertainment | Biographies & Memoirs
FREE for a limited time
When I turned 30 without getting my first kiss — yes, you read that right. Read over it again if you need to. Anyway, when I turned 30, I decided I had to take action and get a first kiss to be remembered. So I devised a method to get my first kiss in a way that would be guaranteed to make it meaningful: I would auction off my first kiss for charity. In this quirky memoir, I share details from my life, exploring exactly how it was that I came to a kissless crossroads at age 30, and I tell all about the exciting and challenging experiences I faced as I developed the Kiss Chronicles project.
Click here to get this book for FREE
° ° ° ° ° ° ° ° ° ° ° ° ° °
The Absolute Best Pie Recipes Cookbook
by The Absolute Top Chefs of America Culinary Institute
Genre: Cookbooks, Food & Wine
FREE for a limited time
Five years ago, The Absolute Top Chefs of America Culinary Institute was given a challenge, a really big challenge! Create the absolutely most delicious, delectable, heavenly, luscious, mouthwateringly, scrumptious, succulent, tasty and yummy Pie Recipes ever! A pie that, upon first bite, there's a, "Wow, this is the absolute best pie I ever tasted! I gotta have the recipe!" The Absolute Best Pie Recipes Cookbook is a result of that challenge. If you're a bona fide foodie who demands only the best of the best recipes using the best of the best ingredients, this cookbook is a must have for your cookbook collection! The Absolute Best Pie Recipes Cookbook guarantees each recipe will be absolutely delicious, delectable, mouthwatering and totally scrumptious!
Click here to get this book for FREE
° ° ° ° ° ° ° ° ° ° ° ° ° °