My pup Jethro and Kitty Sinatra are playing dead. When I see this I like to poke them and call them rabbits.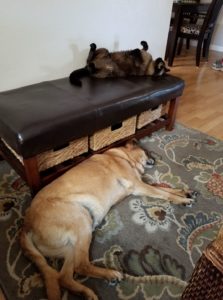 Flightsuit
by Tom Deaderick


(97 Reviews)
Genre: Science Fiction | Action & Adventure
FREE for a limited time
A wrecked alien flightsuit is discovered in the Appalachian Mountains, and the alien wants it back.
Growing up poor in a virtual era isolates 14-year-old Leo. The others are immersed in a digital world he cannot access.
He's left to explore miles of wilderness bounded by the Nolichucky River and encircling Appalachian mountain ridges of Bumpas Cove, Tennessee. Beyond the last broken and tilted pieces of a crumbling asphalt road, he discovers the abandoned village where Iron Mountain's mine workers lived. He walks inside empty houses and mine-works searching for toys and relics of the families that lived there decades before. In this place, being alone feels natural.
He returns daily, looking for forgotten things. Crawling through a streambed under a tunnel of long blackberry briars, he finds something that isn't covered with rust. It shines white in the scattered shadows. Freed of muck and mire, the glass-metal sleeve is as light as plastic. He slides his arm inside, but before his fingers can reach down into the two long flat fingers, a sharp hook locks into his arm.
Leo is forced to find other scattered pieces, assembling a full flightsuit. Once restored, it prepares for a thousand light-year return trip with Leo trapped inside, as it waits for its alien pilot to be restored into Leo's mind.
But the suit has drawn others, long isolated and possessing dangerous powers. They all face an alien entity with no regard for their lives.
Click here to get this book for FREE
° ° ° ° ° ° ° ° ° ° ° ° ° °
The Love of a Cowboy, The Callister Trilogy, Book 1
by Anna Jeffrey


(100 Reviews)
Genre: Romance
FREE for a limited time
BOOK DESCRIPTION
When Texas beauty Dahlia Montgomery and her best friend journey to Idaho for a change of scenery for the summer, the last thing she expects to encounter is Luke McRae, a lean, rugged cowboy intent on sweeping her off her feet and into his bed. Dahlia can't resist his rugged cowboy swagger and his sky blue eyes, even though she knows he can break her heart.
Luke is part owner and manager of the legendary Double-Deuce Ranch in the Idaho mountains. With the ranch, an alcoholic ex-wife, a shrewish mother and three kids to worry about, he has no interest in romance. But that doesn't mean he has given up casual sex with beautiful women… But is either he or Dahlia prepared for the consequences of a sexy summer romp?
About Anna Jeffrey and writing The Love of a Cowboy
I'm a Texan through and through. Fifth generation. I was born and grew up in West Texas, where most of my family members were farmers and ranchers or worked in the oil fields. I left Texas for many years and lived in four of the western states, a rich experience I'll never forget. I love most things western, from the customs and culture to the philosophy of life.
Click here to get this book for FREE
° ° ° ° ° ° ° ° ° ° ° ° ° °
The Stuck with a Series Boxed Set #1 (The Stuck with a Series Boxed Sets)
by D. D. Scott, David Slegg


(17 Reviews)
Genre: Mystery | Humor & Satire
FREE for a limited time
Amazon Top 100 Bestselling Humor Author D. D. Scott is back, along with her new co-author, David Slegg… this time, with their first Special Edition Boxed Set, featuring Books 1-3 of their Amazon Movers and Shakers List, Bestselling Series – The Stuck with a Series – and a short story prequel too.
Think Castle and Beckett gone-country with a bit of Bewitched, The Good Witch and Whoville tossed into the barnyard.
This four-book set includes…
STUCK WITH A SCHMUCK
(The Stuck with a Series Prequel)
What if you're stuck with a schmuck on Cupid's big day?
STUCK WITH A STIFF
The Stuck with a Series is Castle and Beckett gone-country with The Mom Squad, Betty Boop and My Cousin Vinny in the barnyard.
But this ain't no ordinary barnyard. There's a lot more than a crazy rooster missing from the chicken coop, a bad ass cow causing a bunch of trouble and a dog looking like a creature out of a storybook. There's a stiff too. A stiff – as in a dead guy – in a snow drift near the chicken coop.
Things aren't lookin' too good for Nicky Blane, who owns the farm. He's used to creating fictional stiffs for his bestselling novels, not defending himself from being framed for murder.
STUCK WITH A SPELL
For Stuck with a Spell – Book Two in the Series – there's a bit of Bewitched tossed into the mix. Think hex an ex.
Nicky Blane, a Bestselling Author and Farmer-in-the-making, doesn't need to look far to find creative inspiration for his novels. His crazy-ass Aunt Liza, a wanna-be witch, lives next door. But this time, she's blown it big-time with a hex on her ex that's gone a wee bit awry.
Think graveyards and Voodoo dolls, spell-casting and cauldrons, potions, raw emotions, and more.
STUCK WITH SLEIGH BELLS
What if Santa had a double knee replacement and had to put his BFF Father Time and The Mom Squad's Grams in charge of The Big Red Ride?
For Stuck with Sleigh Bells – Book Three of the Stuck with a Series – and the series' first holiday novella – think Castle and Beckett, The Good Witch and Maxine in Whoville.
Bonus Content Included:
D. D. also treats you to a Sneak Peek at her latest Christmas book – THE BILLIONAIRES' CHRISTMAS CLUB – co-authored with Bestselling Amazon Author Theresa Ragan.
Click here to get this book for FREE
° ° ° ° ° ° ° ° ° ° ° ° ° °
Middle-Aged Crazy: Short Stories of Midlife and Beyond – The Complete Collection
by Lynne M. Spreen


(13 Reviews)
Genre: Coming of Age | Contemporary Fiction | Women's Fiction
FREE for a limited time
Do you like the idea of personal empowerment? This collection of twelve short stories tell of people – mostly women, but some men – who are at the midpoint of their lives. They're starting to realize something is off, something they have the power to change. In Middle-Aged Crazy, we explore that rich and vibrant second half of life. From grandmothering to driving a big rig to deep-sea fishing, my characters (all over age 45 and a few of them men) demonstrate how they have chosen to navigate this new world.
Click here to get this book for FREE
° ° ° ° ° ° ° ° ° ° ° ° ° °
A Dubious Mission: The Aryan Tablet (Colton Banyon Mysteries Book 1)
by Gerald J. Kubicki

(11 Reviews)
Genre: Action & Adventure | Historical Fiction
FREE for a limited time
If you have read any of my books in this series, you probably wonder how Wolf and Colton Banyon came together. How did Loni meet Colt and why are the Patel sisters constantly throwing themselves at him. The answers are here in the remake of my original book.
When things go bad, they really go bad for Colton Banyon, a middle-aged business man. There appears to be a White Supremacy group chasing him. He has no idea why they have targeted him. He is soon offered help from people that he would never have expected to assist him. This leads to an exotic adventure and ultimately to a plot that was devised by the Nazi higher command during World War II. It was designed to keep America out of the war and ultimately as the starting point of a complete takeover of the government.
The plot involves a true written history of the Aryan race. A mysterious elderly gentleman is behind the scenes and controlling several suiters of the artifact. He was givien the assignment over 60 years ago. He is dying and wants to implement the old plan before he leaves earth.
Click here to get this book for FREE
° ° ° ° ° ° ° ° ° ° ° ° ° °