The disappointment the pumpkins have been for me so far has been balanced out by the joy of carrots. They took forever to start, but have been producing some tasty treats that the kids and my sweet piggies just can't get enough of. This year I only planted on tomato plant because in the past it seems so much was wasted. This year they can't produce tomatoes fast enough. I will need to note that two plants might be perfect. The jury is still out on the red onions and garlic. My friend said I planted them way too late, so I am not sure if this first batch will work out, but onions are something I could really use so I will try again. To date I have zero strawberries. I hate those little jerks.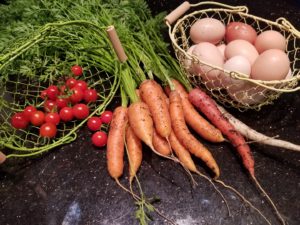 The Sun God's Heir: Return Book One
by Elliott Baker


(67 Reviews)
Genre: Action & Adventure | Fantasy
FREE for a limited time
For three thousand years a hatred burns. In seventeenth century France two souls incarnate, one born the child of a prosperous merchant, the other, determined to continue a brutal incarnation begun long ago.
In ancient Egypt, there were two brothers, disciples of the pharaoh, Akhenaten. When the pharaoh died, the physician took the knowledge given and went to Greece to begin the mystery school. The general made a deal with the priests and became pharaoh. One remembers, one does not.
The year is 1671. René Gilbert's destiny glints from the blade of a slashing rapier. The only way he can protect those he loves is to regain the power and knowledge of an ancient lifetime. From Bordeaux to Spain to Morocco, René is tested and with each turn of fate he gathers enemies and allies, slowly reclaiming the knowledge and power earned centuries ago. For three thousand years a secret sect has waited in Morocco.
After ages in darkness, Horemheb screams, "I am." Using every dark art, he manages to maintain the life of the body he has bartered for. Only one life force in the world is powerful enough to allow him to remain within embodiment, perhaps forever. Determined to continue a reign of terror that once made the Nile run red, he grows stronger with each life taken.
Click here to get this book for FREE
° ° ° ° ° ° ° ° ° ° ° ° ° °
Bon Bons to Yoga Pants (The Health and Happiness Society Book 1)
by Katie Cross

(112 Reviews)
Genre: Women's Fiction | Contemporary Fiction | Romance
FREE for a limited time
*Winner of the 2015 Watty Awards Best of HQ Love*
Lexie Greene has always had such a pretty face.
Unfortunately, that's where it seemed to stop. She's grown up hearing her Mother constantly remind her that she needs to lose weight. And twenty-two-year-old Lexie knows she's overweight.
With her younger sister's wedding on the horizon and a crush to stalk on Facebook, Lexie's had enough. She gives up her constant daydreams about food and joins a dieting group. As the pounds melt away at the gym, she finds that life on the other side of junk food isn't what she thought.
Bon Bons to Yoga Pants is an inspirational hit about a girl coming to terms with herself, and her past, all while navigating a world of food and fitness.
Click here to get this book for FREE
° ° ° ° ° ° ° ° ° ° ° ° ° °
The Warhol Incident (Alexis Parker Book 2)
by G.K. Parks


(89 Reviews)
Genre: Mystery | Thrillers
FREE for a limited time
Art thieves… An international crime syndicate… And mortal peril…
A year ago, Alexis Parker turned her back on everything she knew. Walking away from the Office of International Operations proved to be both the easiest and hardest thing she had ever done. However, her newfound life in the private sector is turning out to be anything but the cushy desk job she imagined.
Now ghosts from her past have come to haunt her. Running into a former acquaintance while retrieving a painting in Paris sends Alex spiraling back to the life she hoped to leave behind. Buried traumas from her last mission at the OIO are unearthed when similarities force the present to collide with the past. Those she believed to be friends quickly become enemies, and enemies soon become allies. It's a minefield of uncertainty that can have deadly consequences if she places her trust in the wrong person.
Meanwhile, the dynamic is shifting between her and James Martin, the man she had once been hired to protect. The two are standing on an emotional precipice, teetering on the edge of will they or won't they. It will all reach a crescendo as blood is spilled and sacrifices are made. Survival isn't always a guarantee, but merely a whimsical dalliance.
Click here to get this book for FREE
° ° ° ° ° ° ° ° ° ° ° ° ° °
Six Rounds Till Sundown
by Jeremy Ewan


(1 Review)
Genre: Westerns | Humor & Satire
FREE for a limited time
A collection of scoundrels, miscreants, heroes and derelicts are thrown together in a replica of an Old West cow town to recreate one man's fantasy of the American West.
Click here to get this book for FREE
° ° ° ° ° ° ° ° ° ° ° ° ° °
Meat & Fire: 100 Barbecue Recipes For Delicious Falling-Off The Bone Meat (Rory's Meat Kitchen)
by Rory Botcher


(4 Reviews)
Genre: Cookbooks, Food & Wine | Nonfiction
FREE for a limited time
Is There Some Magic Way To Make The Best Meat You Have Ever Tasted? Absolutely!
Start Your Next BBQ & Get ALL the amazing ideas & recipes today and create the perfect homemade food.
Eric Shaffer, Blogger, Food Enthusiast
"A must-have for real BBQ!"
Here's the real kicker
The Meat & Fire is a #1 Most Exclusive Recipe Book Ever. Unlike other cookbooks, guidance and recipes, the Meat & Fire has been created to focus on Grilling & Smoking Techniques and The Most Explosive Flavours.
You'll Never Guess What Makes These Recipes So Unique!
After reading this book, you will be able to:
• Combine Unusual Flavours
• Use New Techniques
• CheckHelpful Photographs And Tables
• Get Equally Delicious Results
• Find Ideal Recipes For Beginners
• Get ingredients For The Perfect Barbecue
These recipes are fantastic for satisfying all your family members!
• crowd-pleasing
• mouth-watering photos
• fun tips
• plenty of meat
• impressive side dishes
• instructive & easy to comprehend
Now, you're probably wondering…
Why you need this book? These recipes will give you:
• Good time with family & friends
• More flavor, smell, and, yes, the compliments.
• Country's best barbecue
• Award-winning secrets
• Tender meat that fall off the bone
Whether you're looking for a beginner's guide, seeking some grilling ideas, or just trying to get mouth-watering recipes you'll be inspired to start BBQ!
"Umm, what now??
Here's Some Recipes To Try!
• Seriously Smoked Brisket
• Cold Smoked Turkey with Cheese
• Low and Slow Smoked Ribs
• Grandpa's Special Brisket
• Temptingly Tender Smoked Ribs
• Terrifically Tender Brisket
• Super Smoked Pork
• Perfect Paprika and Oregano Smoked Brisket
Use these recipes, and start cooking today!
Impress your guests with these easy to make & delicious recipes!
Click here to get this book for FREE
° ° ° ° ° ° ° ° ° ° ° ° ° °