Sometimes I use fate as a excuse. We didn't pick up sweet little Junebug on Saturday when we saw her outside the pet shop with the other puppies from the dog rescue, but I just couldn't get her out of my mind and neither could my hubby and baby bassets. It wasn't until 3:30 on Sunday while driving home from a football game that I said, "If she is still there then we get her..wait no never mind." That's when my boys went nuts. I had never seen them go that crazy for a puppy before. In fact, my youngest is afraid of dogs, and even he was begging to get her. She is so small I couldn't really even call her a dog. More Guinea Pig size. When we got the the pet shop the rescue organization had left, but the store manager gave me the phone number to call. Two hours later she was in my arms. I don't know how she didn't get adopted before, so it must have been fate that she was still available.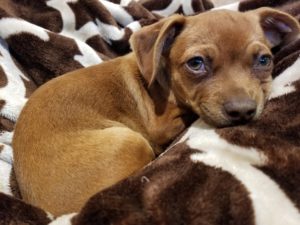 No Shoes, No Shirt, No Spells: A Magic Baking Cozy Mystery (Mystic Cafe Series Book 1)
by Rose Pressey


(201 Reviews)
Genre: Romance | Mystery
FREE for a limited time
Elly Blair welcomes the chance to escape her ex-fiance and job from hell when Grandma Imelda, ready to retire to sunny Florida, calls for her to take over her little southern cafe.
Elly has no idea her grandmother has baked up magic for the unsuspecting townsfolk for thirty years-and now Grandma Imelda insists that Elly use her own hitherto unsuspected magical powers to carry on the family tradition.
But Elly's new at this stuff. Her dishes don't turn out as full of smidgens of enchantment and dashes of wishes come true as she'd hoped. When handsome customer Rory Covington takes a bite of the wrong burger, he ends up capturing the attention of every woman in town. Elly doesn't know if her feelings for Rory are true or based on her magic gone awry.
Tom Owenton is an investigator the National Organization for Magic sent to look into the magical mishap. Unless Elly can reverse the spell, the cafe will be closed permanently. Tom is more than willing to help Elly out of this magical pickle, but she's not sure she should accept his offer.
Elly only has forty-eight hours to find a way to reverse the spell, or she'll lose the cafe and never discover if her feelings for Rory are real.
Click here to get this book for FREE
° ° ° ° ° ° ° ° ° ° ° ° ° °
Secrets & Charades
by Cindy Ervin Huff


(46 Reviews)
Genre: Women's Fiction | Religious & Inspirational Fiction | Contemporary Fiction
FREE for a limited time
Jake Marcum's busy ranch leaves him no time for courting, and his wounded heart has no place for love. When battlefield nightmares disturb his peace and his tomboy niece, Juliet, needs taming, somehow a mail-order bride seems like a logical solution.
Dr. Evangeline Olson has no idea her niece is writing to a rancher on her behalf, and she sure isn't interested in abandoning her medical practice for a stranger. But when an inheritance threatens to reveal a long-buried secret, she travels west to become Jake's wife.
Jake soon realizes Evangeline is more than he bargained for, especially when her arrival causes a stir in the community. As the two try to find their way in a marriage of convenience, their fragile relationship is further tested by cattle rustling and kidnapping. Can their hearts overcome past hurts to create a real marriage?
Click here to get this book for FREE
° ° ° ° ° ° ° ° ° ° ° ° ° °
Infinity Born
by Douglas E. Richards

(608 Reviews)
Genre: Thrillers | Science Fiction | Action & Adventure
FREE for a limited time
A breathtaking near-future thriller. From the NY Times bestselling author whose books have sold over a million copies.
When DARPA's billion-dollar program to create Artificial Superintelligence is sabotaged, US operative Cameron Carr is tasked with finding the culprit. He's been on high-stakes missions before, but this time the stakes are nothing less than the future of humanity. Because the race to evolve a superintelligent computer is on, and power players around the world will stop at nothing to get there first.
In the right hands, Artificial Superintelligence could lift humanity to towering heights. But in the wrong hands, this technology could represent the greatest threat humanity has ever seen…
Ripped from tomorrow's headlines, Infinity Born is a roller-coaster ride of a thriller that explores the deadly perils and mind-blowing possibilities that await the human race–including both extinction and immortality.
As our phones and computers become ever smarter, Infinity Born takes an unblinking look at a technological tipping point that is just around the corner. One that will have a profound impact on the future course of human history.
Click here to get this book for FREE
° ° ° ° ° ° ° ° ° ° ° ° ° °
Wrecker: A John Crane Adventure (John Crane Series Book 2)
by Mark Parragh


(6 Reviews)
Genre: Action & Adventure | Thrillers
FREE for a limited time
If you keep hitting the devil, don't be surprised when he hits back…
In Baja California to help a friend's daughter, John Crane finds himself crossing swords with a sadistic American trust fund heir and the drug cartel that's taken him under its wing. But he soon uncovers something even more dangerous using them both for cover. Meanwhile, Josh Sulenski's kindness to a former mentor reveals a dark conspiracy with disturbing connections to Crane's mission. Suddenly the stakes are higher than ever before, and the danger strikes far too close to home.
As Crane fights for his life against a cunning and ruthless enemy, Josh assembles a team of specialists to support him. But an unforeseen confrontation forces Josh to look closely at who he can really trust in a battle of shifting loyalties and betrayals where one mistake could cost him everything. Wrecker expands John Crane's world with new allies, new enemies, and a mysterious blue-haired woman who could be either – and might just be more than he can handle.
Includes a sneak preview of the forthcoming John Crane novel, Shot Clock.
Click here to get this book for FREE
° ° ° ° ° ° ° ° ° ° ° ° ° °
In the Driver's Seat: An American Road Trip
by Dan Murphy


(14 Reviews)
Genre: Travel | Biographies & Memoirs
FREE for a limited time
Dan Murphy set about to reach all fifty states. On his journey, he drove across the USA and navigated mountains, desert, rivers, and valleys and lived to tell about it, barely. This epic adventure is series of road trips that will make you laugh, cry, and ponder the meaning of life. You'll want to hit the road as soon as you finish reading.
Click here to get this book for FREE
° ° ° ° ° ° ° ° ° ° ° ° ° °