Watching little Junebug meet my sweet ladies for the first time was a crack up yesterday. She didn't even notice she was surrounded by six pterodactyls until it was too late. Junebug spends most of her time with her nose to the ground looking for food, so she walked right into the flock without even noticing. They noticed her though. They were about to charge when I snapped at them a little and they eased back. When she realized she was surrounded I could see the OH NO! look on her face. She darted off so fast I saw smoke. Then being the rascal she is she started running circles around them and playing again. Everyone was in the yard for a good half hour together and no one was hurt. Confused maybe, but I can see this is going to be a funny relationship.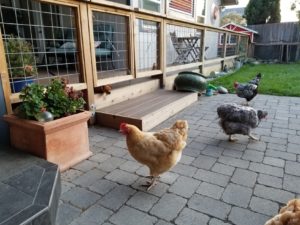 Stealing Power: A gripping crime thriller full of suspense (A Detective India Kane & AJ Colt Crime Thriller)
by Bo Brennan


(64 Reviews)
Genre: Crime Fiction | Mystery | Women's Fiction | Thrillers
FREE for a limited time
Stealing women's power is easy… until you pick the wrong one.
Detective Chief Inspector AJ Colt lives his life in the limelight. The charismatic star of New Scotland Yard is public relations gold. Everyone loves him. Well, almost everyone. For three years a vicious serial rapist has been taunting and tormenting him, sending him recordings of every sickening crime he commits. But with no DNA from the devastated victims the trail is stone cold dead, until a familiar landmark leads Colt back to his hometown – the last place on earth he wants to be.
It's also the last place on earth Detective India Kane wants him. The obsessively private local keeps her head down, works hard, and doesn't bother anybody. She likes life that way. When people bother her, things have a tendency to get messy. She's just landed a career changing case – a brutal drug-facilitated rape investigation – and doesn't take kindly to the arrogant newcomer parachuted in to snatch it from her.
The hunt is on.
But Colt and Kane's prey is just warming up. As he escalates, so does his power. And he won't stop until he's stolen it all… even if it means bringing his own brand of terror directly to those who hunt him.
When their lives collide – it won't just be the victims' worlds that are torn apart.
A compelling police thriller with a dark psychological twist, Stealing Power is perfect for fans of Angela Marsons, Robert Bryndza, Caroline Mitchell, Carol Wyer and Karin Slaughter.
Click here to get this book for FREE
° ° ° ° ° ° ° ° ° ° ° ° ° °
Asunder: A Novel of the Civil War
by Curt Locklear


(44 Reviews)
Genre: Literary Fiction | Historical Fiction | Teen & Young Adult
FREE for a limited time
Thrust into the middle of Civil War battle, with both Union and Rebel protagonists and antagonists, Asunder, the first in the Trilogy, is a story of love and loss and of families torn apart.
Thoroughly researched, the novel presents numerous complex, memorable characters struggling against incredible odds in an epic spanning from Texas to New York.
he story begins in frigid February, long after the battle. Cyntha Favor, an abolitionist and ardent believer in Spiritualism, searches the battlefield in hopes of finding her husband's grave. Having received erroneous reports of his death, she hopes to free his tormented soul. During the Civil War, it is estimated that at least one-fifth of the population wholeheartedly believed in Spiritualism. Mary Lincoln held séances in the White House with President Lincoln in attendance. Sara Reeder, initially naïve and an ardent supporter of the Southern cause, is thrust into the battle maelstrom. An excellent horse-woman, she rides to warn the army of a surprise attack, but is too late. With battle all around, she aids wounded Union soldiers, and her zeal for the war changes forever.
In early 1861, both armies wore an assortment of uniforms. The Union had not adopted the standard blue uniform. Cyntha's husband, a Union soldier, Iowa Grays volunteer, Joseph Favor, is found unconscious by Sara. Nursed to health by Sara and her father, Lucas, he awakens with no memory, unable to recall even the battle. The Reeders perceive him, since he is dressed in gray, to be a Confederate. Dred Workman, a conniving Iowan comrade and deserter to the Rebels, falsely identifies Joseph as a Cavalryman in the Third Texas.
The Reeder home is turned into a hospital. Soon, they are left to care for numerous wounded with no help from the army. Lucas blames Lincoln for the war. Based on an actual event, he holds a grudge against the president for something that happened before the war when Lincoln was a lawyer. Lucas and his slave have become friends, no longer slave and master.Sara and Joseph are romantically drawn to each other, but Joseph is haunted by fleeting images of his past. Joseph is called to join the cavalry. Will this parting keep them from being together? Joined by her freeman employee and confidant, Josiah Reynolds, Cyntha's headstrong manner lands her in confinement by the Union army. She meets a dubious Spiritualist who convinces her that Joseph's soul is indeed tormented.
Learning her brother is accused of robbery, and aided by a quirky Rebel supporter, Constance Carver, she plans escape. Her brother has problems of his own when the steamboat he is a passenger on sinks in a storm. The survivors are attacked by River Pirates. With Missouri marauder gangs closing in on the Reeder farm, the Spiritualist Fox sisters holding séances, and devastating battles, Asunder drives towards a devastating climax.
Click here to get this book for FREE
° ° ° ° ° ° ° ° ° ° ° ° ° °
The Thunder of War (Thunder in the Heavens)
by Dietmar Wehr


(74 Reviews)
Genre: Science Fiction
FREE for a limited time
The Thunder of War is the first book of a new military SF series, Thunder In The Heavens.
The Tyrell are a race that loves to fight, and they're very good at it. The harder they fight, the better they like it. Whenever they discover another intelligent race, they force them into combat whether they want it or not. When humans are warned of an inevitable confrontation with the Tyrell, they attempt to form a multi-species Alliance, but the challenges are great, and they know it's only a matter of time before a Tyrell fleet of massive ships will arrive in Earth orbit. Cate Harrow and Gort Eagleton are two Aerospace Force officers with the kind of strategic and tactical skills that the Alliance needs to win this war, but before they can even begin to defeat the Tyrell, they must survive the incompetent leadership that threatens complete disaster.
Defeating the Tyrell will be far more difficult than the Alliance initially believes unless they can discover their one weakness. This action-packed series has lots of space battles and political intrigues, as well as personal triumphs and tragedies.
Click here to get this book for FREE
° ° ° ° ° ° ° ° ° ° ° ° ° °
Haunted House – A Novel of Terror (The Konrath/Kilborn Collective)
by J.A. Konrath, Jack Kilborn


(695 Reviews)
Genre: Horror
FREE for a limited time
BEYOND AFRAID…
It was an experiment in fear.
Eight people, each chosen because they lived through a terrifying experience. Survivors. They don't scare easily. They know how to fight back.
BEYOND TRAPPED…
Each is paid a million dollars to spend one night in a house. The old Butler House, where those grisly murders occurred so many years ago. A house that is supposedly haunted.
BEYOND ENDURANCE…
They can take whatever they want with them. Religious items. Survival gear. Weapons. All they need to do is last the night.
But there is something evil in this house. Something very evil, and very real. And when the dying starts, it comes with horrifying violence and brutal finality.
There are much scarier things than ghosts.
Things that will kill you slowly and delight in your screams.
Things that won't let you get out alive.
HAUNTED HOUSE by Jack Kilborn
People are dying to leave
Click here to get this book for FREE
° ° ° ° ° ° ° ° ° ° ° ° ° °
Familiar Trouble (Familiar Legacy Book 1)
by Carolyn Haines


(38 Reviews)
Genre: Romance | Mystery
FREE for a limited time
BLOOD IS THICKER… Sometimes a unique talent is inherited — and such is the case for Trouble, son of Familiar the black cat detective. Trouble's rather indolent life in the sleepy town of Wetumpka, Alabama is upended when a serial killer arrives on the scene. Trouble begins to apply the skills he learned from his dad and his hero, Sherlock Holmes.
When local bookseller Tammy Lynn is attacked at the site of an impact crater, Trouble realizes he must protect his human and solve the mystery of the Silk Stocking Killer.
Aiden Waters, a local deputy, has tracked the SSK to Wetumpka. Since his wife's murder, Aiden won't risk romance, but when Tammy is endangered, everything changes. Especially their hearts.
Click here to get this book for FREE
° ° ° ° ° ° ° ° ° ° ° ° ° °