This little face makes me laugh and laugh. Junebug needs to be kept quite for the next two weeks so she can recover from her surgery. Hubby likes to keep her in a basket on top of the table while he works. With this little angel giving him such cute looks, he doesn't get much work done. She seems to be taking quite well to the lazy life.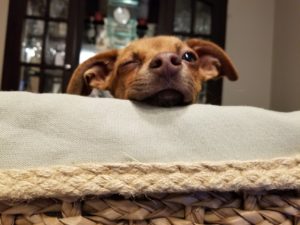 Taking Chances (Healing Hearts Book 1)
by Laura Farr


(46 Reviews)
Genre: Romance
FREE for a limited time
When Libby Davis loses her best friend in a tragic accident, she can't find a way through the grief and guilt that consumes her. Desperate to escape the memories that are stopping her from moving on, she visits her Aunt and Uncle on their ranch in Texas.
There she meets Mason Walker, a sexy ranch hand with a mysterious past, and a reputation he wants to leave behind. Despite her reluctance, sparks fly between the two of them, igniting feelings that neither have ever known before.
When someone from Mason's past starts to cause trouble, will Libby be willing to take a chance on love, or will her already damaged heart not allow her to?
Click here to get this book for FREE
° ° ° ° ° ° ° ° ° ° ° ° ° °
Rum Runner – A Thriller (Jacqueline "Jack" Daniels Mysteries Book 9)
by J.A. Konrath


(201 Reviews)
Genre: Mystery | Women's Fiction | Suspense
FREE for a limited time
Twenty years ago, a young cop named Jacqueline "Jack" Daniels arrested one of the most sadistic killers she'd ever encountered. She has since retired from the Chicago Police Department in order to raise her toddler daughter.
But old grudges never die. They fester until the right opportunity comes along.
While on vacation in the Wisconsin north woods, Jack learns — too late — that her old adversary is out of prison. He has revenge on his mind. And he's bringing an army with him.
Outnumbered, outgunned, and cut off from the outside world, Jack Daniels is about to learn the meaning of last stand.
This is the 9th Jack Daniels novel, after STIRRED. More than 1 million Jack Daniels novels have been sold worldwide.
RUM RUNNER by JA Konrath
That which does not kill you, keeps trying…
Click here to get this book for FREE
° ° ° ° ° ° ° ° ° ° ° ° ° °
Ace Jones: Misadventures in a Winter Wonderland
by Stephanie McAfee


(49 Reviews)
Genre: Women's Fiction | Humor & Satire | Contemporary Fiction
FREE for a limited time
Snow deep in a winter wonderland, misadventures abound as everybody's favorite fat girl, Ace Jones, is thrown face first into a dream come true. Don't miss this special release from New York Times and USA Today bestselling author, Stephanie McAfee.
Click here to get this book for FREE
° ° ° ° ° ° ° ° ° ° ° ° ° °
ALTDORF: The Forest Knights: Book 1
by J. K. Swift


(391 Reviews)
Genre: Historical Fiction | Fantasy
FREE for a limited time
A druid priestess enlists the help of an ex-Hospitaller warrior and a charismatic outlaw to fight Austrian tyranny in medieval Switzerland. A subtle blend of fantasy and history, Altdorf tells the events leading up to one of the greatest underdog stories of the medieval age, the Battle of Morgarten.
"Re-imagining the William Tell legend–without William Tell."
At the end of the thirteenth century, five hundred orphans and second sons are rounded up from villages in the Alpine countryside and sold to the Hospitaller Knights of St John. Trained to serve as Soldiers of Christ, they fight in eastern lands they know nothing about, for a cause they do not understand.
Thomas Schwyzer, released from his vows by the Grandmaster of the Hospitallers, returns to the land of his birth a stranger. Once a leader of men, and captain of the Order's most famous war galley, he now settles into the simple life of a ferryman. He believes this new role to be God's reward for years of faithful service fighting the Infidel in Outremer.
Seraina, considered a witch by most, a healer by some, is a young woman with a purpose. A Priestess of the Old Religion, and the last Druid disciple of the Helvetii Celts, she has been gifted by the Great Weave to see what others cannot. Her people need her guidance and protection now more than ever. For Duke Leopold of Habsburg, in his efforts to control the St. Gotthard Pass, builds a great Austrian fortress in Altdorf. Once finished, the Habsburg occupation will be complete, but the atrocities visited upon her people will have just begun.
Set in medieval Switzerland, ALTDORF, a novel of The Forest Knights, is the first book in a two-book series.
Click here to get this book for FREE
° ° ° ° ° ° ° ° ° ° ° ° ° °
Fender: A Novel
by Brent Jones

(17 Reviews)
Genre: Literary Fiction | Contemporary Fiction | Sagas
FREE for a limited time
How far must we travel to find our way home?
Nothing could have prepared Brennan Glover for the car crash that claimed the lives of his wife and six-year-old daughter. Stricken with grief, the only things that get him through each day are breaking his sobriety and clinging to Fender — the family dog and the sole survivor of the crash.
Desperate to distance Brennan from tragedy, his two closest friends take him on the cross-country road trip they had always talked about. But what begins as an effort to mend his broken heart ends up unraveling a secret that changes everything he thought he knew about his family. Can a journey of six thousand miles lead Brennan to acceptance and new beginnings?
From finding the good in an often cruel world to learning to say goodbye to those we love most, this sophomore release from author Brent Jones is sure to leave readers longing for home, wherever that may be.
Click here to get this book for FREE
° ° ° ° ° ° ° ° ° ° ° ° ° °