Everyone needs a best friend, and little Jerry is certainly the one for Junebug. My trips to the dog parks haven't been all that great, since it seems I haven't been able to find too many small pups she wants to play with. Even when I do, Junebug is still too distracted by the big ones to go out and play. Yesterday my partner in crime and I arranged a little play-date with her pup Jerry. She had adopted her him the same weekend, from the same organization as Junebug. It's possible they were even housemates. When Jerry arrived, Junebug lost it. She was so excited I was worried she was going to have a little heart attack. For an hour and a half those two played at full force. In total they had about three and a half hours together, and they certainly made the most of it. For Junebugs happiness I think I am going to need to have Jerry over more often. I think everyday should be enough.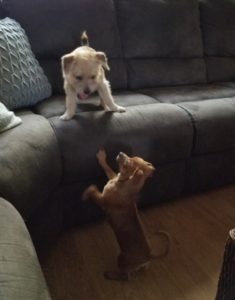 Murder Grins and Bears It: Yooper Mystery #2 (A Gertie Johnson Murder Mystery)
by Deb Baker


(84 Reviews)
Genre: Mystery | Humor & Satire | Women's Fiction
FREE for a limited time
From National Bestselling Author, Deb Baker
Note: NO animals are harmed in this romp through the backwoods!
On opening day of bear hunting season in Michigan's Upper Peninsula, a game warden is murdered right under Little Donny's tree stand. Little Donny disappears into the backwoods, forcing sixty-six-year-old Gertie to use her "unique" investigative techniques to find her favorite grandson. Gertie's search is hampered by her pin-curled bodyguard Kitty, her man-hungry friend Cora Mae, and Grandma Johnson — who should be mushing peas between her new false teeth in the Escanaba nursing home instead of setting up camp at Gertie's place. To top it off, Gertie's son Blaze, the local sheriff, seems more concerned with arresting his mom for cruising down Highway M35 without a driver's license than finding Little Donny or catching the killer.
Click here to get this book for FREE
° ° ° ° ° ° ° ° ° ° ° ° ° °
Meli's War—East of Orleans Series
by Renee' Irvin-Ellis, Ann Kempner-Fisher, Kim Killion


(10 Reviews)
Genre: History | Historical Fiction | Romance
FREE for a limited time
The time: During the Civil War
The place: Georgia
Meli Holcomb is a beautiful, young, half-Cherokee woman from Vickery Creek, Georgia who struggles with her race, the Civil War invasion by General Sherman's troops and the death of her father. But nothing compares to the forbidden love she harbors for a Union officer, Lt. Colonel Case Hamilton.
As children, Meli and Case romped and played together along the Chattahoochee river, but once Case joined the Union army after going to West Point, everything changed for Meli and her family.
Sherman's troops are now on the way and so is the end of the South as Meli knew it. She and her family are separated, and living in constant fear and danger.
Meli and her beloved black friend and former slave, Hattie, are taken prisoner and shipped off to the Confederate women's prison in Louisville, Kentucky. A short time earlier Hattie had been raped and was pregnant. Meli tries to take care of the girl, find family members, and just stay alive.
The women's prison is a worse nightmare than anything Meli could have imagined. Dr. Walker, a vicious, insane woman, beats the prisoners and starves them. Meli realizes she and Hattie must escape. Meli takes on Dr. Walker and comes close to killing her. When the two women finally get away from the prison, they are lost but find a place to hide at Sam Sullivan's local saloon. Sullivan saves their lives and helps Meli recover from a shotgun wound she received when trying to find a place for her and Hattie to hide. All Meli knows is she and Hattie must find a way back to Vickery Creek. Or die trying.
But one more surprise is in store for Meli… Lt.Colonel Case Hamilton is in Louisville and when the two meet up after the years of being apart, Meli is torn between love and hate. She still loves Hamilton but hates him too for having become a Union soldier and possibly is even responsible for deaths in Meli's family.
Click here to get this book for FREE
° ° ° ° ° ° ° ° ° ° ° ° ° °
Pilgrim of the Storm (The Stormblade Saga Book 1)
by Russ Linton


(17 Reviews)
Genre: Fantasy
FREE for a limited time
Sidge knows the rituals of the Stormblade Temple in meticulous detail. He has mastered every word and phrase of the twelve thousand mantras. Sworn to protect mankind, he is a model acolyte in every way. Every way except one.
He isn't human.
Sidge has never known his own people, an insectoid race more often used for menial labor than meditation. Adopted by an eccentric human mentor, the temple is his entire life. Yet for the other acolytes, his presence is an affront to their vigil against an ancient foe who once enslaved mankind.
Dark omens follow Sidge on his first pilgrimage. The Wisdom of the mighty storm dragon, Vasheru, seeks a new vessel to lead the temple and the most likely candidate sees Sidge as an abomination. He and his mentor begin a desperate attempt to compete for the title. But an encounter with a streetwise woman named Kaaliya sets off a chain of events millennia in the making which will reshape Sidge's destiny – and the course of an entire age.
His first journey outside the temple walls will not only test Sidge's faith but his sense of identity as he races to ensure his beloved temple does not fall into the wrong hands.
Click here to get this book for FREE
° ° ° ° ° ° ° ° ° ° ° ° ° °
Mosquito Heights
by Greg Liles


(5 Reviews)
Genre: Coming of Age | Humor & Entertainment
FREE for a limited time
"Mosquito Heights" is the true story of my childhood while growing up in the small central Illinois city of Marquette Heights. How my love for adventure and exploration was put to the test nearly every day in this small village surrounded by trees, streams, and wildlife, and how the friendships I developed along the way have been life-enduring.
But it's much more than a story about my childhood; it's a trip down memory lane for anyone who reads it. And if you find your childhood was similar to mine, and catch yourself laughing at the stupid things I did, remembering something that you did, then more power to you, because I loved every minute of mine.
Me and my two best buddies built forts, camped out, and played in places we called Sand Hill, Red Devil's Canyon, and The Desert. We spent nearly as much time in the branches of the trees than we did on the ground, enjoying all the daredevil feats we could evoke. And we did a lot of things we weren't supposed to, but we bonded, survived, became blood-brothers for life, and the knowledge we gained while growing up enabled us to become men proud of our heritage.
If you grew up here, follow me through my grade school years, during my times of family discord, and pubescent confusion, through the wooded adventure-lands of Marquette Heights, to the unforgiving playgrounds of the local schoolyard and see if you don't say, "I remember that," at least a dozen times.
Even if you've never been to Marquette Heights I'm sure you'll find this book humorous, heart warming, and fun to read, as you learn about all the crazy things me and my friends got involved in and how people never seemed to care. Things were different then and so were the people. We didn't lock our doors and people didn't erect fences just to mark their boundaries and keep you off their property. We respected each other more then and seldom did anything that would affect that premise.
Let me take you back to your childhood, wherever that may have been, and see if you can connect with those who lived in Marquette Heights. I think you will.
We all have a hometown of which we have fond memories. This is the story about mine.
Click here to get this book for FREE
° ° ° ° ° ° ° ° ° ° ° ° ° °
Pat Ruger: For Hire (Pat Ruger Mystery Series Book 1)
by Jack Huber


(15 Reviews)
Genre: Action & Adventure | Mystery | Teen & Young Adult
FREE for a limited time
Pat Ruger is a retired detective in Denver, Colorado, who does freelance PI work. An old friend, Angel, is a long-time weed dealer who refers a case to Pat- a missing woman suspected of being kidnapped and radicalized by Islamic extremists. Pat's new client and her best friend are young women of the street and they eagerly help him recover from mourning over his late wife. When Pat uncovers a terrorist plot, can he find a large explosive device set to kill thousands of people and disarm it in time?
Click here to get this book for FREE
° ° ° ° ° ° ° ° ° ° ° ° ° °