I think the final count on the pumpkins that I added to the Halloween decorations this year was something like 19. Towards the end I didn't even try to hide the fact that i kept adding those adorable little guys. Hubby didn't say too much though because i was getting them from my baby basset's school garden, so the money was going to the school. A Few little finishing touches to the outside decor and I will be ready for the Trick or Treaters! Happy Halloween everyone!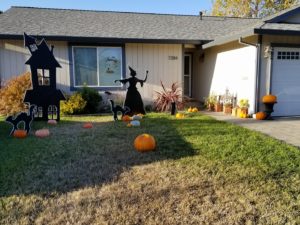 Five, Six … Grab your Crucifix (Rebekka Franck, Book 3)
by Willow Rose


(195 Reviews)
Genre: Mystery | Horror | Literature & Fiction | Foreign Language Fiction | World Literature | Anthologies & Literature Collections | Literary Fiction
FREE for a limited time
An enthralling tale from an international bestselling author
It was supposed to be a vacation, but instead reporter Rebekka Franck confronts her most baffling case yet! When a priest's exorcism goes awry, Rebekka must pick up the pieces and discover the mystery behind an evil force.
Rebekka and Sune are on a vacation in Northern Zeeland when they suddenly find themselves involved in what turns out to be their most horrifying case to this date.
– This is a terrific story, horror, psychological thriller, murder mystery all rolled into one.
Five, Six… grab your crucifix is a spine-chilling Scandinavian mystery novel from the International Bestselling author Willow Rose. It is the third book in her series about the Danish journalist Rebekka Franck. It is followed by the fourth book in the series: Seven, Eight… Gotta stay up late.
Click here to get this book for FREE
° ° ° ° ° ° ° ° ° ° ° ° ° °
Just For This Moment: A Small Town Southern Romance (Wishful Romance Book 4)
by Kait Nolan, The Forge Book Finishers


(52 Reviews)
Genre: Literature & Fiction | Women's Fiction | Contemporary Fiction | Romance
FREE for a limited time
A madcap modern marriage of convenience tale sure to leave fans begging for more
Maybe there hasn't been actual blood, other than a few paper cuts, but Myles has put plenty of sweat into his independent, local newspaper, and he's even willing to admit to a few manly tears. Certainly, the paper has been his mistress since he moved to the small town of Wishful, Mississippi, and he doesn't feel it's hyperbolic in the least to say it owns a piece of his soul. He's building his dream, independent of the life laid out for him by his family, and that means everything. There's nothing he wouldn't do to ensure its success.
Piper fell hard for Myles when they co-stared in the production of White Christmas that saved Wishful's historic Madrigal Theater. Not in love, she's careful to remind herself, but into very serious like, and certainly outrageous, chemistry-fueled attraction. But Piper knows that the bright lights of the stage can wreak havoc with perspective. She's been burnt by them before, when an on-stage passion fizzled into disappointment and heartache. That's why she put on the brakes with Myles, and she admits to herself that the fact that he played by her rules and waited only adds to his appeal.
When Myles tells her that a major investor is pulling out of the paper, leaving him with a huge loan to repay or lose his control over what he's built, Piper is devastated for him. But when he jokingly admits that the best option he's come up with is to marry a showgirl to gain access to a trust fund, well, that just sounds like a plan to Piper. After all, why not take this great guy on marriage test drive? He's worth having just for this moment, however long it lasts. But as their fake marriage turns alarmingly real, they'll have to decide if they're in it for the moment or forever.
Welcome to Wishful, Mississippi, a small town with big hearts, where folks come together to make their dreams come true. We first met Myles and Piper when they auditioned for White Christmas in BE CAREFUL, IT'S MY HEART, when another of Piper's zany schemes helped bring her friends Tyler and Brody together. We followed their story in ONCE UPON A SETUP, a Wishful Meet-Cute Romance, which tells the story behind Piper's cooling off period. But if you haven't read either of those, don't worry about jumping in here. Every Wishful story can stand on its own, just like the sassy women of this charming, southern town.
Click here to get this book for FREE
° ° ° ° ° ° ° ° ° ° ° ° ° °
Scorched (Rulers of the Sky Book 1)
by Paula Quinn


(43 Reviews)
Genre: Romance
FREE for a limited time
Marcus is a Drakkon as ancient as the stars, stronger than a mountain, and the last of his kind. Men now rule the earth. The time of the Drakkon is over thanks to the legendary Phoenix Amber and the Council of Elders who use its power to transform Drakkon into humans. When the Council discovers he may be hiding a treasure worth more than any dragon horde, they will stop at nothing to have it and transform him against his will.
Being human is worse than anything Marcus could have imagined. His brilliant cerulean scales are gone, replaced with paltry skin he is sure could not even stop a bird if one flew into him. But worse than imprisonment in a male body are the awakenings of unfamiliar human desires that are nothing like the animal urges that were so easily satisfied as a Drakkon — emotions like loneliness that make him seek out companionship with a woman who, unfortunately for him, happens to be a sweetly-scented virgin.
Samantha Montgomery isn't about to go to bed with a man who believes he used to be a reptile, especially one whose smoldering smiles make her think of being consumed alive by fire, and loving it. A romance writer and product of the New York State foster care system, Sam just wants some normalcy in her life. She'll never get it with Marcus. Should it matter that his wickedly passionate touch tempts her to yield all, even if all he wants is her virtue? He is everything she doesn't want in a man. Fear of commitment is one thing, not loving anyone or anything for ten centuries is another. But he won't leave her castle. He's arrogant, proud, and a bit delusional as to his abilities, but despite all his infuriating ways, including reading her mind and ceaselessly trying to convince her that the knights she writes about were useless beings clad in metal, he works his way into her life by fixing what's broken; from the stone wall outside her battle-beaten castle to the wall around her heart.
When Marcus discovers the treasure that prompted his transformation, he must make a choice. Give up his human heart and save the Drakkon race, or surrender his heart to love and remain a man forever.
Click here to get this book for FREE
° ° ° ° ° ° ° ° ° ° ° ° ° °
The Earth Bleeds Red
by Jackson Baer

(13 Reviews)
Genre: Literature & Fiction | Literary Fiction | Mystery
FREE for a limited time
Scott Miller has everything he's ever hoped for. He has a successful marriage to Jessie, a stunningly beautiful, creative woman. His seventeen-year-old daughter, Ashley, is both gorgeous and intelligent, and has just been accepted to the University of Notre Dame, where Scott received his PhD. He has a comforting home in the woods, and a fulfilling career as a college professor at Oregon State University in Corvallis. He's blissful, and at peace, until it all comes shattering down.
Ashley is kidnapped. The scene of the abduction is horrific and bloody, and the police are convinced she couldn't have survived. They accuse her boyfriend, Brandon, of Ashley's murder. He declares his innocence, and claims that a masked man who entered his house and overwhelmed them both took Ashley. No one believes Brandon.
Then the bodies of three other missing girls are discovered, all bearing the mark of a known serial killer the FBI has been hunting for years. Evidence mounts. As Special Agent James Duncan tracks the Hail Mary Killer, Scott and Jessie try to move on with their lives. But they can't shake the feeling that Ashley may still be alive, and that the time for saving their only daughter is quickly running out.
In the best tradition of literature and suspense, Jackson Paul Baer has weaved a heartfelt tale of one family's struggle to survive after a despicable evil wrenches them apart.
Click here to get this book for FREE
° ° ° ° ° ° ° ° ° ° ° ° ° °
Herbal Antivirals: 15 Outstanding Natural Remedies for Treating Drug-Resistant Viral Infections
by David Green


(8 Reviews)
Genre: Health, Fitness & Dieting
FREE for a limited time
Viral epidemics have now become very common, much more common than they used to be in the past; some of them have become very famous, for example Ebola, HIV, malaria, Zika virus and bird flu. Others have been with us, with variants of the same virus, for more than a century: just think about the common flu, which killed up to fifty million people during World War I. yet other epidemics seem to have not solution, malaria being one of these.
People get infected through air, but also through direct and indirect contact with other people who carry the virus; sometimes, touching an infected handle in a public convenience is all you need to catch a virus.
Moreover, there are sexually transmitted viruses; these, for example, include hepatitis C.
Thus, in a world full of viruses, people have started looking at alternative remedies, many whose efficacy has been proved by scholarly studies, to alleviate and treat the symptoms of viral infections.
This book is packed with information about how viral infections work, and it presents some of the best herbal antivirals known to humans!
In this book you will find:
• A full, detailed introduction about what viruses are and how they infect people
• A detailed analysis of how conventional pharmaceutics deal with viral infections
• A detailed introduction to herbal antivirals
• Ways of using herbal antivirals, including how to make infusions, oil infusions, tinctures and herbal teas
• 15 of the best, most efficient herbal antivirals known to us, with detailed instructions on how to use them effectively to treat the symptoms of a huge range of specific viral infections
And much, much more!
Click here to get this book for FREE
° ° ° ° ° ° ° ° ° ° ° ° ° °