Junebug doesn't want to get out of her new bed. The thing is so big I worry that if she burrows much further into it she will get lost. I wish I had that kind of a bed.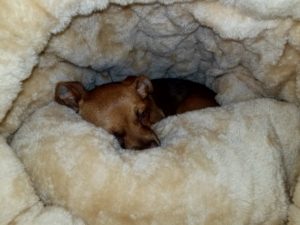 Your Irresistible Love (The Bennett Family Book 1)
by Layla Hagen

(372 Reviews)
Genre: Romance
FREE for a limited time
*A sizzling romance from a USA TODAY BESTSELLING Author*
Sebastian Bennett is a determined man. It's the secret behind the business empire he built from scratch. Under his rule, Bennett Enterprises dominates the jewelry industry. Despite being ruthless in his work, family comes first for him, and he'd do anything for his parents and eight siblings — even if they drive him crazy sometimes… like when they keep nagging him to get married already.
Sebastian doesn't believe in love, until he brings in external marketing consultant Ava to oversee the next collection launch. She's beautiful, funny, and just as stubborn as he is. Not only is he obsessed with her delicious curves, but he also finds himself willing to do anything to make her smile.
He's determined to have Ava, even if she's completely off limits.
Ava Lindt has one job to do at Bennett Enterprises: make the next collection launch unforgettable. Daydreaming about the hot CEO is definitely not on her to-do list. Neither is doing said CEO. The consultancy she works for has a strict policy — no fraternizing with clients. She won't risk her job. Besides, Ava knows better than to trust men with her heart.
But their sizzling chemistry spirals into a deep connection that takes both of them by surprise. Sebastian blows through her defenses one sweet kiss and sinful touch at a time.
When Ava's time as a consultant in his company comes to an end, will Sebastian fight for the woman he loves or will he end up losing her?
*This book is a standalone. Each book in The Bennett Family series will follow a different couple.*
*This read is recommended for ages 18+ due to mature content.
Click here to get this book for FREE
° ° ° ° ° ° ° ° ° ° ° ° ° °
The House that Jack Built: An edge of your seat serial killer thriller (Jack Ryder Book 3)
by Willow Rose


(195 Reviews)
Genre: Mystery | Horror | Anthologies & Literature Collections | Literary Fiction | United States
FREE for a limited time
From the Amazon ALL-star Bestselling author Willow Rose
Scott Kingston is afraid of monsters. He thinks they're lurking outside his bedroom window at night when his mother tucks him in. He asks his mother to keep the light on to scare the monsters away. But that light is exactly what lures the kidnapper to his window and the next morning, Scott Kingston is gone.
Twenty-eight years later, Vernon Johnson is released from jail after spending the biggest part of his life on death row, convicted of having kidnapped and killed Scott Kingston. As so many times before, he has appealed his case, but this time, the judge decides to let him go. A witness has finally told the truth, and there is no longer sufficient evidence to keep him in jail.
But shortly after Vernon Johnson is released and has returned to his childhood town, another child disappears, and soon all eyes are on him again.
Jack Ryder is getting ready to build the house of his dreams while hoping that Shannon won't end up in jail for the murder her ex-husband committed. She is expecting their child and the pregnancy, along with the worrying, takes a toll on the both of them, especially when a dark secret is revealed about the lot where they are preparing to build their house.
The fourth installment in the Jack Ryder Series, BLACK JACK is out now!
Click here to get this book for FREE
° ° ° ° ° ° ° ° ° ° ° ° ° °
Journey on the Hard Side of Miracles
by Dr. Steven Stiles, Steve Gregg

(112 Reviews)
Genre: Religion & Spirituality
FREE for a limited time
God can do anything He wants, anywhere He wants, anytime He wants, and in any way He wants. Sometimes He lets us see.
All of us have experienced coincidences, and perhaps we've encountered the truly unexplainable. But have we seen a genuine miracle? What does the Bible tell us about such events? Journey offers a unique look at miracles, and the reader must decide for themselves what is real and what is not.
This true, thought provoking record of the supernatural escorts you back to the international "Jesus Movement" of the 1970's to ponder some of the astonishing ways God rocked the lives of a generation of young Christians.
The story continues to unfold as you wander across America with a humble band of "Jesus People." Roaming in old, unreliable buses, the gentle shepherding of an unseen traveler is no sooner revealed than the extraordinary journey only becomes more difficult. But the young riders do not turn back.
Startling events lead to the discovery that miracles aren't always what they first appear to be. Then, repeated lessons of faith point the travelers to an unforgettable truth:
– There is a reason to listen to the Shepherd.
– There is a reason to stay close.
Click here to get this book for FREE
° ° ° ° ° ° ° ° ° ° ° ° ° °
Croissants and Corruption (Margot Durand Cozy Mystery Book 1)
by Danielle Collins


(79 Reviews)
Genre: Mystery, Thriller & Suspense | Mystery | Women's Fiction
FREE for a limited time
To all appearances, North Bank is a charming retirement town and tourist attraction – until a murder reveals a darker side of crime and corruption.
A Cozy Mystery from #1 Best Selling Author Danielle Collins
Always FREE on Kindle Unlimited
Margot Durand runs a French Bakery in the charming town of North Bank, Virginia. When her troublesome niece comes for a summer visit, she knows she is going to have her hands full. After an unexpected murder, the girl is labeled as the prime suspect and Margot is forced to fight for her niece's freedom. Can she solve the mystery and clear her niece before the killer gets away… or strikes again?
Croissants and Corruption is part of the Margot Durand Cozy Mystery series. If you like fun cozy mysteries, you are going to love Croissants and Corruption.
Click here to get this book for FREE
° ° ° ° ° ° ° ° ° ° ° ° ° °
The Five Shields :The Lost Souls
by Ilan Dvir, Joseph Fackenhiem

(17 Reviews)
Genre: Teen & Young Adult
FREE for a limited time
Imagine discovering a baby with a mysterious gem on your doorstep!
A sharp knock in the middle of the night awakens Henri and Aline. They discover on their doorstep a swaddled baby with only a mysterious ring wrapped in her blankets. They decide to keep their find a secret and tell the world she is theirs, not knowing that every secret comes at a price. They name her Rose.
Five teens from across the world discover shared hidden powers and a deadly mission
On their thirteen birthdays, Rose and four other teenagers from across the globe discover that they are The Five Shields, tasked with protecting the world's fate and the balance of good and evil. All they have in common is a mysterious, powerful gem. On a life-changing journey, they discover untold powers hidden within them.
Can the Five Shields save a world threatened by total darkness?
The Five Shields must fight to free the lost souls before it is too late. But first they must defeat sinister, dark forces hell-bent on their total destruction. If the Shields succeed, light will triumph; if they fail, darkness will reign. Who will prevail?
Scroll up now to get your copy of The Five Shields: The Lost Souls!
Click here to get this book for FREE
° ° ° ° ° ° ° ° ° ° ° ° ° °