I hate when someone thinks they own the road. Take for instance this goat. Who does he think he is taking up BOTH sides of the road? Pick a side Mr. Goat. My friend was just trying to get to her destination when she came up on Mr. Goat here. She asked Mr. Goat very nicely to please let them by, but he completely ignored them.  I wonder if this is the same guy who was shoplifting snacks at the Starbucks downtown. Seems like the type.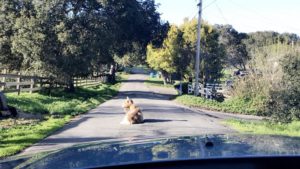 Thirteen Chocolates (A Chandler's Chocolate Box Mystery Book 1)
by Agatha Chocolats


(16 Reviews)
Genre: Mystery, Thriller & Suspense | Mystery | Suspense
FREE for a limited time
Thirteen chocolates. Thirteen heirs. One stab at a decadent fortune.
Legendary chocolatier, Ulysses Chandler has died, leaving his historic Smoky mountain mansion and world-famous chocolate factory behind. Single mom, Anna Clementine, has left her minimum-wage waitress job to collect an inheritance from a man she never met.
The catch? There are twelve other heirs, with twelve outrageous personalities… and one of them doesn't like to share.
Readers are invited to play along with this classic whodunit, where one by one, chapter by chapter, suspects and chocolates disappear.
Until, then there is one.
And it's the killer.
Click here to get this book for FREE
° ° ° ° ° ° ° ° ° ° ° ° ° °
THE COUNT OF THE SAHARA: Historical fiction at its best
by WAYNE TURMEL

(136 Reviews)
Genre: Historical Fiction | Literature & Fiction | Action & Adventure
FREE for a limited time
From the scorching desert to the freezing Midwest… a man struggles against the elements, himself and those around him.
Leading a motley crew of 'experts' deep into the Sahara, Count de Prorok is about to make a great discovery. The acclaim of the finding the missing tomb of an ancient queen will set him and his family up for life. But, when plotted against, the money dries up as quickly as the goodwill of his team, and in more ways than one, the Count appears to be stranded, and left to the elements.
Historical fiction at its best…
The COUNT OF THE SAHARA is the story, recounted by his young assistant, of Count Byron de Prorok, a little known gentleman explorer of Africa in the 1920s. If you enjoy great historical fiction with a captivating plot, superb characters and a light sprinkling of humor, this book is for you!
Click here to get this book for FREE
° ° ° ° ° ° ° ° ° ° ° ° ° °
The Song of the Sirin (Raven Son Book 1)
by Nicholas Kotar


(65 Reviews)
Genre: Fantasy | Science Fiction & Fantasy | Religious & Inspirational Fiction
FREE for a limited time
An evil omen clouds the sky. An ancient enemy returns. The last hope for the world is… a song?
Voran can't help but believe the rumors. As blight ravages the countryside and darkness covers the sun, the young warrior of Vasyllia hears of an ancient spirit that devours souls. He feels powerless to fight the oncoming devastation until a mythical creature entrusts him with a long-forgotten song. Legend has it that such a song can heal the masses, overthrow kingdoms, and raise humans to divine beings…
Armed with the power of the song, Voran must hunt down the dark spirit before it achieves its goal of immortality. His quest takes him through doorways to other worlds and puts him on a collision course with seductive nymphs and riddling giants. With each step of the journey, the strength of the villainous spirit grows, as does Voran's fear that the only way to save his world… is to let it be destroyed.
The Song of the Sirin is an epic fantasy retelling of the Russian fairy tale Prince Ivan and the Grey Wolf. If you like the hero's journey, creative twists on mythology, and classic fantasy, then you'll love Nicholas Kotar's sweeping tale.
Click here to get this book for FREE
° ° ° ° ° ° ° ° ° ° ° ° ° °
The Baronet's Wedding Engagement (Royal Wedding Invitations Book 2)
by Jessica Hart


(12 Reviews)
Genre: Literature & Fiction | Contemporary Fiction | Romance
FREE for a limited time
When his sister Hope announces that she is going to marry a prince, Max is taken aback to discover that the royal wedding will take place not in stylish San Michele, but at their run-down family home, Hasebury Hall. Now Max has to fix up the manor, let royal and security officials have the run of the place… and find a suitable woman to placate a Crown Princess with an obsession over protocol.
Chef Flora Deare, Hope's friend, is in charge of catering the royal wedding and has quickly taken over Max's kitchen – not to mention the rest of his life. As a bridesmaid, Flora will be going to the official announcement of the royal engagement in San Michele too. Max is single, she's single: why don't they go together and keep the Crown Princess off Hope's back?
Max has too much Mr. Rochester about him for Flora's tastes and she'll be returning to London very soon to reboot her career. Still, what harm can a little pretense do if all it involves is a glamorous trip to San Michele and smiling together at the wedding itself? Apparently, a lot… Soon, it's hard to remember what's real and what's not.
Click here to get this book for FREE
° ° ° ° ° ° ° ° ° ° ° ° ° °
A Trillion Dollar Man: The Blistering New Action Romance Thriller
by Angus Kennedy


(14 Reviews)
Genre: Action & Adventure | Literature & Fiction | Women's Fiction
FREE for a limited time
YOUR BEST FRIEND IS DEAD ON HIS LIVING ROOM FLOOR
Suddenly you're jerked into a scene right out an intense action thriller book. You'd planned a transpacific adventure with him and other close friends on your huge, historical sailboat. Without mercy, you're locked into a nightmare like an FBI thriller, a CIA black ops story and a detective crime book all rolled into one.
WHAT IF YOU WERE THE FIRST PERSON TO BREAK THE TRILLIONAIRE BARRIER
You've seen clearly that billionaires are as tedious as any other financial stratum. Bored with making money and the lammo conversation of the rich and famous; you have retreated to your Texas ranch and re-channeled your energy into raising outstanding quarter horses.
YOU ARE A FORCE RECON MARINE, RETIRED
You are a lethal engine designed not just for combat, but intense mental reconnaissance while fighting.
A BRAND NEW ACTION ADVENTURE SERIES COMES ON LIKE A THERMONUCLEAR REACTION
With huge thrust the Trillion Dollar man books begin and explode right off the page. Don't kill anyone's best friend and for sure, not a Force Reconnaissance Marine's.
Click here to get this book for FREE
° ° ° ° ° ° ° ° ° ° ° ° ° °