My sweet chickies have never bothered a Hydrangea. Its been six years and Hydrangeas have been safe from their sharp little beaks, until now. I try to plant chicken safe plants in their run so they can live happy healthy lives, just like the ones I see on Pinterest. yes, I know I should never compare myself to Pinterest pictures because it's all about the camera angle, but I could at least get one section of my chicken run to be at least a little Pinteresty. I think this picture below looks okay. You can see all five ladies just relaxing on a warm summer day. It's not often I can get a picture of all five standing still, since every time I go outside they run to me. I had to take this picture by sticking just my hand out the sliding door and hoping they didn't hear me.  I really want a Pinterest worthy picture for once.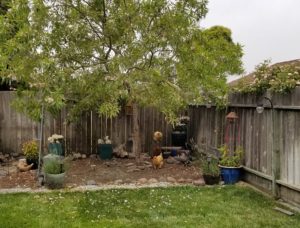 TREAD SOFTLY ON MY DREAMS: An Epic Novel From Ireland's Past. (The Liberty Trilogy Book 1)
by Gretta Curran Browne

(375 Reviews)
Genre: Historical Fiction | Literature & Fiction
FREE for a limited time
WINNER OF "READERS' FAVORITE" GOLD MEDAL AWARD
The Emmets are Protestants, belonging to the elite society of Ireland's ruling class. Born in 1778, Robert Emmet, the youngest son of the State Physician of Ireland, has grown up in the heart of a prosperous and loving family, one of the most respected in Dublin city. From his parents he acquired a deep love of Ireland and a commitment to justice. From his brother Thomas he acquired an understanding of the divisions and inequalities of his country.
In the historic year of 1798 Robert's life changed from its charted course to one of rebellion. A brilliant student at Trinity, he casts aside all hopes of a scientific career, all the privileges of his class, to join the United Irishmen – a society dedicated to the union of Protestant and Catholic. But the men in Dublin Castle determined on the continuance of English rule, force him to flee to France. But even as his boat sails away from his beloved homeland, he looks back and knows he will return – to the cause of his country's liberty, and to the beautiful girl he has fallen in love with, Sarah Curran, the daughter of Ireland's most talented lawyer.
He returns – and meets Anne Devlin, a passionate and brave Catholic country girl, who becomes his most devoted companion.
Set against the background of the beauty of Ireland, the dark clouds of its past, as well as the humour and dreams of its people, this is a passionate and powerful true story of three young people, Robert Emmet, Anne Devlin, and Sarah Curran, drawn together in love, in hope, and tragedy.
Click here to get this book for FREE
° ° ° ° ° ° ° ° ° ° ° ° ° °
Novum: Genesis: (Novum Series, Book 1)
by Joseph Rhea


(70 Reviews)
Genre: Science Fiction | Science Fiction & Fantasy
FREE for a limited time
As the last descendants of Earth struggle to survive beneath the surface of an alien water planet, one man's discovery will lead him on a journey of redemption, while he fights to save what's left of his world.
Jacob Stone is a young man haunted by his past. When he reluctantly accepts a job to help pay for a transport submarine he inherited but doesn't want, he inadvertently awakens an ancient and terrible power.
Its arrival triggers a chain of events that could destroy what's left of the human race or be the key to its future. But, is it a future he's willing to fight for, let alone die for?
Click here to get this book for FREE
° ° ° ° ° ° ° ° ° ° ° ° ° °
4 Years Trapped in My Mind Palace
by Johan Twiss


(156 Reviews)
Genre: Literature & Fiction | Religious & Inspirational Fiction | Religion & Spirituality
FREE for a limited time
I was paralyzed from head to toe–trapped in my own mind. But everything changed when an old man with dementia heard my thoughts.
An inspirational page-turning novel in the tradition of Mitch Albom's Tuesday's with Morrie, mixed with the humor and twists of Back to the Future, 4 Years Trapped in My Mind Palace is filled with witty humor and heart-warming, feel-good, experiences. It's a coming-of-age story, entwined with an end-of-age story, that will capture your imagination with a hint of nostalgia, a hint of the whimsical unknown, and a wild adventure through modern history.
Click here to get this book for FREE
° ° ° ° ° ° ° ° ° ° ° ° ° °
Deadly Journey
by Declan Conner


(29 Reviews)
Genre: Crime Fiction | Mystery, Thriller & Suspense | Mystery
FREE for a limited time
DEA Agent Kurt Rawlings has made a lot of enemies in his successful career, sending hundreds of criminals to prison. But now he's the one in captivity, snatched in El Paso by assassins but taken and smuggled into Mexico by a cartel that wants him alive — for now. Hoping to survive and reunite with his family, he needs to escape before his usefulness expires.
The cartel's plans for him are more than a simple ransom. But whoever hired his abductors in the first place still wants him dead, and their reach is long. While he seeks a way out, his best chance to stay alive is to find out what the cartel wants with him, and who means to kill him
Rawlings knows what happens to agents like him — and his time is almost up. One thing is for sure. His enemies have picked on the wrong guy to mess with.
Click here to get this book for FREE
° ° ° ° ° ° ° ° ° ° ° ° ° °
The Cult Next Door: A Manhattan Memoir
by Elizabeth R. Burchard, Judith L. Carlone, William Goldberg


(39 Reviews)
Genre:
FREE for a limited time
A True Story of Deception, Despair, and Redemption. At 17, Elizabeth, plagued with migraines, attended a biofeedback therapy session at the office of an Upper East Side psychiatrist. Sensing her naivete, an assistant technician regaled the idealistic Swarthmore College pre-med with prophetic visions of a glorious future, hers to claim alongside him. In the decades that followed, this master at manipulating metaphysical concepts organized a small dedicated band of "Spiritual Navy Seals." Among brainwashed and deluded minds fused with New Age doctrine, Elizabeth prepared for Armageddon. From the gullibility that led her astray, to the enlightenment that freed her, you will travel an incredible journey. For anyone who has ever been trapped by a person who would not let them go, here is a message of hope.
Click here to get this book for FREE
° ° ° ° ° ° ° ° ° ° ° ° ° °
Ruthless (The revenge sequels Book 4)
by Ken Coleman, Verity Goodyear


(8 Reviews)
Genre: Literature & Fiction | Westerns | Action & Adventure
FREE for a limited time
The story of a 14 year old boy who accompanies a young and beautiful woman on her quest to find and destroy the killers of his parents. During their pursuit of the desperados, the pair cover hundreds of miles of territory from Kansas to Texas and travel to some of the wildest and lawless towns in the west facing danger every step of the way, until their pursuit of the killers comes to a bloody and unexpected conclusion.
Click here to get this book for FREE
° ° ° ° ° ° ° ° ° ° ° ° ° °