I am definitely not a great photographer. Actually, I am pretty sure that a beetle with thumbs of a chipmunk could take better pictures than me, but I had to share this picture of Junebug and Sinny. This is love.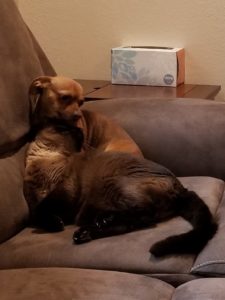 Kiss Hidden Lies (Jake Hancock Private Investigator Mystery series Book 1)
by Dan Taylor


(87 Reviews)
Genre: Humor & Entertainment | Mystery
FREE for a limited time
Kiss Hidden lies is the fast-paced and action-packed first chapter in the Jake Hancock series of private investigator mysteries. We hope you enjoy it!
Finding out the truth is the easy part.
Private Investigator Jake Hancock gets a seemingly straightforward gig: finding out who an actress's biological father is. But there's a catch. His client's parents are unaware she knows the guy who's been posing as her father is an imposter. And she insists Hancock poses as her older boyfriend to discover the truth from within her family home.
Her parents are onto him the moment he steps through the front door, and the roller coaster of an investigation begins.
To escape the heat of scrutiny, Hancock rushes his client to an age-regression hypnotherapy session to learn about a time period her parents seem hazy about. What he discovers throws him a curveball: His client had two different parents up to the age of three… something she's unaware of now. The strange part? They lived together in the same family home.
There's a bizarre secret at the heart of his client's childhood. And Hancock must face an ethical dilemma for which he isn't prepared.
As a private investigator, he's contracted to reveal the truth… but at what cost to his client's happiness?
Click here to get this book for FREE
° ° ° ° ° ° ° ° ° ° ° ° ° °
Sword of Peace
by Louisa M Bauman


(52 Reviews)
Genre: Religion & Spirituality | History
FREE for a limited time
Will she betray her friends to save her own life?
Anna thinks she has escaped the violence of the Reformation when she moves to Amsterdam. However, in November 1531, Charles V mandates all subjects to swear allegiance to the Holy Roman Empire, or be arrested and tried for heresy. Terror reigns in the city when Spanish officials arrive in this 'nest of heretics', determined to hunt down those who challenge Charles' authority.
Citizens are ordered to report any traitorous activity they become aware of, or face arrest themselves. Will Anna, a devoted Catholic, betray her friend, or can she convince Maeyken to forget these radical Anabaptists who are inflaming the city? The last thing Anna will do is trust in the Anabaptists' faith, let alone join the unlawful sect!
If Charles V succeeds, the Anabaptists will be annihilated. Especially the leaders of the new faith, such as Adriaen, a new widower. Anna worries about Adriaen constantly, yet she is disgusted with the romantic feelings she has for him. As an Anabaptist preacher, he is clearly out of bounds, besides being highly unlikely to survive the purging of heretics.
In Sword of Peace, struggle with Anna on her journey to find faith, peace, truth and love in this sweeping and romantic historical novel, set during the Reformation in the Netherlands.
This novel is based on true events, and is perfect for fans of historical thrillers and romance alike.
Click here to get this book for FREE
° ° ° ° ° ° ° ° ° ° ° ° ° °
The 11th Percent
by T.H. Morris


(48 Reviews)
Genre: Religion & Spirituality | Teen & Young Adult
FREE for a limited time
Jonah Rowe is sick and tired of his job as an accountant. An aspiring novelist, he is burnt out from the office gossip, politics and double talk.
Longing for his life to matter, he finally gets his wish. Strange visions and a spectral visitor tell him that not only he is in danger, but everything in his life is about to change.
Overnight, Jonah transforms from an overworked accountant to the centerpiece of an otherworldly battle. But can he rise to the occasion and accept that everything he knows about life and death is completely wrong?
And more importantly, will he be able to harness the power of the mysterious 11th Percent?
Click here to get this book for FREE
° ° ° ° ° ° ° ° ° ° ° ° ° °
Rescued By A Kiss (The New Orleans Go Cup Chronicles Book 1)
by Colleen Mooney

(53 Reviews)
Genre: Mystery, Thriller & Suspense | Mystery | Women's Fiction
FREE for a limited time
A KISS TO KILL FOR…
Wall Street Journal Best-Selling Author!
Brandy Alexander's the real deal–yes, that's her real name and she's not even a stripper, although her best friend Julia is. Brandy still lives with her parents in the Irish Channel and she's sort of semi kind of engaged to the boy next door, who's — what else? — one of NOLA's finest.
In fact, Dante, the BF, is such a thoroughgoing New Orleanian he always manages Mardi Gras parade duty on his own block. So you'd think Brandy might be a little self-conscious when a suave smoothie in one of the gentlemen's walking clubs mesmerizes her into a big fat Mardi Gras smooch right in front of him. But not a bit. Because after all, it's Mardi Gras, and also for another good reason — "that kiss was long, slow, hot — unlike any kiss I'd ever had in my life." She makes a date to meet Mr. Good Kiss after the parade (Yes! Right in front of Mr. Right Next Door) but -horrors–arrives just in time to see him get shot. Although fortunately not shot dead. Before he passes out, he pulls her close and whispers, "Save Isabella."
And then, in case you aren't yet in the carnival spirit, the fun begins. You'd think a mystery that begins with an eligible man taking a bullet might be a bit dark, but Colleen Mooney has something else in mind — something like a screwball chase all over town, from Lee Circle to the Lakefront, with a stop at Charity Hospital, and finally to the French Quarter's favorite gay dance club, at all times accompanied by Schnauzers, one of them named Geaux Cup.
Jiff, the captivating kisser, (aka Mr. Possibly Right), has enemies, of course, and, oh, by the way, he and Brandy get kidnapped, but this one's much more about the offbeat inventive fun than the mystery. And the romance, of course. The real adventure here is swanning around town with Brandy and her crazy krewe — much of it canine and seriously cute.
New Orleans aficionados will appreciate the plethora of authentic touches, from Brandy's family and neighborhood, to meals at Ye Olde College Inn, and the familial friendships black and white families form with each other; cozy readers will love the humor and the romance; and chick lit fans will root for plucky, soft-hearted Brandy, who never met a stray dog she didn't rescue.
Brandy may be the most unlikely of detectives, but the slapstick way she goes about it has a definite whiff of Janet Evanovich's Stephanie Plum about it; fans of Stephanie Bond, Jana DeLeon, Joan Hess, Lisa Lutz, Sarah Strohmeyer, and Elaine Viets may also find a kindred spirit in this New Orleans dawlin'. And animal lovers will flat-out swoon
Click here to get this book for FREE
° ° ° ° ° ° ° ° ° ° ° ° ° °
Slow Cooker: Cookbook: 87 Easy Recipes 
by Olivia DeLuca


(22 Reviews)
Genre: Cookbooks, Food & Wine | Teen & Young Adult
FREE for a limited time
DON'T YOU WISH YOU CAN PREPARE NUTRITIOUS MEALS FOR YOUR FAMILY WITHOUT SLAVING OVER THE STOVE FOR HOURS? THIS BOOK HELPS YOU MAKE THIS POSSIBLE!
Of course, everyone wants to eat a healthy, home-cooked meal. But often, you simply don't have the time or energy to prepare one. When you are feeling drained and you want nothing more than to have a sumptuous meal that's ready to serve as soon as you walk in the door, all you need to do is read this book!
A common misconception is that a home-cooked meal can only be achieved when you spend a lot of time preparing, blanching, boiling, basting, simmering, broiling, or roasting in your kitchen. Your crock pot eliminates the need for all these steps and simplifies you meal from preparation to serving.
What's more, you can be sure that you are getting the maximum benefit from each ingredient because each nutrient is preserved for your consumption.
Here's what this book contains:
• Energizing breakfast recipes
• Delicious protein-rich beef dishes
• Yummy low-carb pork and lamb recipes
• A new take on chicken and turkey recipes
• Hearty and comforting soup recipes
These recipes provide you with more than just good nutrition. Some of the added benefits are:
• Simplified meal planning and preparation
• Meals from the pot to your plate without all the wait
• Maximum nutrition without compromising on taste
So do not delay, and start enjoying rich-tasting dishes with the minimum effort.
Click here to get this book for FREE
° ° ° ° ° ° ° ° ° ° ° ° ° °