I am not even sure how people in the 90's thought this was an acceptable outfit. SERIOUSLY! This is from a 1991 Sears catalog. That was just last week for me. Did that kid on the left steal those pants from a genie? I'm hurting right now. I gotta go back through my photos and burn any pictures I have of myself that have anything that look like I robbed a mom jeans store. Actually, I did eat a lot of junk food this past summer, so the extra space in those jeans might be kinda nice. Come to think of it, at the beginning of summer my jeans did fit like that and I kinda filled them up a bit. Now i'm sad.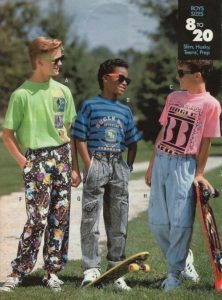 Cruel Candy (Cozy Corgi Mysteries Book 1)
by Mildred Abbott

(201 Reviews)
Genre: Mystery | Mystery, Thriller & Suspense
FREE for a limited time
Estes Park, Colorado: picturesque mountains, charming shops, delightful bakeries, a cozy bookstore… and murder.
Winifred Page and her corgi, Watson, move to Estes Park to hit the Reset button on life. Fred is about to open her dream bookshop, and the only challenges she anticipates are adjusting to small-town life, tourists, and living close to her loveable mother, Phyllis, and hippy stepfather, Barry.
When Fred steps into her soon-to-be-bookshop for the first time, she expects dust bunnies and spiders… not the dead body in the upstairs kitchen. The local police have an easy suspect — Barry.
Determined to prove quirky Barry innocent of murder, Fred puts on her detective hat, and with Watson by her side, she explores her new town and gets acquainted with her fellow shopkeepers. Could one of her friendly neighbors be the real culprit? And what would be the motive for killing the owner of the Sinful Bites candy store? The secrets Fred discover put her at odds with the local police sergeant and threaten her cozy future in Estes.
With snow falling outside, all Fred wants to do is curl up by the fire with a good book and Watson snuggled at her feet. But before she can begin her new life and put her plans for her bookshop into action, Fred and Watson have a mystery to solve…
Click here to get this book for FREE
° ° ° ° ° ° ° ° ° ° ° ° ° °
A Pinch of Salt (Three Sisters Catering Book 1)
by Bethany Lopez


(47 Reviews)
Genre: Literature & Fiction | Women's Fiction | Contemporary Fiction
FREE for a limited time
For the past year, talented chef Millie has been consumed with running her new catering business with her sisters, Dru and Tasha. It isn't until Jackson walks through their door that she realizes something may be missing in the recipe of her life.
For the past year, Jackson has been dealing with the fallout of his wife's abandonment. He's had to learn how to be a single father to their eight-year-old daughter, and will do anything to fill the void her mother left. It isn't until he commissions Millie for his daughter's birthday party that he realizes he's forgotten that he's not only a father, but a man.
They both think they're content in their lives, but sometimes the right amount of spice can turn an okay dish into a magnificent one. A Pinch of Salt may be all that's needed to bring Millie and Jackson the flavor they've been missing.
Click here to get this book for FREE
° ° ° ° ° ° ° ° ° ° ° ° ° °
Shade of Honor: From the Federal Witch Series (Standard of Honor Series Book 1)
by T S Paul, Taki Drake


(104 Reviews)
Genre: Historical Fiction
FREE for a limited time
Bereft of their elders in magic, hired out to strangers to feed their families. Survival was a constant battle for the Russian Witches. Despised by other witches for their rigid focus on contracts, they were without a moral compass, honorless. That was not good enough for some. For the young witch, Zhanna, life was not worth living without honor – or her magic. Could she find both in her homeland? Would her desire and drive be enough to locate her shade of honor?
Click here to get this book for FREE
° ° ° ° ° ° ° ° ° ° ° ° ° °
Finding Owl Canyon
by Rex Olsen

(18 Reviews)
Genre: History | Nonfiction
FREE for a limited time
History, Colorado, 1875, Homestead
Click here to get this book for FREE
° ° ° ° ° ° ° ° ° ° ° ° ° °
Red Feather Road (Owl Canyon Book 2)
by Rex Olsen


(8 Reviews)
Genre: History | Nonfiction
FREE for a limited time
Historical fiction in 1876 Colorado.
Click here to get this book for FREE
° ° ° ° ° ° ° ° ° ° ° ° ° °
100 Slow Cooker Recipes for you
by Helena Smith


(12 Reviews)
Genre: Health, Fitness & Dieting | Nonfiction
FREE for a limited time
Do you own a slow cooker?
Are you tired of doing the same things in it, every week?
Are you looking for a way to get the most out of it with exciting new low-fat and low-sugar recipes to try?
You can, with 100 Slow Cooker Recipes for You: How to Cook Healthy Meals for Weight Loss, a great new cookbook from Helena Smith which will enhance your meal times with real, tasty food.
Just imagine. Instead of the same tired stew on a Wednesday, your family sits down to something different, bursting with taste from a tantalizing selection of flavor-enhancing spices and fresh ingredients.
Inside you will find 100 truly individual recipes which will:
Reinvigorate breakfast time
Made a meal out of quick lunches
Prepare succulent dinners
Indulge your friends and family
Give you a range of healthy meals which will help to promote weight loss
And more…
Cooking with a Slow Cooker has never been easier and with 100 Slow Cooker Recipes you will get beautiful meals, all made without using any tinned ingredients and which are low in fat and low in sugar.
What are you waiting for? Get your copy now! A kitchen revolution is closer than you think.
Click here to get this book for FREE
° ° ° ° ° ° ° ° ° ° ° ° ° °