What is happening here?? I found four turkey walking down my street yesterday. This may not seems amazing, but the only turkey I have ever seen are either at the college two miles down the street, or downtown by City Hall, two miles in the opposite direction. Plus the fact that it takes a few lefts and a couple of rights to even get into my neghborhood make it more remarkable. OH NO! They read my blog yesterday complaining about them, and they have come to find me. I don't even know how to defend myself against offended turkey. Oh gosh… I say gobble gobble every time I see them. Does that mean something bad in turkey? This morning I checked to see if they were on my front yard. The coast was clear. I am not going to relax though. They could be gathering at the park down the street. I will keep you all updated. In the meantime here is a picture of the four I believe might be plotting against me. I took the picture from the passenger's seat while hubby was driving.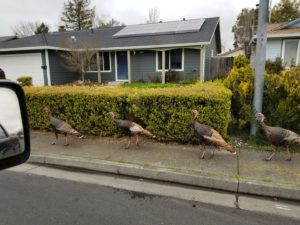 The Birthday List (Maysen Jar Book 1)
by Devney Perry


(381 Reviews)
Genre: Literature & Fiction
FREE for a limited time
Happily married to her college sweetheart, Poppy lived a blessed life with the husband of her dreams. Then everything changed. She is no longer a wife. She is no longer the envy of her single friends. Now, people look at her with pity as they whisper a single word behind her back.
Widow.
Years after her husband's tragic death, years of pain and sorrow and wishing for the life she'll never get back, Poppy decides to finish Jamie's birthday list. She'll do the things he wanted to most. Because maybe, just maybe, if she can complete his list, she can start to live again.
Poppy expects going through the birthday list will be hard. She expects it to hurt. But what she doesn't expect is Cole. Could the man who delivered the news of her husband's death and shattered her heart be the one to help her put it back together again?
Click here to get this book for FREE
° ° ° ° ° ° ° ° ° ° ° ° ° °
SLICES
by THOMAS SIMON


(3 Reviews)
Genre: Literature & Fiction | Poetry
FREE for a limited time
# 1 Amazon Best Seller in the Kindle Poetry Category
Slices topped the charts in Amazon Best Seller in the Poetry Category within hours of release. This book is a collection of 30 poems that explore objects, people, situations & their interplay in daily life to unravel an introspective view of life and its journey. Through its simplicity in the form of various characters, it eases the reader from the sheer words to a whole different world of metaphor conveying deeper meaning by uncovering layers & layers of human behaviors & emotions.
Click here to get this book for FREE
° ° ° ° ° ° ° ° ° ° ° ° ° °
Last Stand (A Gideon Johann Western Book 1)
by Duane Boehm


(391 Reviews)
Genre: Literature & Fiction
FREE for a limited time
Last Stand is the novel that begins the #1 Bestselling Gideon Johann Western series.
Gideon Johann had been gone from Last Stand, Colorado for eighteen years, seeming to have vanished after the Civil War. He is a man running from his conscience and keeping on the move seems to be the only thing preventing it from destroying him. Rumors of his whereabouts occasionally reach Last Stand, but no one from there had seen or heard from him since the war, leaving both the girl he left behind and his best friend with a chapter of their lives unresolved. Things change in Last Stand when a stranger is found shot and near death. The realization that the man is Gideon sets in motion old grudges, love, and a chance for redemption.
Click here to get this book for FREE
° ° ° ° ° ° ° ° ° ° ° ° ° °
A Fresh Kill (A Stoneybrook Mystery Book 2)
by Eryn Scott


(15 Reviews)
Genre: Mystery | Mystery, Thriller & Suspense
FREE for a limited time
Competition stings…
There's nothing like the Stoneybrook farmers market in summer. Fresh flowers, organic veggies, delicious jams… and a dead body. When an outsider turns up murdered, all of the evidence points to his rival, Stoneybrook's beloved florist.
Unable to believe a pillar of their community could be guilty of such a heinous crime, Hadley dives head-first into the investigation. Sure, she's busy looking for a new house, running her business, and dealing with her ex–who's back in town–but Hadley is determined to find the truth before the wrong man goes to jail.
Recipes from Food in Jars creator, Marisa McClellan, included: peach lavender jam and honey-sweetened peach chutney!
Click here to get this book for FREE
° ° ° ° ° ° ° ° ° ° ° ° ° °
Nova Academy: Heroes & Villains
by Scott Olen Reid


(60 Reviews)
Genre: Science Fiction | Science Fiction & Fantasy | Fantasy
FREE for a limited time
I'm Theo, a super genius and would be mad scientist. I am starting my first year in the super sciences program at Nova Academy for Advanced Super Human Studies. Their program is the best in the nation and the school is one of the few that allows both heroes and villains to attend. That's important because I really do not know which I want to become after I graduate. It really is a tough choice in the world I live.
There are some surprises in my first year. I meet a girl at college, Carly, and she becomes both my new girlfriend and my partner. She is a powerful telepath who turns my understanding of supers upside down when she tells me the best kept secret in the world.
There is also an insane supervillain who kidnaps and enslaves the science students as part of his diabolical plot. I'm not overly excited about rescuing my fellow science students, but someone has to do it and no one else seems to even know the kids are gone.
To have any chance of success, I will need to make some major upgrades to my armor and recruit a team of supers from the Academy.
Click here to get this book for FREE
° ° ° ° ° ° ° ° ° ° ° ° ° °