I think we might have broken our puppy Casper. With all the fun and attention he was getting yesterday with the whole family over, I think it might have been too much for him. Today he is more interested in napping than harassing Sinny or stealing Junebug's toys. He still has a sassiness to him and a mischievous twinkle in his eyes, so he is not sick, but boy is he lazy. Instead of jumping on Junebug when she passes by, he just sort of reaches for her with his paw, gives up mid reach, and goes back to sleep. This pup has just become my spirit animal.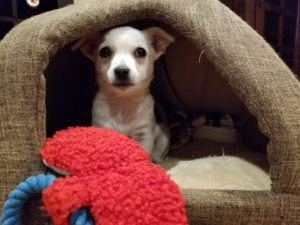 Mail Order Bride: Western Hope (Inspirational Love Historical Romance) (Women's Fiction New Adult Wedding Frontier)
by Angela K. West


(6 Reviews)
Genre: Romance
FREE for a limited time
Saddle up and head west with four women and three separate inspirational journeys… to a better life and frontier men.
This is a bundle of 4 stories
– New Home for a Wyoming Bride
– Frontier Hope
– Golden Bride
– The Prize Out West
These are clean romance stories that follow three amazing women through their paths to a new life in the West.
Click here to get this book for FREE
° ° ° ° ° ° ° ° ° ° ° ° ° °
Moonburner (Moonburner Cycle Book 1)
by Claire Luana


(123 Reviews)
Genre: Teen & Young Adult
FREE for a limited time
Mulan meets Sarah J Maas in this thrilling tale filled with celestial magic, death-defying adventure, and enduring friendships.
Kai is a Moonburner — a female sorceress reviled by her people and normally killed at birth. Except Kai's parents saved her by disguising her as a boy — a ruse they've kept up for almost seventeen years. But when her village is attacked, Kai's secret is revealed and she's sentenced to death.Thankfully, the gods aren't done with Kai. Despite the odds stacked against her, she escapes her fate, undertaking a harrowing journey to a land where Moonburners are revered and trained as warriors.But her new home has dangers of its own — the ancient war against the male Sunburners has led the Moonburners down a dark path that could destroy all magic. And Kai, armed only with a secret from her past and a handsome but dangerous ally, may be the only one who can prevent the destruction of her people…
Moonburner is Book One in the completed Moonburner Cycle, a sweeping coming-of-age fantasy series perfect for fans of Sabaa Tahir, Alison Goodman, J.C. Kang, and Elise Kova. Scroll up and one-click to read today!
Click here to get this book for FREE
° ° ° ° ° ° ° ° ° ° ° ° ° °
Infected Waters: A Titanic Disaster
by Alathia Paris Morgan, Dana Hook, Nicki Paris


(19 Reviews)
Genre:
FREE for a limited time
An infection is spreading across the Titanic, and the cause is unknown.
Nora is the ship's nurse, who wanted to see America by working her way across from England. It seemed like a safe and easy voyage to start over in a new place far away from her past; that is, until an infection breaks out. Prepared to deal with seasickness and minor problems, Nora is forced to make tough decisions that could kill everyone on board.
Gil snuck onto the closest ship that was leaving that morning to escape the horror that was chasing him. Taking the place of the Baker's helper, he thinks he has outrun the horror on land. When Nora asks him to help with the sick, he has no choice but to help if he doesn't want to be locked up for the remainder of the voyage. If Nora and Gil can't control the spread of this illness, it could kill all those on the ship faster than a submerged iceberg's attempt to sink the Titanic.
Will they be caught in the rising tide of infection that intends to leave no living being behind?
Click here to get this book for FREE
° ° ° ° ° ° ° ° ° ° ° ° ° °
A Southern Season: Stories from a Front Porch Swing
by Multiple Authors

(56 Reviews)
Genre: Literature & Fiction | Short Stories
FREE for a limited time
Four seasons. Four stories. Each one set in the enchanting world of the South. These are the kinds of stories your grandmother told you from a front porch swing.
Ice Melts in Spring by Linda W. Yezak
When Kerry Graham's boss forces her to return to the Gulf of Mexico where her husband drowned years ago, she feels only spring's chill and not the warmth of the Texas sun. Can the joy of a reclusive author and the compassion of a shrimp-boat preacher thaw Kerry's frigid heart?
Lillie Beth in Summer by Eva Marie Everson
With the untimely death of his wife, Dr. James Gillespie believes God has abandoned him. He also believes he's never met anyone like the young widow Lillie Beth, whose beloved Granny lies dying at home, and who sees a God who sweeps hope through a farmhouse window. Can a young woman whose husband died in Vietnam restore a faith that is all but dead.
Through an Autumn Window by Claire Fullerton
Because her larger than life mother Daphne Goodwyn is dead, forty-year-old Cate returns to Memphis with one thought in mind: something always goes wrong at a Southern funeral. But surrounded by the well-mannered society that raised her, the nostalgic rites of a three-day, autumn mourning bring the unexpected gift of the end of sibling rivalry.
A Magnolia Blooms in Winter by Ane Mulligan
With Broadway stardom within her reach, Morgan James returns home in winter to help an old friend. Maybe it s just nostalgia, but when she sees him again, an old flame rekindles. When she s called back to NYC to take the lead in a new musical, will fame be worth losing the man she loves?
Click here to get this book for FREE
° ° ° ° ° ° ° ° ° ° ° ° ° °
Weight Watchers Instant Pot Cookbook 2019: Quick and Easy Weight Watchers Recipes with Smart Points for Healthy Weight Loss
by Allison R. Heckstall, Adam M. McGregor


(36 Reviews)
Genre: Health, Fitness & Dieting
FREE for a limited time
Weight watchers plan is a great program that can help you lose weight; this program is easy than other diets that will require you to count your calorie and measure or limit your food carefully. The best part of weight watchers plan is it isn't restrictive when it comes to food, because it will allow you to eat your favorite foods but in moderation.
Weight watchers will help you control your calorie with the help of point's food system; it will encourage you to spend your points in a healthy manner. The key in this plan is to stay within you daily points allowance, your points is based on your age, gender, height, current weight and your weight loss goals.
In this Instant Pot Cookbook, you will learn how to make over 70 easy and delicious recipes that all made by instant pot pressure cooker. It includes cooking instructions for preparing amazing dishes with smart point's value for each recipe.
Weight watchers would be best for you if you want to become healthier by changing your lifestyle and of course to lose weight without throwing all your favorite foods away.
Click here to get this book for FREE
° ° ° ° ° ° ° ° ° ° ° ° ° °