"Being an adult is like folding a fitted sheet." Hmmph…. that sounds just about right. I really have no plans to be an adult. Turns out it's kind of a choice. Although that's not entirely true. I pay my bills, the family is fed, and they have clean clothes, but there is no way in heck I am going to give up my David Hasselhoff t-shirt and purple pants. Why would I? I get so many compliments on my David Hasselhoff shirt. I must be doing something right. The Hoff makes people feel good and who am I to hold back all that joy?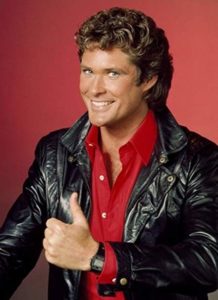 Be Mine
by Rick Mofina

(368 Reviews)
Genre: Thrillers | Mystery
FREE for a limited time
A personal message written in human blood is left for crime reporter Molly Wilson at the murder scene of her boyfriend, San Francisco Homicide Inspector, Cliff Hooper.
The horrific death of a revered cop shocks the San Francisco Police Department's Homicide Detail. Shaken to the core, his grieving fellow detectives go flat out to find his killer under the glare of the city's news media.
Click here to get this book for FREE
° ° ° ° ° ° ° ° ° ° ° ° ° °
Tales From The Universe: Ten Amazing Stories From Tomorrow
by Multiple Authors


(37 Reviews)
Genre: Literature & Fiction | Science Fiction | Anthologies | Anthologies & Literature Collections
FREE for a limited time
Ten new voices in the world of science fiction cast their minds open wide and bring forth visions of tomorrow. Science fiction stories that deal with love, and fear, hope and despair, the ugliness of mankind and its beauty. Tales that reach to the farthest edge of the galaxy, and that face startling futures right here on Earth. These ten stories deal with artificial intelligences, cloning, aliens, war, peace and humanity's place in it all. We give you Tales From The Universe.
In The Devout Atheist, Daniel M Bensen explores a world where faith and science have taken very different paths.
Rob Edwards brings the world of Agatha Christie into the future in his tale of murder and artificial intelligence, Upgrade To Murder.
Memory proves both the most precious and the most dangerous thing in R.H.Nelson's Suliko, while in Dead In Space, Matthew Harvey follows a rescue mission to a ship where a singular cry for help has gone out.
In The Familiar Road, Pedro Camelo discusses love – when all may not be as it seems, and in Cosmic Egg, Ricardo Victoria launches us into a world of space fantasy, where the impossible is real.
Brian S Converse brings matters back to Earth, a very… Small World in his tale of loyalties, and Brent A Harris pays homage to the soaring science fiction of the likes of Star Trek in his tale The Ellian Convergence.
Leo McBride brings us a military sci-fi tale of clones fighting on the edge of the galaxy in Lazarus Soldiers, before Jessica Holmes rounds out the collection with a discovery that could change people's lives, somewhere Deep In The Rock.
Click here to get this book for FREE
° ° ° ° ° ° ° ° ° ° ° ° ° °
Beauty and the Baron: A Regency Fairy Tale Retelling (Forever After Retellings Book 1)
by Joanna Barker


(94 Reviews)
Genre: Mythology & Folk Tales | Religion & Spirituality | Historical Fiction
FREE for a limited time
A penniless maid determined to save her father, a broken baron bent on isolation, and the undeniable draw between them that could lead to happiness — or disaster.
Rose Sinclair has run out of options. With her father in prison and their bookshop sold to pay his debts, she has no choice but to turn to Henry Covington, the Baron Norcliffe. But the baron has more than earned his harsh reputation, and Rose must face his wrath in order to save her father — and herself.
Since the deaths of his parents, Henry Covington has isolated himself from society, ensuring the solitude of his estate with his deliberate callousness. However, when the beautiful Miss Sinclair appears on his doorstep, begging for a chance to repay her father's debt to him, a moment of weakness finds him offering her a position — as a maid in his own house.
They both soon learn that first impressions are not to be believed. Henry is surprised — and intrigued — by Rose's optimistic charm, while Rose slowly uncovers Henry's true self, his compassion concealed behind the pain of loss and betrayal. But when a shadow from Henry's past returns, their newfound hope is tested. They must decide for themselves who to trust and what they will risk for their happily ever after.
Beauty and the Baron is a Regency retelling of Beauty and the Beast. It is a sweet/clean romance novella, and is Book 1 in a series of Regency retellings. The stories can be read in any order.
Click here to get this book for FREE
° ° ° ° ° ° ° ° ° ° ° ° ° °
The Last Watchman Still Rides
by Jonathan Watkins


(48 Reviews)
Genre: Crime Fiction | Mystery | Action & Adventure
FREE for a limited time
Action and Adventure collide with hard boiled vigilante justice.
After a night of mindless violence, they locked him in a cage and left him there with the rest of the animals.
But now Roarke is on the outside again. He's found some semblance of peace as a private investigator. Sometimes he's hired to solve a problem. Sometimes he's hired to do something mean. He prefers the one, but he isn't above the other.
When he's hired to locate a gorgeous banking executive's missing niece, Roarke suspects the case might be just another ugly custody fight between the girl's parents. A single gunshot aimed his way proves him wrong, and convinces him to give the missing girl his undivided attention.
Soon, Roarke finds himself drawn away from his Detroit lair and into the northern wilderness where a group of heavily armed militiamen calling themselves Sovereign North are holding the girl. Lead by a silver-tongued preacher and a remorseless killer called the Last Watchman, the Sovereign are waiting for him.
They think they can bargain with him.
They think he can be reasoned with.
They're wrong.
Click here to get this book for FREE
° ° ° ° ° ° ° ° ° ° ° ° ° °
The Angel Stories: True Stories of Some of the Angels in our Life, Home and Ministry
by Michael Van Vlymen


(30 Reviews)
Genre: Religion & Spirituality
FREE for a limited time
A WONDERFUL, ENCOURAGING REMINDER THAT GOD'S ANGELS ARE ALWAYS WITH US
In this inspiring book, Michael Van Vlymen shares his unbelievable but true encounters with the angels in his life. Michael says that everyday encounters with angels are not just for the select few, but for everyone who desires it!
If you have ever wondered what it would be like to see and experience everyday life with the angels that are around you, this book will show you what that looks like with…
Guardian angels of protection
Angels who minister and impart to you
Angels who bring gifts from God
Angels who help in day to day life
Angels who are excited for the plan of God being fulfilled in your life!
If you have a desire for your own visitation these testimonies will build your faith! Michael says… My wife has been asking me for 2 years now to compile a book of just angel stories so that she can give them out to encourage people. I have finally done so and I believe she is right… They will encourage people.
PLEASE TAKE NOTE… This book is a compilation of testimonies found in other books where Michael teaches about prayer, warfare and spiritual gifts. If you have already read Michael's ministry books, you do not need to purchase this book. Thank you. May God grant you a life of miracles and visitations of Angels!
Click here to get this book for FREE
° ° ° ° ° ° ° ° ° ° ° ° ° °