Happy MONDAY!!! It's the most fantastic Monday in all the land! Why am I so Happy? Because in a few days all my favorite foods are coming over.. I mean family. My family is coming over to celebrate Thanksgiving and they are bringing all my favorite dishes. The other reason I am in such a good mood is my sleigh is done and the lights are all up in the front yard. It looks amazing! It came out nothing like I thought it would. With my hubby's help it came out ten times better. I am finally able to post the pictures. Yes, I still have my pumpkins out. They are a bit hidden in this picture, but they stay until after Thanksgiving. I'm not a monster.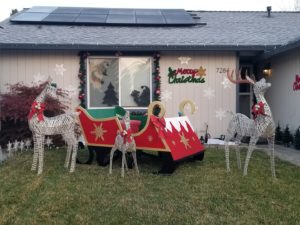 Aloha Texas: Heartwarming Edition (Sweet Aloha Series Book 1)
by Chris Keniston


(216 Reviews)
Genre: Literature & Fiction | Family Life | Romance | Contemporary Fiction
FREE for a limited time
Love Page Turning Romance? Books you can share with friends and family? Then sit back, kick off your shoes and prepare to fall in love with the newly edited, just for you, Aloha Sweet Romance Series from USA TODAY Bestselling Author Chris Keniston.
Former Navy Special Forces Nicholas Harper likes his new life as captain of a dive boat in Hawaii.
Powerhouse attorney Kara Lynn O'Conner's world revolves around her small Texas town where life is easy and safe.
Six year old Bradley Russell is about to change everything.
Click here to get this book for FREE
° ° ° ° ° ° ° ° ° ° ° ° ° °
The Candidate
by J. R. McLeay


(151 Reviews)
Genre: Crime Fiction | Contemporary Fiction | Political
FREE for a limited time
A heart-pounding political thriller for fans of Tom Clancy, Vince Flynn, and Brad Thor.
When radical fringe candidate James Marshall becomes the front-runner in the race to be President, powerful interests will do anything to stop him. Just as he's on the brink of capturing the White House, the unthinkable happens. With time running out, James is forced to make an impossible choice between saving his family and the country he loves…
Click here to get this book for FREE
° ° ° ° ° ° ° ° ° ° ° ° ° °
Rise to Power (The David Chronicles Book 1)
by Uvi Poznansky


(119 Reviews)
Genre: Religion & Spirituality | Biographies & Memoirs
FREE for a limited time
From USA Today Bestselling Author, Uvi Poznansky, comes a historical fiction novel with a modern twist:
Here is the story of David as you have never heard it before: from the king himself, telling the unofficial version, the one he never allowed his court scribes to recount. Rooted in ancient lore, his is a surprisingly modern memoir.
Notorious for his contradictions, David is seen by others as a gifted court entertainer, a successful captain in Saul's army, a cunning fugitive, a traitor leading a gang of felons, and a ruthless raider of neighboring towns who leaves no witnesses behind. But how does he see himself, during this first phase of his life?
Can he find an inner balance between conflicting drives: his ambition for the crown, his determination to survive the conflict with Saul, and his longing for purity, for a touch of the divine, as expressed so lyrically in his psalms?
If you like ancient historical fiction about court intrigue, this king David novel has a modern twist like no book you have read before.
Click here to get this book for FREE
° ° ° ° ° ° ° ° ° ° ° ° ° °
The Sydney Rye Mysteries Box Set (Books 1-3) (The Sydney Rye Mysteries Box Sets Book 1)
by Emily Kimelman


(143 Reviews)
Genre: Crime Fiction | Literature & Fiction | Thrillers
FREE for a limited time
Justice with a vengeance.
Do you love powerful characters, gritty mysteries and heroic dogs?
Because this series will keep you up past your bedtime while you promise just one more chapter. Be warned, the Sydney Rye Series causes major book hangovers. But luckily, there are ten books with number eleven on the way so while you may need a week off work when it's over, the adventure is worth it because these books are addicting!
UNLEASHED (A Sydney Rye Mystery, #1)
One of Joy Humbolt's dog walking clients turns up dead, and she begins to look into the crime, first out of curiosity and then out of anger. As she digs deeper into the secrets of Manhattan's elite, Joy gets too close to the killer with disastrous consequences.
DEATH IN THE DARK (A Sydney Rye Novella, #2)
The daughter of a close friend is brutally murdered in the desert and Rye turns away from her mentor to seek revenge. Her quick temper and deadly intentions lead Sydney Rye into a trap where she will need all of her new skills to survive.
INSATIABLE (A Sydney Rye Mystery, #3)
When a dangerous man from her past calls, Sydney Rye finds she cannot turn him away. Robert Maxim explains the daughter of a powerful friend is missing, and he wants Rye to find her. In exchange, he offers her something she gave up hope of ever having: freedom from her past.
The Sydney Rye series has been downloaded over a million times. Recommended for adults who love brave female protagonists, dogs, and action-packed series that you can't put down until you've read them all. If you have trouble with the f-bomb, violence, or sex (not graphic but out of wedlock).. then you shouldn't start this series… it's just not your thing. If you're looking for your next adventure, you've found it.
Download this box set today because you love powerful women, gritty mysteries, and heroic dogs. Join the adventure!
Click here to get this book for FREE
° ° ° ° ° ° ° ° ° ° ° ° ° °
Asperger's (ASD) The Elusive Syndrome: An Applied Rehabilitation Guide for Adults
by Benjamina Eran


(21 Reviews)
Genre: Education & Teaching | Health, Fitness & Dieting | Medical eBooks
FREE for a limited time
A rehabilitation program for people with Asperger's syndrome (ASD).
A comprehensive guide that offers a unique and detailed rehabilitation program for adults with Asperger's (ASD), who are diagnosed as high-functioning on the Autistic Spectrum.
The book provides well-thought-out and systematic information on the syndrome, as well as suitable required solutions based on the knowledge that group workshops are the major tool that facilitates individual and social empowerment.
This book serves as an accompanying guide for therapists, group facilitators, educators, parents and relevant professionals involved in the treatment and rehabilitation of people with Asperger's (ASD).
Click here to get this book for FREE
° ° ° ° ° ° ° ° ° ° ° ° ° °