When baking cookies it's always nice to challenge yourself to make it more interesting. For example, spill oil on the floor in front of the oven, so it becomes as slippery as an ice rink. Oh the fun you will have as you are pulling your burning hot baked goods out of the oven while trying not to slip across the kitchen floor like you are the star performer in the Ice Capades. Enjoy!!!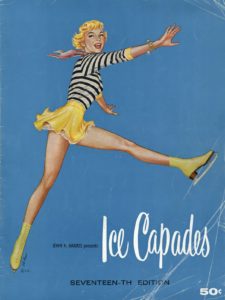 Costa Brava: A crime thriller set on the Mediterranean coast
by David Kennedy


(18 Reviews)
Genre: Action & Adventure | Literature & Fiction | Mystery
FREE for a limited time
An accidental death brings Alex Scott to Spain´s Mediterranean coast. But what promises to be a few fun-filled weeks house sitting in a millionaire´s paradise soon turns to tragedy as Scott is drawn into a web of mystery, deceit and murder.
A fatal accident –
What was the eighty-year-old caretaker doing climbing cliffs?
A beautiful girl –
Is all what it seems with the beautiful blonde from the bar?
A secret to kill for –
Can Scott uncover the mystery of the lighthouse that his neighbour will kill to protect?
Click here to get this book for FREE
° ° ° ° ° ° ° ° ° ° ° ° ° °
A Tin Train Christmas: (short fiction)
by Melanie Lageschulte


(64 Reviews)
Genre: Literature & Fiction | Holidays | Historical Fiction
FREE for a limited time
The author of the heartwarming "Growing Season" novels brings you this old-fashioned story of family and faith to brighten your holidays!
The toy train in the catalog was everything two young boys could wish for: colorful, shiny, and the perfect vehicle for their wild imaginations. But was it meant to be theirs? As the Great Depression's shadows deepen over the Midwest, Horace and Wilbur begin to worry that Santa might not stop at their farm. But with a little faith and their parents' love, the boys just might discover the true spirit of Christmas. And there's more: At the end of the story, you'll discover three holiday recipes handed down in the author's family!
Click here to get this book for FREE
° ° ° ° ° ° ° ° ° ° ° ° ° °
Exploration: A first-contact colony ship space opera. (Galactic Neighborhood Book 3)
by Alexander Elliott


(33 Reviews)
Genre: Science Fiction | Science Fiction & Fantasy
FREE for a limited time
The Silestri thought their enemy was dead. Big mistake.
Exploration's peaceful journey ends abruptly in disaster. The doomed vessel is attacked, stripped of its crew and destroyed. While the men are marooned, the women are forced into a slavery of the worst kind on the Silestri homeworld.
The elusive search for Exploration continued until a corridor through space was discovered, leading straight to the enemy and the dark secrets they kept.
With only days before a decisive battle, an audacious rescue effort is launched to reunite the remnants of humanity and bring them safely home.
Click here to get this book for FREE
° ° ° ° ° ° ° ° ° ° ° ° ° °
Give Him The Ooh-la-la (The Bennett Sisters Mysteries Book 3)
by Lise McClendon


(44 Reviews)
Genre: Romance | Mystery, Thriller & Suspense | Mystery
FREE for a limited time
SOMETHING FOR EVERYONE–FESTIVITIES, FUN, FOOD, AND FRAUD!
It's Bridget Jones does Christmas in Manhattan–plus a dash of international espionage–in this romantic cozy mystery that mixes sisterly love with a world famous drag queen, a shameful family past, and an irresistible French investigator.
Christmas in the Big Apple promises to be especially festive, as all five Bennett sisters are in town for a very special occasion: Annie, the oldest Bennett, is engaged at the tender age of fifty-five — to a charming Scottish man who's crazy about her.
But while Bohemian Annie is securely and happily in love with a devoted fiancé, Merle-in-the-middle is navigating the roller coaster of her own love life: Pascal, her one-time French summer fling, has unexpectedly flown to New York for the holidays — and now she's waiting for him in the bustling lobby of the New York City Hilton Hotel, the very same venue as her family's engagement festivities. Pascal says he's come to see Merle (and her son, Tristan), and he's staying in town through the New Year–but why? A relationship ultimatum? Or is there something more mysterious in the works? Because Pascal is a very mysterious dude.
On the walk back from engagement cocktails at a romantic bistro, Pascal asks Merle, Annie, and her fiance to accompany him to a little-known club where he promised his brother he'd look up a friend of his. Intrigued, Merle and company follow him to the village, where they're treated to… a drag revue. Turns out the "friend" is a drag queen, a Marilyn Monroe look-alike who goes by the name Bosom Drearie. But later, Francie, the next-to- youngest Bennett sister, says she's seen Bosom Drearie before -and she looked different from her sisters' description — plus, Francie'd heard the performer got fired and had to reinvent herself. That gets the sisters' sleuth-sense up: Could it be the Bosom Drearie Pascal was searching for is an imposter? Perhaps a wanted one?
The truth starts to come out when Pascal admits to Merle that Bosom Drearie is a person of interest to the French Police Nationale — and Merle begins to question his intentions. Is he in New York solely on police business? But it may not be so simple — her own family may be involved. She learns the French police are reopening the investigation into a defunct wine business once owned by her late husband's father — 50 years after a questionable deal — and can't help but worry her family's shameful past is tied to her romantic interest… A romantic interest she can't seem to resist…
Festivities, fun, food, and fraud — not to mention mystery and romance — abound in this delicious holiday installment of the Bennett sisters' cozy adventures.
Click here to get this book for FREE
° ° ° ° ° ° ° ° ° ° ° ° ° °
The Man (A Grady Lind Western)
by Gerald Hartenhoff


(41 Reviews)
Genre: Literature & Fiction | Westerns | Romance
FREE for a limited time
Grady Lind is big, strong and good looking. Woman can't keep their eyes off of him. Men are intimated by him. He's fast with a gun and good with his fists.
When people are terribly wronged, and the law can't or won't help them out, they turn to Grady Lind.
Click here to get this book for FREE
° ° ° ° ° ° ° ° ° ° ° ° ° °