What we need on this wonderful Thursday afternoon is some happiness. I haven't even read the full article about how the plants in Australia are already regenerating from the fires. I figure the pictures alone would make me smile. They did. So I am passing on the happiness to you guys. Enjoy – Click here to read the article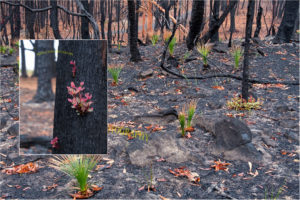 Blind Justice: A legal thriller.
by Nathan Burrows


(31 Reviews)
Genre: Thrillers | Crime Fiction
FREE for a limited time
An innocent man sent to prison for life. A lawyer gives him a second chance. Can they overcome an unfair system to clear his name?
Gareth Dawson is innocent. He's not a murderer. His main problem is that the British justice system doesn't agree with him. He might be a reformed thief guilty of many things in his past, but not murder. In the space of a few short months, Gareth has gone from being married to the woman of his dreams to facing a life sentence.
Inside Her Majesty's Prison Whitemoor, a Category A prison in Cambridgeshire, Gareth's got all the time in the world to go over the events that led to the guilty verdict. The guilty verdict which cost him everything in the world that he loved. His dignity. His freedom. His wife.
Gareth is approached by a lawyer, Paul Dewar, who claims to have information that will vindicate him. But is it enough to set him free? As threats against Gareth increase on the inside, Paul Dewar's challenge, and Gareth's fight for freedom, begins.
Click here to get this book for FREE
° ° ° ° ° ° ° ° ° ° ° ° ° °
The Reinvention of Mimi Finnegan (The Mimi Chronicles Book 1)
by Whitney Dineen


(427 Reviews)
Genre: Literature & Fiction | Humor & Satire | Humor & Entertainment
FREE for a limited time
Thirty-four year old, Mimi Finnegan, is the third of four daughters and in her eyes, by far, the most unremarkable. She has no singular accomplishment that can stand up to any of her sisters. And if that isn't enough, she is the only single sibling in her family.
Mimi's sisters decide that it's time she gets serious about husband hunting, so they begin a campaign to find Mr. Right. Considering her most recent dating encounters include a night club owner who stuffs bratwurst in his pants and a WASPy trust fund baby, living happily under his mother's thumb, Mimi is more than ready to meet THE ONE. Enter celebrated British novelist, Elliot Fielding.
Sexual tension and anger heat up between the duo and it isn't until Mimi discovers that Elliot is almost engaged to another that she realizes she is head-over-heels in love with him.
The journey will make you laugh, cry and want to pull your hair out from frustration! Mimi eventually learns she is quite remarkable in her own right and never needed to worry she lived in her sisters shadows.
The Reinvention of Mimi Finnegan is the perfect laugh-out-loud, feel good book for any woman who has ever felt that she wasn't good enough.
Click here to get this book for FREE
° ° ° ° ° ° ° ° ° ° ° ° ° °
Stalking the Crow: Tony Crow private detective (The Tony Crow private investigator mystery series Book 3)
by Howard Schwartz

(34 Reviews)
Genre: Mystery, Thriller & Suspense | Suspense | Mystery
FREE for a limited time
Private investigator Tony Crow thinks it's just another case when his former police sergeant calls him to identify a dead body. He quickly realizes it's anything but routine, when he discovers who the victim is.
A note found on the body propels Tony into pursuit of a sadistic killer whose intent is to destroy Tony's life. The mystery man is out for revenge and a single death won't satisfy him. It's not just Tony himself who is in deadly peril, but all his loved ones.
With his former colleagues on the police force as his occasional allies and sometime opponents, the tension quickly escalates as each new clue is revealed.
In Tony's toughest case yet, he must use all his investigation skills to confront the demons of his own past and stop the killer before more lives are lost.
Click here to get this book for FREE
° ° ° ° ° ° ° ° ° ° ° ° ° °
Alaskan Magic: Shadows of Alaska Book 1
by CC Dragon


(16 Reviews)
Genre: Fantasy | Horror
FREE for a limited time
Paranormal kids begin disappearing at higher rates, and the only people who can save them are at odds.
FBI Special Agent Dot Foster keeps tabs on magical cases, but even with everything she's seen over the years, her most recent case has her stumped.
The only thing half-fae Dot can tell for certain is that dark supernatural forces are behind it. With her human partner out of commission, Dot drags a former agent onto the case. Mason is smart, hot, and magical. They have a complicated past, but she didn't expect him to be a distraction.
Mason's much younger sister might be the next target. He's not willing to trust anyone else to save her… but if he doesn't respect Dot's unique gifts, his stubbornness may cost them all their lives.
Supernatural meets the X-Files in ALASKAN MAGIC, an intense urban fantasy by CC Dragon.
Click here to get this book for FREE
° ° ° ° ° ° ° ° ° ° ° ° ° °
Appetizers :The Ultimate Recipe Guide – Over 150 Appetizing Recipes
by Danielle Caples, Encore Books


(32 Reviews)
Genre: Cookbooks, Food & Wine
FREE for a limited time
The Ultimate Appetizer Recipe Guide
The right appetizers are a great way to start a dinner party or cocktail hour, and can set the tone for the rest of the evening. Learn how to make both hot and cold appetizers for any occasion, and put your best foot forward at your next social gathering. We have collected the most delicious and best selling recipes from around the world. Enjoy!
Click here to get this book for FREE
° ° ° ° ° ° ° ° ° ° ° ° ° °