So there I was with my entire front and back yard engulfed in thousands of bees flying all over the place including my neighbor's yards. So I ran next door to tell them the bees were swarming and not to panic (like I was doing) and that my beekeeper friend would take care of it soon. I also wanted to warn the neighbors on the other side of my back fence. I was still a bit panicky despite my mentor telling me it was just fine and not to. I was at a 15 out of 10 with no signs of calming down. I am not a graceful person to begin with, so a panicky me is pretty clumsy. Running down the street to warn my neighbors I tripped on air and bit it hard in front of a very nice couple walking their German Sheppard. Arms were flailing, stuff was falling out of my pockets, and I am pretty sure I kicked the back of my head. I shot straight up and announced that I'm OKAY! The look on the couple and dog's faces said they had their doubts about that. They asked me if I was sure I was okay. I wasn't, but I lied and said I was. I ran off and let my neighbors know I would take care of the bees. They weren't all that concerned. Hmm. I would freak out if I saw a bunch of bees swarming, but okay. The funny thing is, by the time I had made it back home the bees had all gathered in a huge beard on my back fence. My mentor came and gathered them all up into a beebox and left it right up against the fence so the others could settle in. As you can see from the pictures my mentor is calming getting the bees into a box, no beesuit, not a care in site. Me? I'm at a safe distance with my beesuit on. I hate getting stung!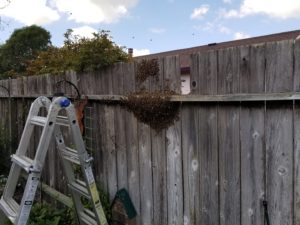 Back Seat to Justice
by Tim Baker


(30 Reviews)
Genre: Crime Fiction | Literature & Fiction | Action & Adventure
FREE for a limited time
Florida P.I. Steve Salem is hired tail an unfaithful husband.
Things go from boring to bizarre when his mark is executed right in front of him.
Finding the killer is only the beginning of the adventure.
Click here to get this book for FREE
° ° ° ° ° ° ° ° ° ° ° ° ° °
Waiting for Wyatt: A Coming of Age Love Story
by SD Hendrickson

(182 Reviews)
Genre: Literature & Fiction | Romance | Coming of Age
FREE for a limited time
My name is Emma Sawyer.
I met Charlie and Wyatt on the same sultry, summer day. The moment happened out of nowhere, all fast and quick and a little strange. Or maybe that was just Wyatt's personality.
It was Charlie that brought us together. Little Charlie with those ridiculous ears. I found the dog, waiting in a pool of his own blood. Waiting for someone. Waiting for me.
Now Wyatt, he wasn't waiting for anyone. At least that's what he said, except I saw something different in the broken guy all alone out in the woods. I knew he needed me before he knew it himself.
Wyatt with his hidden dimples. Wyatt with his warnings to stay away. He was a hard lump of coal, ready to burn everything around him. The more he burned, the more it pulled me into the pain I saw etched on his troubled face.
I wanted to help Wyatt. I wanted to save him like he had saved all the Charlies in the world. He told me not to fall for him, but I did anyway. I fell hard and fast and deeply in love with Wyatt Caulfield.
But that was before I knew his secret.
Click here to get this book for FREE
° ° ° ° ° ° ° ° ° ° ° ° ° °
Before The Clock Strikes: (A Kyle Simmons Thriller – Book 1)
by E.G. Michaels


(524 Reviews)
Genre: Thrillers | Mystery, Thriller & Suspense | Mystery
FREE for a limited time
Two Random Murders, Somehow Connected…
An innocent teenage sleepover turns tragic as a hail of bullets rip through a sleepy neighborhood.
Philadelphia Homicide Detective Kyle Simmons is assigned one task: Catch the killer before someone else decides to take matters into their own hands.
He's barely begun to investigate when another body is found with nothing but Simmons' business card on it. This evidence is crystal clear: Simmons' contact was the victim of a cold and calculated hit .
As Simmons starts to work both cases, a disturbing thought keeps popping up in his head: What if the two cases are somehow connected?
In a matter of hours, Simmons finds himself in a desperate race to solve both murders before the carnage continues.
Click here to get this book for FREE
° ° ° ° ° ° ° ° ° ° ° ° ° °
Netherworld: An Urban Fantasy Adventure (The Chronicles of Koa Book 1)
by K.N. Lee


(136 Reviews)
Genre: Fantasy | Science Fiction & Fantasy
FREE for a limited time
In a world where vampires and angels have devised a peace treaty… … humans either live their lives oblivious to the supernatural creatures living amongst them, or actively take part by selling their blood.
Koa–a half-blood vampire–works for the organization that enforces the peace treaty. She can fly, has an enchanted sword, and a mother cursed to live as a cat. When a dangerous demon arises and seeks to plunge the humans into darkness and evil, even Koa and the fallen angel she serves can't stop him.
There are rumors of a prophet prince who can help, they just have to travel to an alternate universe to break him out of a supernatural prison.
NY Times bestselling author, K.N. Lee presents book one of the critically acclaimed urban-fantasy series critics and fans are calling Harry Potter meets The Vampire Diaries.
Click here to get this book for FREE
° ° ° ° ° ° ° ° ° ° ° ° ° °
Dragons and Marshmallows (Zoey and Sassafras Book 1)
by Asia Citro, Marion Lindsay


(295 Reviews)
Genre: Children's eBooks
FREE for a limited time
With magical animals, science, mystery, and adventure — the brand new series Zoey and Sassafras has something for everyone! Easy-to-read language and illustrations on nearly every page make this series perfect for a wide range of ages.
In the first book of this series, Zoey discovers a glowing photo and learns an amazing secret. Injured magical animals come to their backyard barn for help! When a sick baby dragon appears, it's up to Zoey and Sassafras to figure out what's wrong. Will they be able to help little Marshmallow before it's too late?
Click here to get this book for FREE
° ° ° ° ° ° ° ° ° ° ° ° ° °