Yesterday was a hard one. I unloaded two yards of clumpy wet fill dirt in 95 degree weather. Not fun, and I didn't find a single frog. That was disappointing, but it is nice to know I have finished that part of the project. I think the hardest part is done. I still need to bring in a yard or two of soil, but that stuff is light and fluffy. It was hard work, but it was also a lot of fun to really start molding the shape of the yard. It no longer is long and flat, but now has lumps and bumps with a winding river. Today I am going to take it easy. Maybe go on a nice bike ride with the baby bassets. Here is a picture of the yard as it sits right now. I am sure I won't be able to leave it alone this weekend.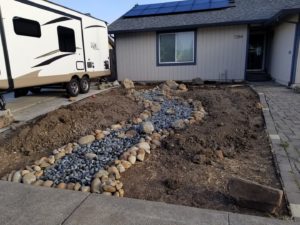 The Dragoneer Trilogy: Books 1 – 3 of The Dragoneer Series
by Danny Knestaut, Vickie Knestaut
Genre: Fantasy | Science Fiction & Fantasy
FREE for a limited time
The world needs courage. One woman steps forward.
When her father is injured, Trysten is ready to lead the dragon riders of Aerona in defense of their village. But the laws of the kingdom forbid women from bonding with dragons.
Never one to let archaic rules stand in her way, Trysten persists. With the fate of Aerona weyr uncertain, and an emboldened enemy approaching, Trysten is the hero that is needed.
The Dragoneer Trilogy contains the complete first three novels of The Dragoneer series. Enjoyed by fans of Anne McCaffrey, the series featuring strong women, hope for a better future, and an unfolding supernatural mystery. Appropriate for most ages.
Click here to get this book for FREE
° ° ° ° ° ° ° ° ° ° ° ° ° °
Green Eyes in Las Vegas: A Cozy Tiffany Black Mystery (Tiffany Black Mysteries Book 2)
by A.R. Winters


(764 Reviews)
Genre: Mystery | Mystery, Thriller & Suspense
FREE for a limited time
A Cupcakes-And-Crime Caper
When cupcake-loving croupier and private investigator Tiffany Black witnesses a handsome, green-eyed man making a getaway after an art heist, she finds her normally chaotic life becoming even more complicated.
"Winters will have you giggling into your book!"
Tiffany flits between two cases: investigating the missing Van Gogh, and the murder of a Hollywood starlet with a secret life. When her investigation takes an intriguing turn and a man with mesmerizing green eyes comes into her life, Tiffany starts to wonder if this man might be the missing link between both crimes…
When her octogenarian friend Glenn starts dating a very inappropriate woman, and Nanna starts calling a twenty-something-year-old her "boyfriend", Tiffany wonders if being attracted to a potential criminal might not be so crazy after all.
As she follows the investigation from movie sets to museums, danger strikes a little too close to home when Tiffany discovers that not only was the dead girl being stalked, someone with a deadly motive appears to be watching her too…
Green Eyes in Las Vegas is the second book in The Tiffany Black in Las Vegas Mystery Series. Though it can be read as a standalone, it's best read in series order.
This is a humorous cozy mystery featuring a strong female protagonist, some unusual friends and family, and a mystery that needs solving! It has no graphic gore, bad language, or sex.
Click here to get this book for FREE
° ° ° ° ° ° ° ° ° ° ° ° ° °
The Amnesia Desk: Fast-paced thriller
by Jim Sullivan


(26 Reviews)
Genre: Literature & Fiction | Action & Adventure | Thrillers
FREE for a limited time
Meet the Amnesia Desk : a clandestine, ultra-violent group tasked with keeping the CIA's darkest secrets hidden – permanently.
When archaeologist Lee Jackson takes an experimental drug he starts having vivid hallucinations about the deep past. But are they hallucinations or actual ancestral memories? And why are they dominated by memories of battles?
But while most of Jackson's memories are from centuries ago, one is from the recent past, and it's a threat to the very existence of the CIA.
Jackson has to die.
The Amnesia Desk send their finest to Britain to deal with the threat. But there's something they haven't counted on: Lee Jackson has access to centuries of combat experience. This is a fight the Amnesia Desk wasn't expecting.
The Amnesia Desk is a gripping action thriller. If you like stunning twists, flawed heroes and edge-of-the-seat suspense, then you'll love this unforgettable page-turner by Jim Sullivan.
Click here to get this book for FREE
° ° ° ° ° ° ° ° ° ° ° ° ° °
Hitching the Pitcher (A Belltown Six Pack Novel)
by Heather B. Moore, Rebecca Connolly, Sophia Summers


(71 Reviews)
Genre: Romance | Literature & Fiction | Sports
FREE for a limited time
Running into his former college girlfriend wasn't supposed to happen. Falling for her again wasn't supposed to happen either.
Sawyer Bennett has a secret. A risky thing, being one of the popular Belltown Six Pack, a group of six guys from the same college baseball team, all of whom got drafted and now play in the Major Leagues. Between the media frenzy over them and his bond with the guys, his secret has to stay carefully hidden if he wants it to stay that way. He needs to focus on his pitching and let everything else fall away.
Confessing his secret to Erica Moore was definitely not supposed to happen. But the harder he falls for Erica, the more important his secret — and she — becomes.
Welcome to Belltown! Six baseball players meet in the college town of Belltown, Massachusetts, becoming best friends, their lives intertwining as they each get called up to the Major Leagues.
Click here to get this book for FREE
° ° ° ° ° ° ° ° ° ° ° ° ° °
The Forgotten Children: A chilling story inspired by true events
by Isabella Muir, Christoffer Petersen


(4 Reviews)
Genre: Literature & Fiction | Family Life | Historical Fiction
FREE for a limited time
A woman's search to find her son uncovers the shocking truth about one of Britain's darkest periods
Struggling with the demons of her past, Emily is a children's author with a dark secret, and a guilt that threatens to consume her. For twenty years she has lived in Brighton, England, trying to forget the day they took her baby from her, just hours after he was born. But now, in the summer of 1987, she decides to begin the search for her son.
Emily takes refuge in a small town on the Isle of Anglesey to plan the search, where she meets Walter, a gentle stranger, who helps her with his words of wisdom and kindness. But it is when she decides to return home to Hastings, that she really has to face her demons.
Estranged from her parents when she was just sixteen, Emily is shocked by what her mother has to tell her about events that occurred before Emily was even born.
Beside her, throughout her search, is Emily's beautiful Irish friend, Geraldine, recovering from her own sad experiences. Together they uncover a truth that shocks them all.
The Forgotten Children draws the reader into lives affected by narrow-minded beliefs and blinkered thinking at the highest level. Children who weren't allowed to be born, children who were abandoned, and children who were taken, forced to lead a life thousands of miles away from everyone and everything they knew – leaving scars that may never heal.
At its heart, The Forgotten Children is a story of survival, but the journey that Emily has to take is painful. Even more so because she knows it was allowed to happen by individuals, religions and governments, who should have known better.
Click here to get this book for FREE
° ° ° ° ° ° ° ° ° ° ° ° ° °