I have been talking a lot about the fires here in Sonoma County. I thought I should share this amazing photo my friend Aaron Adams took at 8:15 this morning. Today is an especially rough day, the sky is getting darker and darker, with an eerie orange glow.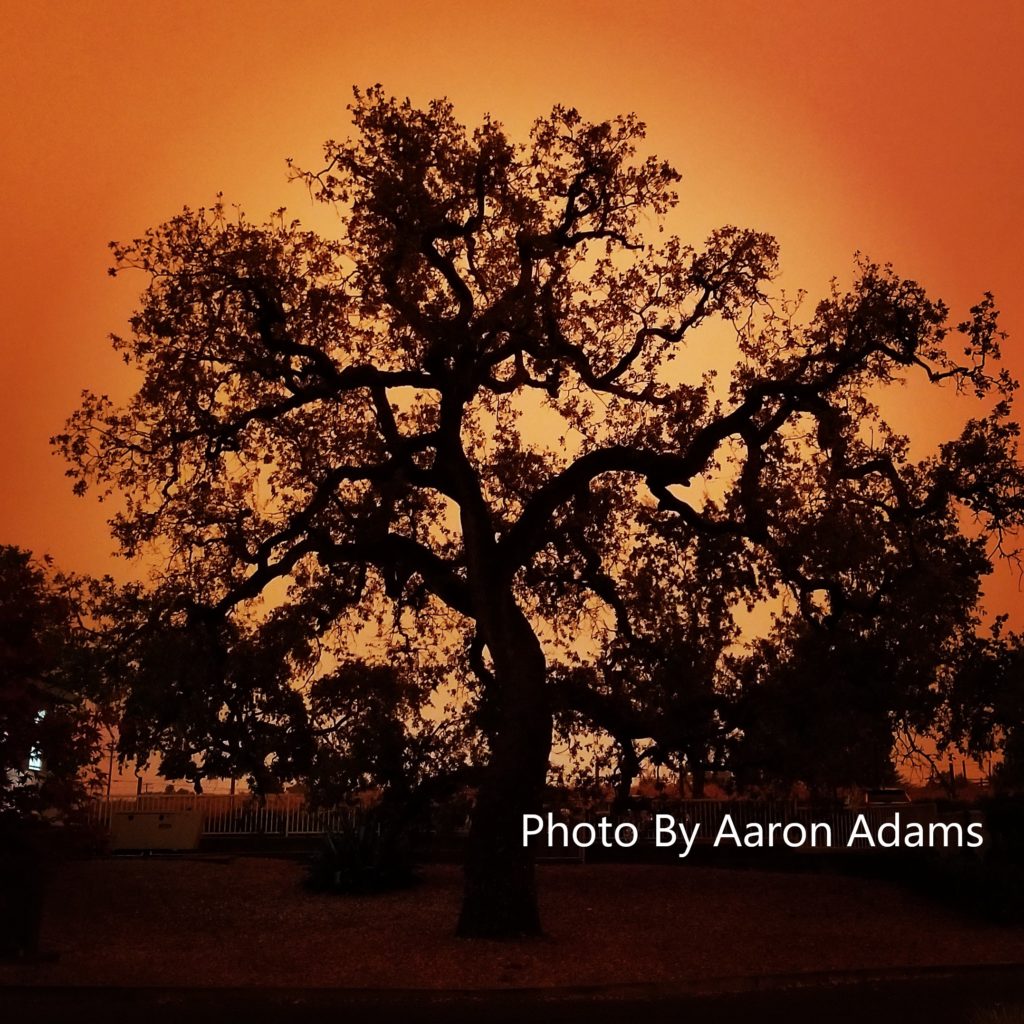 The French Girl: A Rex Dalton Thriller
by JC Ryan, Laurie Vermillion


(107 Reviews)
Genre: Thrillers
FREE for a limited time
Rex Dalton and his best friend, Digger, the former military dog, are looking forward to a trouble-free holiday on the idyllic islands of Vanuatu in the South Pacific Ocean. Swimming, playing on the beach, fishing, and hikes. Nothing but the laid-back lifestyle for the two of them.
Then Digger introduces Rex to a beautiful French girl, not once, but twice. Soon, Rex and the girl become good friends. Then she disappears, and Rex is accused of having something to do with it.
Thus, begins a series of dramatic and life-threatening events with international repercussions with Rex, Digger and the French girl in the center of it.
THE FRENCH GIRL is a full-length novel, a nail-biting thriller by best-selling author JC Ryan. It is the sixth book in the electrifying new Rex Dalton series.
Click here to get this book for FREE
° ° ° ° ° ° ° ° ° ° ° ° ° °
Lucas's Lady (Sunset Valley Book 1)
by Caroline Lee

(141 Reviews)
Genre: Romance
FREE for a limited time
Lucas Ryan has a problem. A problem with rustling and land-grabbing on his ranch, which his mother promised would go away as soon as he got married and produced an heir. So he's sent off for a mail-order bride who won't ask questions and wants a baby as much as he does.
He just doesn't expect to fall for her.
Shannon Montgomery has spent her life knowing she's ugly, thanks to the large strawberry birthmark on her face. Becoming a mail-order bride to a man who's never seen her seemed the ideal solution, but she's eaten up with guilt for not confessing her imperfection to him ahead of time. See, she didn't expect to arrive at Sunset Valley and give her heart to her husband quite so soon.
But Lucas's problem doesn't go away with his marriage; if anything, it gets worse. Now Shannon is in danger too, and Lucas learns he's willing to do anything to protect her. But Verrick, the notorious gunslinger Lucas hires, is nothing like he seems, and turns Lucas's world on its head in more ways than one.
Between Shannon and Verrick, Lucas needs to learn how to open his heart to his past… and his future.
Heat level 3/5: contains violence, minor cursing, and sex behind closed doors
Click here to get this book for FREE
° ° ° ° ° ° ° ° ° ° ° ° ° °
Vampire Detective Midnight: A Science Fiction Vampire Detective Novel
by JC Andrijeski


(74 Reviews)
Genre: Science Fiction | Mystery
FREE for a limited time
Nick frowned, staring around at the alley floor.
It hit him again.
There was something wrong with this blood.
It smelled too good.
It smelled way, way too good…
Vampire with a past and homicide detective, Naoko "Nick" Tanaka just got transferred to the NYPD, where he works as a "Midnight," or vampire in the employ of the human police. Like all state-reg'd vamps, he gets his food delivered to his door, lives in government housing, and basically can't sneeze without the U.S. government knowing about it.
More than anything, he just wants to be left alone, to endure his immortality in peace, but he's barely in New York two weeks when things start to go sideways.
It all starts with his new case–a case involving dead hybrids, graffiti that tells the future, a kid who shouldn't exist at all, and a possible conspiracy involving the richest humans in New York.
That doesn't even get into the school principal, a woman with secrets of her own, who has a deeply unsettling effect on him.
Nick finds he can't get personally uninvolved with any of it. Instead, he gets sucked in even deeper, until he's pretty sure he'll end up forcibly reprogrammed by his human owners–assuming they don't just rip his heart out of his chest and be done with it.
VAMPIRE DETECTIVE MIDNIGHT is book #1 of a gritty, romantic new series set in a futuristic, dystopian New York populated by vampires, humans and psychics trying to rebuild their world after a devastating race war nearly obliterates the previous one.
A spinoff of the Quentin Black Mystery series, it features vampire with a past and homicide detective, Naoko "Nick" Tanaka, who gets transferred to the NYPD after a bad incident in Los Angeles forces him to start a new life. Nick works as a "Midnight," or vampire in the employ of the human police department, but when he arrives in New York, he really just wants to be left alone to work, surf, and deal with his immortality in peace.
Life, and the residents of New York, clearly have other ideas.
Click here to get this book for FREE
° ° ° ° ° ° ° ° ° ° ° ° ° °
Miami Mummies: A Wendy Darlin Caper – Book 4 (A Wendy Darlin Comedy Mystery)
by Barbara Silkstone


(36 Reviews)
Genre: Action & Adventure | Literature & Fiction | Humor & Satire
FREE for a limited time
This is not your typical adventure. Wendy Darlin has a Stephanie Plum-ish personality. She leaps before she looks. This series is a "Brozy"–a cozy appealing to a broader audience–men, women, young adults, and teens.
MIAMI MUMMIES ~ Book Four in the Wendy Darlin Cozy Comedy series
The legendary mastermind criminal and mummy thief, Kyzer Saucy, strikes again. Part-time tomb raider and full-time real estate broker, Wendy Darlin joins her lover, archaeologist Roger Jolley as they struggle to save a rare Miami mummy from the clutches of this evil genius. Can Saucy be stopped before he kills again? Meanwhile can Wendy keep her promise to Alfred Hiccup as he attempts to transmigrate from the afterlife? Or has Wendy finally made one promise too many?
This book is written in homage to the great Alfred Hitchcock… who is probably turning over in his grave.
Click here to get this book for FREE
° ° ° ° ° ° ° ° ° ° ° ° ° °
Seriously Mum, How Many Cats?
by Alan Parks


(127 Reviews)
Genre: Crafts, Hobbies & Home | Humor & Entertainment
FREE for a limited time
**THE AMAZON #1 BESTSELLER IN TRAVEL, ANIMAL & CAT BOOKS**
Could you give up everything you have worked for and do something completely different?
Would you give up and go home if it all went wrong?
After six years of living in the olive groves of Andalucia, Alan and Lorna should have adjusted to Spanish life, but things never seem to run smoothly. When Lily the alpaca falls pregnant, they are in for an anxious few months as they battle against the odds to keep themselves afloat.
'In Seriously Mum, How Many Cats?' there is concern that the cats are going to take over the farm. There are cats in the barn, cats in the garden and even a cat invasion in the bedroom one night.
Exploding tyres, flamenco dancing, religious parades and, of course, all your favourite animals return once again to entertain you in the latest story about these much-loved expats.
Click here to get this book for FREE
° ° ° ° ° ° ° ° ° ° ° ° ° °