For Halloween I am making Owl Cupcakes like the ones in the picture (not my picture) below. I am NOT however going to go wild and crazy like I did with my poor baby basset's birthday cake. That thing was awful! Nope. I learned my lesson and this time I am going with a good old fashion Duncan Hines yellow cake mix. Tasty yellow, like a cake mix should be.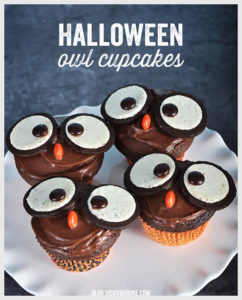 After Me (The Kate Sawyer Medical Thriller Series Book 1)
by Deborah Coonts

(402 Reviews)
Genre: Literature & Fiction | Thrillers | Women's Fiction | Psychological
FREE for a limited time
Twenty million in diamonds missing.
Kate Sawyer, a cop in witness protection, holds the key.
If she could only remember.
Early-onset Alzheimer's clouds the past. Stem cell therapy is working to clear it.
But time is running out for Kate.
One night she finds a dead man in her bathtub with a note stuck in his pocket.
I know what you've done.
Her cover blown, Kate runs, the clock is ticking. People close to her are being killed.
Shadowy memories tease her. Some she recognizes. Others don't seem familiar at all.
Running from people she can't remember, dogged by a past lost in the haze, Kate discovers no one is who they appear to be, perhaps not even herself.
After Me is a dark psychological thriller on the cutting edge of medical science, perfect for those who like scientific what-ifs… with a ray of hope.
Click here to get this book for FREE
° ° ° ° ° ° ° ° ° ° ° ° ° °
Wild Nines: A Space Opera Series (The Wild Nines Book 1)
by A.R. Knight


(10 Reviews)
Genre: Science Fiction & Fantasy | Science Fiction | Action & Adventure
FREE for a limited time
Framed for murder on a fringe outpost, a ragtag mercenary crew must find the truth before bounty hunters take their lives.
With his crew, Davin has to find out what happened and why, all the while outrunning merciless authorities and powerful people that would like it very much if the Wild Nines just dropped dead.
But Davin has a habit of disappointing people who wish him harm, and he's not going to stop until he clears his crew's name, and makes sure the ones who crossed his crew wish they never had.
Wild Nines is the first novel in The Wild Nines series, a fast-paced, action-driven space opera set in a corporate-controlled solar system where laws are profit-driven, and survival often depends on how fast you are on the draw.
If you're looking for a gripping, sci-fi adventure, you've found it: pick up Wild Nines today and enjoy the ride!
Click here to get this book for FREE
° ° ° ° ° ° ° ° ° ° ° ° ° °
Witch Inheritance (A Mackenzie Coven Mystery Book 1)
by Sonia Parin


(100 Reviews)
Genre: Teen & Young Adult | Literature & Fiction | Mystery
FREE for a limited time
The Coven has caught up with Lexie. There's no walking away from it now…
Alexandra Elizabeth Mackenzie. Stop ignoring us. Speak the words. Make this right so we can be… Bright.
Lexie's birthday has caught up with her, as have her cousins, Mirabelle Louisa Mackenzie – High Chair of the British Isles and all Circumferential Domains Pertaining to the Mackenzie Coven – and Catherine Marianna Mackenzie, her down under cousin (If she has a title, she's not telling her). They've been sent to remind Lexie of her family obligations and also to give her a birthday gift. The type she can't return, refuse or exchange. It's her heritage and it comes with a job she didn't even apply for. It's actually more a way of life than a career and it comes with a snazzy new outfit only her cousins can see. Thank goodness for that…
Not surprisingly, Mirabelle and Catherine Mackenzie are short on details and time to explain. In fact, Lexie has less than two days to brush up on her skills and fly to England… at the blink of an eye. The Mackenzie Coven has been enlisted to assist with a rising concern at House St James. It comes in the shape of an inky black fog Lexie calls the menace. It might not be in corporeal form, but it's somehow managed to murder one St James family member. Now it's Lexie's job to make sure it doesn't strike again, but she's fallen under a spell. Suddenly she's tearing off her beloved denim jeans and Rock Hard t-shirt and donning bespoke designer dresses and sipping 'delish' champagne. Even her accent has changed and her cousins can't do anything about it because a covenant prohibits all three Mackenzie Coven witches from gathering in the house together. They must somehow circumvent the seal and guide Lexie through her first official task as a Mackenzie Coven witch and find the murderer before all the heirs meet their end…
Click here to get this book for FREE
° ° ° ° ° ° ° ° ° ° ° ° ° °
Dead Man Walking: A Wild West Omnibus
by John Russell Fearn


(1 Review)
Genre: Literature & Fiction | Westerns | Action & Adventure
FREE for a limited time
The old west is brought back to life in this must-have collection of western adventures by bestselling author John Russell Fearn.
THUNDER VALLEY
When Brad Morrison stops by the Yellow Nugget saloon, he seems like just another prospector looking for gold.
But for a simple man, Brad sure finds a lot trouble for himself.
Getting on the bad side of Black Joe, who all but runs the town, is a mistake.
Getting on the good side of Joe's beautiful fiancée, Betty Tarrant, is even worse.
But with the prospect of gold up for grabs, Brad isn't going anywhere…
YELLOW GULCH LAW
Jess Burton and his sidekick Shorty Pearson ride into Yellow Gulch, desperate to find work after months on the road.
They enlist into Wilton de Brock's company, even though the pay is bad and de Brock's reputation even worse.
Only a day into the job, Burton realises the extent of what he has signed up for. But with de Brock having a firm grip on not just the work camp, but the whole of Yellow Gulch, escape seems all but impossible…
TOWN WITHOUT LAW
Gold Point, a festering town in the West, is completely in the power of local tyrant Sherman Hall.
With no governing authority, Hall is free to set the law as he pleases, and the law of the gun is the only one he rules by.
Rex M'Clyde, an honest man, grew up in Gold Point, alongside Sherman Hall. But Hall views him as a threat.
When Hall frames him for a murder he didn't commit, M'Clyde knows he stands no chance and quickly finds himself cast out into the desert.
With no food or water, he's as good as dead. Or is he… ?
Click here to get this book for FREE
° ° ° ° ° ° ° ° ° ° ° ° ° °
Angel Cookie Christmas (Ornamental Match Maker Series Book 4)
by Jo Grafford, Erin Dameron-Hill


(45 Reviews)
Genre: Religion & Spirituality | Romance | Religious & Inspirational Fiction
FREE for a limited time
His childhood crush, her nemesis, and the hometown holiday that rekindles an attraction from years ago…
Willa Murray receives a gift of an angel cookie ornament with a note signed by Mrs. Claus. It bears a cryptic message about watching for an angel in disguise who will soon cross her path. With her job as a lead actress in jeopardy (since the theater owner's niece wants the position for herself), she shrugs off the strange gift and heads home to Pinetop, Arizona for a long overdue visit with her folks.
One of the first people in town she encounters is the annoying and cocky blast from her past, Angel Castellano, who's been bragging since age eight that he plans to marry her some day. He's grown into a much taller and handsomer man than he had any right to. He's also the owner and head chef of a dinner theater in desperate need of a new entertainment director for the upcoming Christmas pageant, a position he is quick to offer her. Plus he makes the world's most amazing gingerbread cookies shaped liked angels, which he clearly is not despite his name — cookies that bear a startling resemblance to the ornament she was gifted before leaving the city.
For the first time in months, Willa begins to hope there might be something more for her to look forward to than life as a has-been actress in full-blown spinsterhood. Perhaps the elusive Mrs. Claus was right and Willa's very own Angel has been hiding in plain sight all these years.
Click here to get this book for FREE
° ° ° ° ° ° ° ° ° ° ° ° ° °