You hear people talk about how amazing a birds-eye views are, but I think the truly amazing view is that of a bug's. I love getting down on my stomach in the front yard on the warm pavement, right at the edge of the yard, and viewing the incredible blooms. I am sure my neighbors think I am a bit strange, but that's cool… flowers don't judge.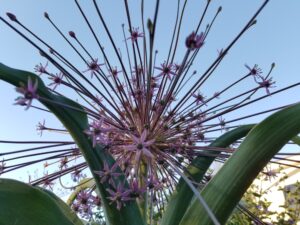 Alone at the End of the World: A Post-Apocalyptic Adventure (Sympatico Syndrome World Book 1)
by M.P. McDonald


(101 Reviews)
Genre: Literature & Fiction
FREE for a limited time
As a deadly virus decimates the world's population, survivors struggle to find each other. After all, nobody wants to be Alone at the End of the World.
Thirteen-year-old Ethan should be practicing his skateboard moves, not watching his family members die, one by one. He knows he could become a victim of the evil infection at any minute. Scared and alone, he fills his backpack and goes in search of other survivors, hoping he lives long enough to find someone. Anyone.
When Cassie sees the bodies of neighbors and strangers littering what had been pristine front lawns, she realizes her intense focus on business and family may have saved their lives. How does a single mom and her two kids survive an apocalypse alone?
Noah emerges from his two-week fishing trip in the Northwoods of Wisconsin, shocked to learn that a devastating pandemic has swept the world. Should he venture into the fray to find other survivors or retreat into the woods and isolate himself as long as he can?
When their paths converge, they face a new struggle ? learning to trust total strangers as if their very survival depends on it… because it does. Sympatico Syndrome is intent on sparing no one.
Click here to get this book for FREE
° ° ° ° ° ° ° ° ° ° ° ° ° °
Searching for Anna (Love in Lansing Book 1)
by Jenifer Carll-Tong


(109 Reviews)
Genre: Religion & Spirituality | Historical Fiction
FREE for a limited time
An impoverished seamstress. A wealthy suitor. An entangled past that could tear them apart.
A historical Christian romance from debut author Jenifer Carll-Tong.
As the Great War rages in Europe, Anna Gibson struggles to make ends meet as a seamstress in a small dress shop in Lansing, Michigan. She is content with her life. Or, so she thinks. However, a handsome suitor from her former life unexpectedly reappears, and she finds herself questioning her future when he begins to open doors to her past.
Warren Mallory has never taken life too seriously… until now. Suddenly, he is very serious about finding the amber-eyed beauty that has haunted his thoughts since she left him standing alone on that street corner. And once he has, he doesn't plan to let her vanish again.
But even as fate draws them together, the sparks of chemistry are doused when a mysterious package and a long-hidden secret threaten to drive them apart. Can Anna forgive the past in order to be with Warren, or will pride and misconceptions make her walk away from the only man she has ever loved?
Click here to get this book for FREE
° ° ° ° ° ° ° ° ° ° ° ° ° °
The Greek Coins Affair (MG&M Detective Agency Mysteries Book 1)
by Rick Adelmann


(82 Reviews)
Genre: Mystery
FREE for a limited time
A fortune in stolen antiquities, a bag of loose diamonds, and two dead men. It's bitter cold in February, 1918, when Pinkerton detective Sherwood Garth is assigned to team up with Major James Mallory. Their job is to ferret out the missing diamonds, but when the trail leads directly to a dead body in an abandoned barn, the two men join with the Cleveland Police Department to solve both the murder and the question of the gems.
They discover no shortage of suspects. The dead man, Henry Spellman, seemed disliked by family and colleagues alike. Could the killer be one of the adventurer's traveling companions? Or perhaps one of Spellman's own sisters or a member of the household staff is behind his death? And then there's Henry's flapper girlfriend, who is maybe a little too chummy with other men. Nearly everyone, it seems, has a motive and most had the means to carry out the crime.
The search takes the two detectives into the local jazz clubs, where Garth seems at home and Mallory sees a whole new world beyond his Army experience. It's truly a by-the-book whodunit using the Pinkerton man's keen skills of observation and the military officer's pure brawn. When they put the clues together, the revelations come as a surprise to all. Perfect for fans of classic detective stories from Agatha Christie and Arthur Conan Doyle.
Click here to get this book for FREE
° ° ° ° ° ° ° ° ° ° ° ° ° °
From Sunset to Sunrise: The Behavioral Method to Teach Children Habits for a Full Night Sleep
by Dorit Kreiser


(17 Reviews)
Genre: Parenting & Relationships | Medical eBooks
FREE for a limited time
A foolproof behavior-based method that will teach your child to sleep through the night.
Sleep is one of the most precious resources needed for children to develop physically, cognitively, and mentally during the earliest stages of their life. Despite this, many children find it difficult to fall asleep and maintain a steady slumber, and their parents suffer as well.
Dorit Kreiser is a midwife, breastfeeding consultant, psychotherapist, and sleep expert. On the basis of her rich experience, she has developed a behavior-based method to teach your child how to maintain their innate ability to fall asleep on their own and sleep through the night.
The method is comprised of six simple stages and is perfect for any parent hoping to introduce quality sleep into their child's life, create stability in the home, and acquire unique solutions for complex situations:
• What to do when your child starts to teethe?
• What to do when your child is ill?
• What to do on holidays and special occasions?
• How to help your children sleep well even when you are away from home
Click here to get this book for FREE
° ° ° ° ° ° ° ° ° ° ° ° ° °
The Last Dive (Vincent Last Thriller Series Book 1)
by Warren Court


(72 Reviews)
Genre: Sea Adventures | Men's Adventure | Action & Adventure
FREE for a limited time
A bruised and battered warrior. A ruthless tycoon who'll stop at nothing. And an impossible mission in the middle of a cruel sea.
Vincent Last, is just trying to make a living doing the only thing he knows how, salvage diving. Well Vince knows about other things, his years in the Special Boat Service taught him plenty.
But his world is turned upside down when a ruthless tycoon and his gunmen force Vince into a dangerous and seemingly impossible task.
Vince's first instinct is to tell them to get stuffed. But they are ruthless. And with a gun put to his wife's head, Vince has no choice but to go along.
Soon Vince finds himself far from home, onboard an ocean going tug off the coast of Africa. He must blow up the oil rig the tug is towing. Even if it means sending innocent people to their deaths.
If he doesn't do what he is told, his wife dies. There are a group of killers stalking her… just waiting for the word.
But if Vince is expendable, and his wife is probably dead anyways…
… what does he have to lose?
Why not teach his enemies everything he learned in special forces… and send them all to hell?
The ultimate sacrifice seems easy when there's no other choice.
Vince's private little war starts now.
The Last Dive is a throwback to Men's Adventure fiction heroes of the past. If you like blitzkrieg fast plotting, wounded heroes and unexpected twists and turns then you'll love Warren Court's first installment in the Vincent Last Thriller series.
Click here to get this book for FREE
° ° ° ° ° ° ° ° ° ° ° ° ° °