Good morning book lovers! The hint from today's title gives away that our theme today is colors! So here is a really pretty and colorful flower I found! Sadly, you can't eat them. – The Apprentice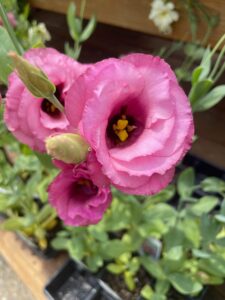 Genesis (First Colony Book 1)
by Ken Lozito

(1,735 Reviews)
Genre: Science Fiction
FREE for a limited time
A mission gone wrong… Innocent lives have been lost…
Escaping wrongful imprisonment wasn't something Connor had in mind, but being put into stasis aboard Earth's first interstellar colony ship was something he couldn't have prepared for.
For three hundred thousand colonists, the new colony brings the promise of a fresh start… a second chance. Connor might be the wrong man for the colony, but he's the right man to see that it survives what's coming.
A new world with new challenges, but the mission has changed.
Click here to get this book for FREE
° ° ° ° ° ° ° ° ° ° ° ° ° °
Night Raiders: The Story of the Legendary Unit 101 During the IDF Retribution Operations
by Uzi Eilam


(14 Reviews)
Genre: Biographies & Memoirs | History | Foreign Languages
FREE for a limited time
Lietuenant General Gadi Eizenkot, former 21st IDF Chief of Staff: "'Night Raiders' chronicles the background for the reprisal operations and lays out a profound analysis of their contribution to Israel's security. The book is of incredible historical value, but even more importantly – it is crucial for the present and future commanders of the IDF, who can use it to learn about the spirit, initiative, and expertise of the fighters and commanders of the past."
This is the fascinating story of the fighters and commanders of Paratrooper Unit 101 of the 890th Battalion, and of 202nd Brigade. The heroic reprisal operations which they carried out over the border between 1953 and 1956 allowed the IDF to give Israel's citizens relative peace.
Click here to get this book for FREE
° ° ° ° ° ° ° ° ° ° ° ° ° °
The One (Lavender Roses Book 1)
by Jessica Marlowe


(11 Reviews)
Genre: Contemporary Fiction | Literary Fiction | Short Stories
FREE for a limited time
Axl never believed in love until he met Mara. But four years later, she dumped him. Seeing her after two years at her great-grandparents' party, Axl realizes he's still in love with her.
And he's not happy about it. But it doesn't matter because she's married now.
Mara is finally putting her disastrous rebound marriage behind her. She's happy to spend a comforting weekend with her enormous, loving family. But that changes when she realizes her great-grandmother, Gigi, has invited her ex-boyfriend.
Gigi knows that Mara and Axl belong together. And she's not above using her party to give them the opportunity to see it.
The searing chemistry between them is as hot as ever, but Mara's ex-husband wants a second chance too…
Click here to get this book for FREE
° ° ° ° ° ° ° ° ° ° ° ° ° °
The Lake Never Tells
by Alex Tully


(162 Reviews)
Genre: Teen & Young Adult | Mystery
FREE for a limited time
Zoe has lived in Sunny Shores Trailer Park her whole life and she knows what the Memorial Day weekend brings — snobby rich kids who serve as a constant reminder of how pathetic her life really is. So when she meets Ethan, the awkward boy from the exclusive community of Crystal Waters, she can't help being intrigued. He's different but in a good way. Along with her stand-in little brother Parker, and her best friend Meredith, the four of them form an unlikely friendship. But one morning, their idyllic summer is turned upside down when a dead body washes up on the beach…
Click here to get this book for FREE
° ° ° ° ° ° ° ° ° ° ° ° ° °
Peter Pan 
by James Matthew Barrie

(2,956 Reviews)
Genre:
FREE for a limited time
For more than a century, the adventures of Peter Pan — the boy who can fly and never grows up — and Wendy Darling have captured the hearts of generations of readers. In this enchanting illustrated volume, the fantastical world of Neverland and its magical inhabitants, including the Lost Boys, Captain Hook, Tiger Lily, and the beloved Tinker Bell, are brought to life like never before.
Click here to get this book for FREE
° ° ° ° ° ° ° ° ° ° ° ° ° °