Good afternoon everyone. Now I know I promised you the theme of colors today but when I was out for a little adventure I came across the most adorable little hummingbird, and he or she actually let me take a picture of them sitting down! Oh so cute I just had to share! – The Apprentice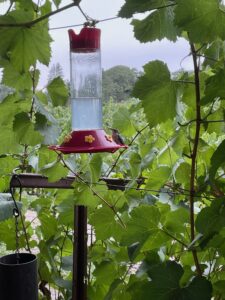 Neanderthal Seeks Human: A Smart Romance 
by Penny Reid


(4,264 Reviews)
Genre: Literary Fiction | Women's Fiction | Humor & Satire
FREE for a limited time
There are three things you need to know about Janie Morris:
1) She is incapable of engaging in a conversation without volunteering TMTI (Too Much Trivial Information), especially when she is unnerved,
2) No one unnerves her more than Quinn Sullivan, and
3) She doesn't know how to knit.
After losing her boyfriend, apartment, and job in the same day, Janie Morris can't help wondering what new torment fate has in store. To her utter mortification, Quinn Sullivan — aka Sir McHotpants — witnesses it all then keeps turning up like a pair of shoes you lust after but can't afford. The last thing she expects is for Quinn to make her an offer she can't refuse.
Click here to get this book for FREE
° ° ° ° ° ° ° ° ° ° ° ° ° °
Dead Stars – Part Two (Emaneska Series Book 4)
by Ben Galley


(144 Reviews)
Genre: Fantasy
FREE for a limited time
The Arka have chosen their champion, and now he must lead them to the top of the world – The Spine, where the black mountains belch fire, and where the battle against cataclysm will take place upon the ice. As they travel north in a warship clad in iron, the Krauslung they leave behind is crumbling. Not under the onslaught of the girl and her daemons, but from within, under the force of greed and poisonous ambition. It seems there are too many battles to fight. Now, with the Sirens silent, the frozen north in uproar, and the responsibility mounting, Emaneska's champion must face a choice.
Click here to get this book for FREE
° ° ° ° ° ° ° ° ° ° ° ° ° °
Opus Magnum II: Pearls of Worthless Wisdom
by Abu Kasem


(9 Reviews)
Genre: Humor & Satire | Humor & Entertainment | Foreign Languages
FREE for a limited time
Following the trailblazing and heroic endeavours of its predecessor, the Opus Magnum Volume II furthers the exploration of absurd worlds, preposterous possibilities and ignored presents in what could be deemed "the most successful, original and funny second part to an obvious first part".
The quills of Abu Kasem and his collaborators conjure realities that, hopefully, will make you laugh.
If not, we do apologise profusely.
Given that these lines are usually written by marketing experts, and we both abhor and forego them, you might also forgive the scant words that should theoretically draw the probable reader to buy this very book… yet we trust that our roguish attitude and lack of compliance are enough for you to feel compelled to read on.
Click here to get this book for FREE
° ° ° ° ° ° ° ° ° ° ° ° ° °
Hunter's Rage 
by Michael Arnold

(112 Reviews)
Genre: Action & Adventure | Historical Fiction
FREE for a limited time
Posted to the hostile territory of Dartmoor, Captain Innocent Stryker and his men are attacked by an elite cavalry unit commanded by the formidable Colonel Gabriel Wild and suffer heavy losses.
Stryker has already clashed once with Wild, and the Roundhead has sworn to seek his revenge. After the attack, Stryker is faced with the annihilation of his company as he is hounded across the moor, eventually seeking shelter on an isolated tor populared by an enigmatic former priest who harbours no love for the King's cause.
The battle between Stryker and his old foes takes him from the bleak isolation of Dartmoor, through the war-ravaged lands of southern England and finally to Stratton, where the bloody battle between Cornwall and Devon will decide the fate of the south-west.
Click here to get this book for FREE
° ° ° ° ° ° ° ° ° ° ° ° ° °
ASSERTIVE COMMUNICATION: The Art of Communicating Effectively
by Roberto Vingelli


(32 Reviews)
Genre: Self-Help
FREE for a limited time
Would you like to be more assertive in your communication without appearing aggressive and hostile? Would you like people to support your ideas with the sole attraction of your Communication? Would you like a guide to support you in eliminating your blocks, anxieties, and fears in your daily communication with others?
If you answered YES, let this book show you exactly how to master the art of Assertive Communication without too much effort, step by step.
This book will give you the tools you need to become the best version of yourself by developing your untapped potential, which will manifest itself in all areas of your daily life through assertive communication.
Click here to get this book for FREE
° ° ° ° ° ° ° ° ° ° ° ° ° °