I left the garden for the birds and bugs, and spent both days this weekend in the garage making cute little Halloween lanterns to sell or give to friends. It was pretty fun hanging out with hubby cutting wood, sanding and painting, and by Sunday night we had made about 18 lanterns. The real nice thing is I have most of them sold already.  Hubby had been disappointed that I hadn't made a whole lot with the machine all year, but now I am more than making up for it, and I think he wants me to stop. Poor guy, he thinks just because it's Monday I will slow down. NOPE! I have big plans today. In between work and life I am going to sneak out to the garage every chance I get and make more. Hubby knew he married an "All or Nothing" kinda of person.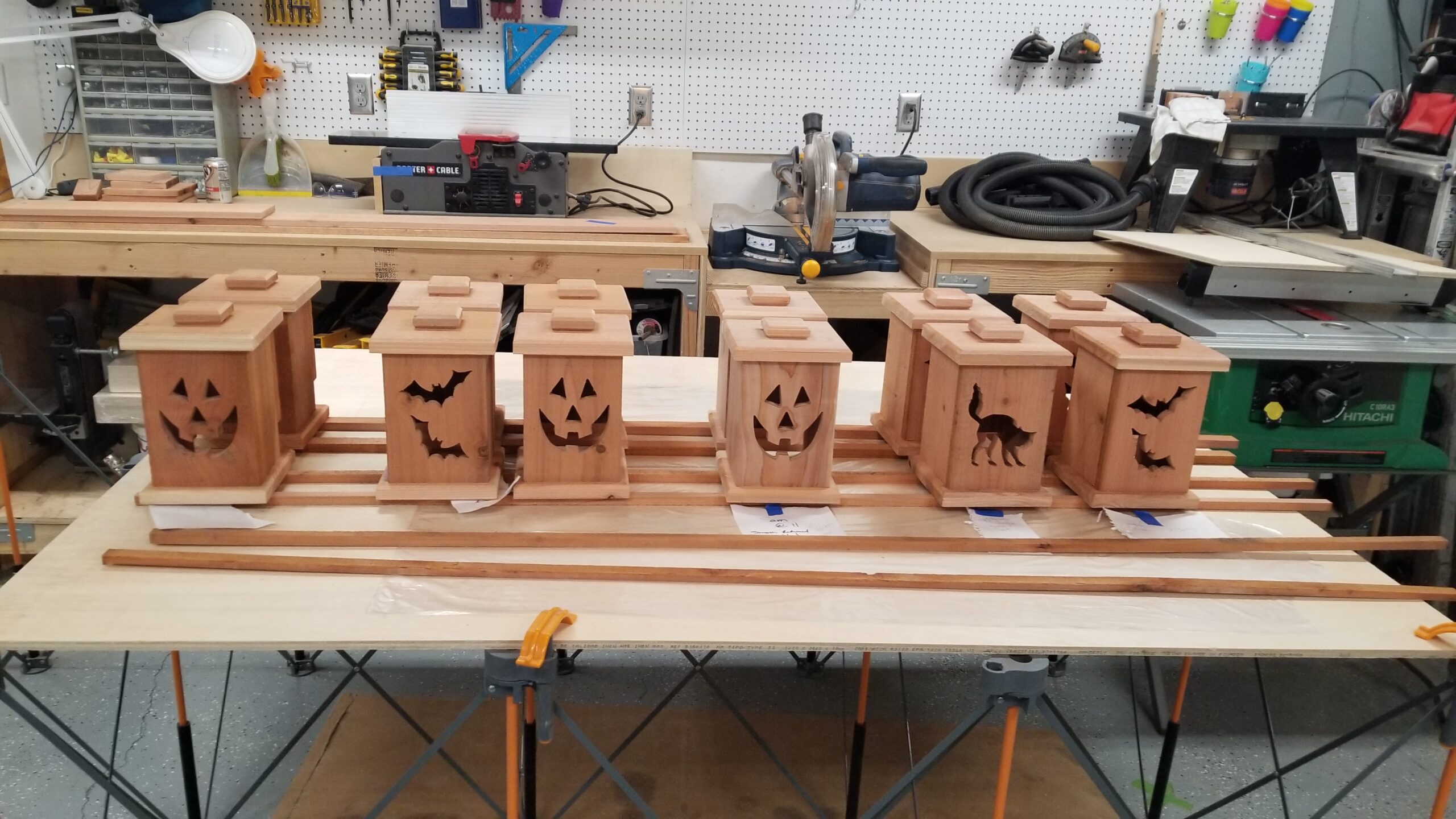 Escape to Osprey Cove: Book 1 of The Osprey Cove Lodge Series
by Luisa Marietta Gold


(740 Reviews)
Genre: Romance | Mystery
FREE for a limited time
What Doug finds in the secret compartment of his new red Corvette will forever change his life. It will also change Catherine's. Doug and Catherine come from two different worlds. Catherine's world is one of privilege and wealth. Doug grew up dirt poor and full of envy of others who had the things that he wanted but could not have. His goal was to one day have all the things he coveted. Their worlds collide when Catherine, VP of a large New York City marketing firm, hires Doug. As soon as Doug learns of Catherine's wealth, he sees Catherine as his ticket to all the things he covets. After a whirlwind courtship, they are married.
Poor boy meets rich girl should have resulted in happily ever after — not exactly. Doug quickly learns he also covets independence. Events begin to unfold in each of their lives. For Doug, it is his mysterious discovery in the secret compartment of the Corvette. For Catherine, it is a business meeting with Alex Droxell at the Osprey Cove Lodge. When Catherine enters the beautiful and serene lodge, it's as though she is entering another place and time. The lodge is an escape from the nightmare she is living back home.
Authors Note: The Osprey Cove Lodge series is uniquely written, spanning seven geographic locations from the scenic Canadian region of the Rideau lakes to the beautiful shores of the Caribbean. An interesting web of mystery develops as the characters' lives intertwine. The setting for The Osprey Cove Lodge series was born from my love of the beauty of this region in Canada. The description of the lodge is so beautiful and inviting that you will want to pack your bags and head there. The series is written in a continuing fashion; please be sure to read the books in the order written.
Click here to get this book for FREE
° ° ° ° ° ° ° ° ° ° ° ° ° °
Rebel Dragon (The Dragons of Esternes Book 1)
by Steve Turnbull


(33 Reviews)
Genre: Fantasy | Action & Adventure
FREE for a limited time
What value is freedom when you can't even ride a dragon?
As the life of a slave goes, Kantees doesn't have it too bad. Being responsible for a racing dragon means her existence is more than just drudgery and fear, even if her life is at the whim of her masters and their rules.
But when her dragon wakes her in the middle of the night Kantees is forced to make a life-or-death decision that breaks her masters' rules and means her own life is forfeit.
Escaping on the back of dragons, with a hodgepodge of unwelcome associates, she attempts to right a wrong that can never be fixed. Until, ultimately, she must put her own life on the line to keep the freedom she has stolen for herself.
The first book in the Dragons of Esternes Epic fantasy series.
Click here to get this book for FREE
° ° ° ° ° ° ° ° ° ° ° ° ° °
Vital Signs: Bodies in the English Channel spell trouble for the stubborn doctor (The Dr Callie Hughes crime scene investigations Book 4)
by Candy Denman


(102 Reviews)
Genre: Women's Fiction | Thrillers
FREE for a limited time
A forensic physician fuels political uproar when she sticks to her findings
When bodies of immigrants begin to wash up on a Hastings beach, no one would envy police doctor Callie Hughes' sad job of checking for vital signs or pronouncing death.
Hughes works alongside detectives DI Miller and DS Jeffries, slowly cataloguing some dozen deaths from a boat suspected to have capsized during an illegal crossing from France to England.
But one victim stands out to Hughes. Body number nine. It has several characteristics that mark it as different from the others. Could it be the body of a people smuggler?
Despite Dr Hughes having supplied crucial information about previous homicides, Miller and Jeffries are quick to dismiss her theories. But without their backup, will her desire to get to the bottom of the case land her in deep trouble?
VITAL SIGNS is the fourth book in a gripping series of medical mysteries by Candy Denman. All of these books can be enjoyed as standalones.
Click here to get this book for FREE
° ° ° ° ° ° ° ° ° ° ° ° ° °
Pick Me, Handsome
by C. Morgan


(445 Reviews)
Genre: Women's Fiction | Romance | Contemporary Fiction
FREE for a limited time
It's all about the money.
Maybe for some, but I'm not interested.
I'd rather work with my hands than spend the billions my father left behind.
The only thing that interests me is the apple orchard he left me. The old thing needs work, and I plan to make it beyond successful.
What I didn't expect to find between the rows of juicy red apples was a yearning for more.
A beautiful single-mom teacher shows up to take her kiddos on a tour of the orchard and I feel things I haven't felt in a long time.
Mine.
Every cell in my body wakes up with a desire for the strong, independent woman that I want to rock my world.
She's not into rich guys at all. Fine by me. I look like the gardener anyway.
My secret is safe. For now.
I'm not interested in the money. All I want is the girl.
Click here to get this book for FREE
° ° ° ° ° ° ° ° ° ° ° ° ° °
The Worst Thanksgiving Book in the Whole Entire World: A funny and silly children's book for kids and parents about Turkey Day. (Entire World Books)
by Joey Acker


(108 Reviews)
Genre: Children's eBooks
FREE for a limited time
Happy Thanksgiving… or not…
because this is The WORST Thanksgiving Book in the Whole Entire World! Poor Nameless finds himself in another one of the Worst books and he is no fan of Thanksgiving! Who is this mysterious turkey on the cover? Is Jerry Pumpkins back?? Is there really a chicken in this book???
The Worst Thanksgiving Book in the Whole Entire World is a humorous and witty tale for young and seasoned readers. Come join Nameless on this new adventure in this quirky, silly and a little ridiculous easy reader for children.
The Entire World Books series is geared towards ages 3-9 and is great for beginner and reluctant readers. Boys, girls, primary school students, adults, and parents can enjoy this new quirky and silly children's book series.
DISCLAIMER: this book is not meant to be educational or considered a literary classical masterpiece by any means. This story is the worst AND these illustrations are the worst. That's the idea! However, if you and your child have a clever and unique sense of humor then this very well may be the book for you. Think 'The Book with No Pictures' humor, but with… pictures…
Click here to get this book for FREE
° ° ° ° ° ° ° ° ° ° ° ° ° °