Guess who was NOT happy to see my face this morning! MONARCH CATERPILLARS!!!!! I found three so far. I am 99.9% certain that they are from eggs the butterflies that I raised and released laid. I am so excited. I kidnapped them from the wild and dangerous outdoors and they are now safe in the caterpillar habitat. VALIDATION!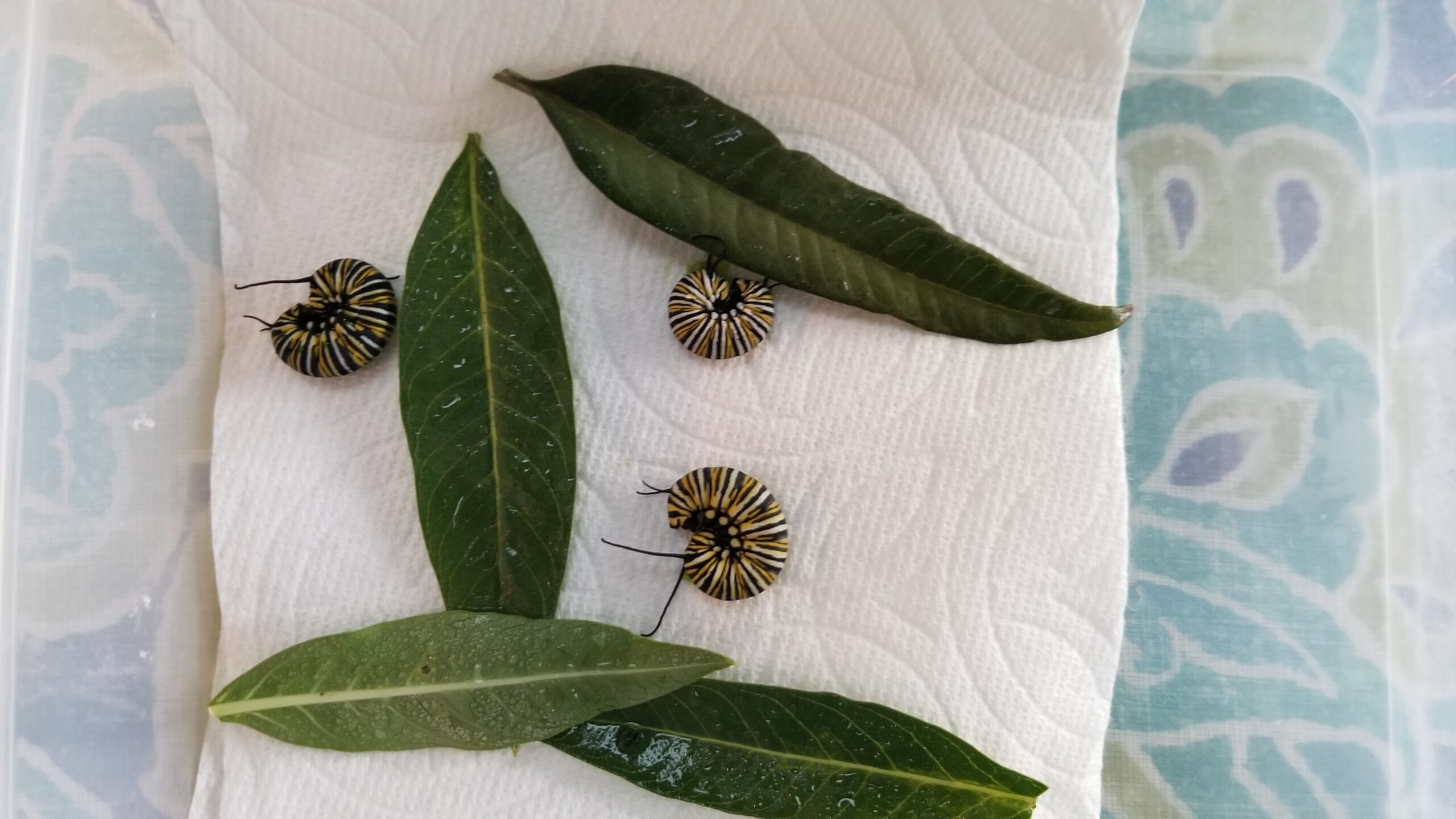 Ghostly Paws (Mystic Notch Cozy Mystery Series Book 1)
by Leighann Dobbs


(2,586 Reviews)
Genre: Mystery
FREE for a limited time
Middle age can be murder…
At least that's how it seems to former crime journalist, Wilhelmina Chance, whose near-fatal accident has given her a strange side effect… she sees ghosts.
After a messy divorce sends her fleeing back to her hometown of Mystic Notch, nestled in the White Mountains of New Hampshire, Willa finds herself haunted by the tenacious ghost of the town librarian who insists Willa solve her murder.
Luckily, she has lots of help, including a quirky cast of small-town characters, the cat she's inherited from her grandmother, and her best friend, Pepper, who claims her herbal teas can work magic.
But just when Willa thinks she's discovered who the killer is, she finds out that things are not what they seem in Mystic Notch, and the case takes a strange turn that has Willa adding even some of her long-time friends to her suspect list.
Can Willa find the real killer in time to keep the magical balance in Mystic Notch on the side of good, or will evil prevail?
Click here to get this book for FREE
° ° ° ° ° ° ° ° ° ° ° ° ° °
Viking King: A Time Travel Fantasy Romance (The MacLomain Series: Viking Ancestors Book 1)
by Sky Purington


(88 Reviews)
Genre: Romance | Fantasy
FREE for a limited time
Determined to take a break from her past, Megan cozies down in her million-dollar Winter Harbor Maine home and focuses less on money and more on dreams. Building boats was a childhood desire she's determined to pursue. With a love for Viking shipwright skills, she constructs a small-scale longship. What she doesn't anticipate is an unexpected call from the past.
Of dragon blood, Viking King Naðr Véurr Sigdir 'the bold' knew that the bargain he struck with the seers would likely lead to an unpredictable outcome. What he didn't foresee is a beautiful, headstrong woman from the future washing up on his shores.
Caught between twenty-first-century America and ninth-century Scandinavia, two souls connect. Both determined and willful, their battle soon becomes not one made of the eras separating them but all the unexpected moments that drive them closer together.
Anger. Need. Distrust. Hope. Never-ending desire. All merge, warring and passionate, when a modern-day woman and a Viking king surge forward together to conquer not only their enemies but what lies within their hearts.
Heat Level: Five Flames
Click here to get this book for FREE
° ° ° ° ° ° ° ° ° ° ° ° ° °
Alamosa
by David Edward


(58 Reviews)
Genre: Westerns | Historical Fiction
FREE for a limited time
Sometimes, justice and the law don't see eye-to-eye.
Post-Civil War Colorado Territory, 1870's. When a Denver City lawyer is murdered, the town of Alamosa erupts in violence. The trial, lead by the conflicted Judge Stone, ignites a series of events that threaten a second civil war between east and west. A vast conspiracy is exposed in both this world and the next.
It all hinges on the guilt or innocence of one woman. But she is already dead.
Set in the richly described post-Civil War America, Alamosa is both a classic western and an anti-western. It calls into question many norms of the genre while providing clever insight into the human condition: what it means to bring justice, and how justice by itself might not be enough.
Click here to get this book for FREE
° ° ° ° ° ° ° ° ° ° ° ° ° °
Apple Pie a la Murder: A Freshly Baked Cozy Mystery, book 1
by Kate Bell, Kathleen Suzette

(89 Reviews)
Genre: Mystery
FREE for a limited time
Ever decide to do a good deed and it ends up making people suspect you of murder? No? Just me, then?
I blame my best friend, Lucy Gray. She encouraged me to ask Henry Hoffer to sell my pies in his restaurant, so I brought him an apple pie to try, on the house. Unfortunately, after trying my pie, Henry ended up dead. I didn't do it, I swear.
It's bad news for me. Turns out the police chief had recently hired a Detective, and although he's tall, dark, and handsome, he's also determined to find the killer and slap the cuffs on them. And he's looking in my direction.
Can Lucy and I find the real killer before I wind up in an orange prison jumpsuit? Orange clashes with my red hair. And I didn't do it.
Click here to get this book for FREE
° ° ° ° ° ° ° ° ° ° ° ° ° °
The Rhino Crash: A Memoir of Conservation, Unlikely Friendships and Self-Discovery
by Karin Mitchell, Nick Newman


(92 Reviews)
Genre: Science & Math | Biographies & Memoirs | Sports & Outdoors
FREE for a limited time
Catapulted into the grim world of rhino poaching, Nick Newman trades life in London for a humble, yet adventurous existence in South Africa. Tasked to monitor and protect critically endangered black rhinos, Nick soon cultivates an understanding of the different individual personalities and their temperamental behaviour by studying the animals in their natural environment.
Under constant threat of being poached for their horns, the rhinos become the pivot around which Nick and the Anti-Poaching Unit's lives revolve. Nick shares raw moments of heartbreak and hope from the frontline, while taking the reader on an honest and humorous trip of his years spent in Africa. Dynamic characters who form part of his stories include his sidekick rhino-tracking dog, Wilma, and a black rhino named Elmore who becomes an integral part of his life.
Towards the end of his time in South Africa, mounting pressure catches up with Nick and he soon finds himself in a care facility in Spain where he is forced to go on a journey of self-discovery to confront his mental health. It is also here where he learns to understand his affinity with the rhinos which he had come to love more than life itself.
Click here to get this book for FREE
° ° ° ° ° ° ° ° ° ° ° ° ° °