What a horrible mess that last rainstorm left me with in the garden. One of the raised beds completely collapsed, and I have been putting off the horrid task of emptying all the dirt out and lowering it to the ground. I have been toying with the idea of making it a ground level planter for a while, because I think it is ruining the siding on my house. The storm just pushed that plan to the top of my list. Absolutely nothing about this is fun. They never show you that stuff on those gardening shows! Oh well. My hope is to get this yard cleaned up by Thanksgiving. Ummm… yaaaaaa.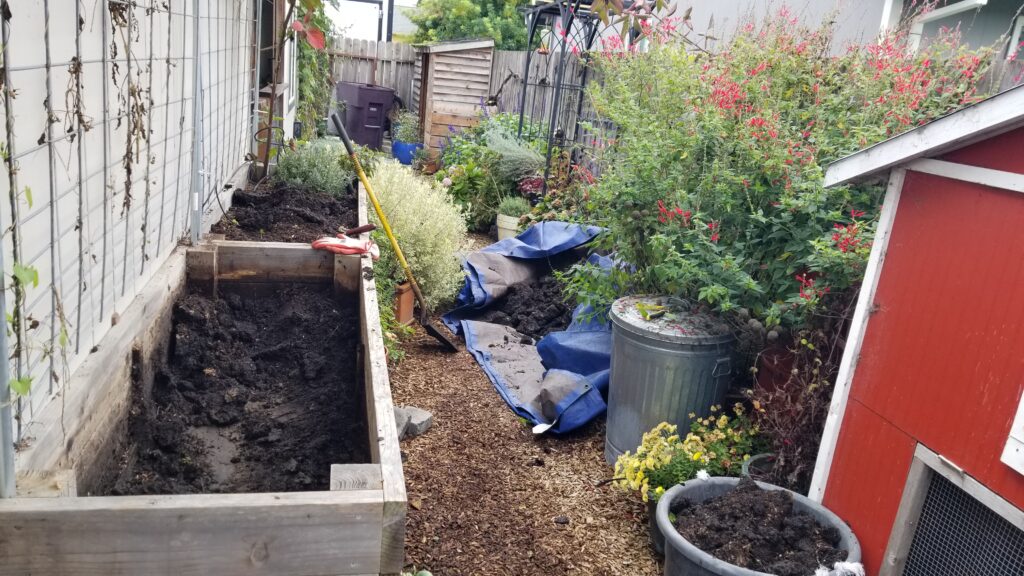 The Beltane Choice: An Action-Packed Adventure in Roman Britain (Celtic Fervour Series Book 1)
by Nancy Jardine, Ocelot Press


(54 Reviews)
Genre: History | Literature & Fiction
FREE for a limited time
An impossible quest. A heartless bargain. A ruthless occupation.
AD 71 Is anything fair in war… and love?
Nara finds herself cast out from her priestess home and now must face a totally different lifestyle. For her future to be successful, she seeks a very special warrior. The Rites of the Beltane Festival are fast approaching but when a calamity happens, her hunt seems impossible.
Lorcan – a Brigante enemy – captures Nara. He plans to use her as bargain with her Selgovae tribe when unity of the northern tribes is needed to face the invading legions of Rome. Nara's father agrees to the arrangement but sets absurd conditions. When battle at Whorl against the Romans looms…
Will Nara have her Beltane choice?
The adventures of the Garrigill Clan begin…
Click here to get this book for FREE
° ° ° ° ° ° ° ° ° ° ° ° ° °
Hank: Ghost Mountain Ranch – Book 1 (The Ghost Mountain Ranch)
by Jan Scarbrough


(293 Reviews)
Genre: Romance
FREE for a limited time
Hank brings two romantic series together: The Dawsons of Montana and Ghost Mountain Ranch!?Christmastime at the Six Buckles Guest Ranch. Hank, the Dawson's trusted wrangler, nurses a broken heart after Liz's marriage to Chaz. Ashleigh, Chaz's daughter, is new to ranch life. Can she survive the results of her bad judgement and make a home with her father's new in-laws??On Christmas Eve, Hank accepts the job of ranch foreman over the mountains in the Gallatin Canyon. But something dark is happening at the Ghost Mountain Ranch, where the past is reaching out in dangerous ways to haunt the living.?To find out what happens to Hank next, read Darby: Ghost Mountain Ranch.?
Click here to get this book for FREE
° ° ° ° ° ° ° ° ° ° ° ° ° °
The Sharded Boy: A Fantasy Adventure Series (Standing Stone Book 1)
by L. Darby Gibbs


(175 Reviews)
Genre: Fantasy
FREE for a limited time
Hate is a powerful motivator. Pain runs a close second.
Jahl Pratter dreams of recognition as a master wielder, but the danger of that recognition stalls his rise.
When a stranger hires Jahl for a job only a master wielder can perform, it's the perfect first step toward the destiny within his grasp.
The purchase of a magic stone is his first obstacle; it only requires coin.
But is the attention worth the danger wielding brings to him and his family?
The dark magic that summoned a plague which killed nearly every wielder in Chussan Faire appears contained. But those who believe his magic wields will cause a resurge urge Jahl to stop.
Jahl still deals with the pain of its first run through the wielder population. If hate spawned a plague, will Jahl's success drive its creator to greater action?
Can Jahl hide his wielding behind the secrets of a friend who once abandoned him? Rouen needs him if he hopes to save his family's business. Is that need enough for him to keep the silence that will protect the Pratter family?
The girl with the pretty blue eyes and a demanding temper is just as likely to ruin everything. Donya wants wielder training, and Jahl's her only option.
If Jahl agrees to share his skill with Donya, is she not just one more holder of dangerous secrets?
But those pretty blue eyes, the pain that jars him daily, the desire to wield, and treachery: each goads him toward the potential greatness promised him. It's only a magic wield away.
Buy this first book in the epic fantasy adventure of good against evil, love against hate, and success against destruction.
Click here to get this book for FREE
° ° ° ° ° ° ° ° ° ° ° ° ° °
The Man of the Forest
by Zane Grey

(708 Reviews)
Genre: Classics | Historical Fiction
FREE for a limited time
An Arizona mountain man saves a woman from a bitter range war in this classic western adventure by the author of Riders of the Purple Sage.
Enjoying his solitude in Arizona's White Mountains, Milt Dale has little reason to descend into town. He has no interest in the gossip and strife of townsfolk, and as a skilled hunter and woodsman, all his needs are met in the splendor of the forest. But while taking shelter from a storm in an abandoned hut, Dale overhears a nefarious plot he cannot ignore.
A local landowner has hired a gang to kidnap the niece of a prominent rancher. When Dale's warnings go unheeded, he takes it upon himself to protect the young woman and her kid sister. Away from the menace of civilization, Dale brings them to the rugged safety of mountain trails. But beyond the untamed forest, danger awaits.
Click here to get this book for FREE
° ° ° ° ° ° ° ° ° ° ° ° ° °
Blackstone Griddle Cookbook
by William Henry Cameron


(185 Reviews)
Genre: Cookbooks, Food & Wine
FREE for a limited time
Grilled Deliciousness at Home: Here's How to Prepare the Tastiest Blackstone Griddle Meals & Become a Master Chef In No Time – 350+ Recipes Included
Grilled food is as delicious as it is healthy. The best part is, grilling is a relatively simple cooking technique that everyone can master, even the inexperienced, amateur chefs.
But, if cooking on the griddle is so simple, why is the home-grilled meat tough, we can't achieve the perfect finish, the fish breaks, and the vegetables are raw or burnt? Because there are a few secret techniques everyone keeps for themselves, but this book is about to lay it all out!
Would you like to:
• Have your favorite restaurant-quality grilled meals ready in no time?
• Improve the quality of your food and therefore lead a healthier lifestyle?
• Be the life and soul of great barbecues among friends and have them wondering what your secret is?
• Improve your cooking skills and learn a variety of delicious recipes to put into practice?
With this one-of-a-kind cookbook, you can!
Why is it that we save grilling for big family celebrations or friends get-togethers – exclusively for special occasions? It's about time that changed! With the help of this book, you'll be able to enjoy the best grill recipes, but with a different and extraordinary flavor – any time you crave it!
Through the pages of this cookbook, you'll discover:
• How to set up a griddle, learning the controls, and the entire griddling process explained in layman's terms;
• Great tips and tricks that are guaranteed to turn you into a master chef in almost no time;
• A wide selection of delicious breakfast recipes – classic steak and eggs, toad in a hole, fluffy pancakes, potato bacon hash, etc.;
• 25+ different burger recipes – beef burgers, croque madame, spiced lamb burger, turkey burger, ultimate griddle cheese, etc.;
• Over 45 vegetable and side dishes – Italian zucchini slices, easy fried rice, stir fry mushrooms, smoked tomato and mozzarella dip, etc.;
• The tastiest poultry, beef, and pork recipes – roast turkey orange, hoisin turkey wings, sweet and spicy pork kabobs, etc.;
• Healthy seafood recipes – pesto shrimp, blackened salmon, spiced crab legs, flavorful Mexican shrimp, wine brined salmon, etc.;
• Game recipes, appetizer and sides, desserts, snacks recipes, and much more!
You don't have to wait any longer to enjoy a good barbecue. Get ready to make the most delicious meals once you master the art of griddling, and this book will show you how to do so.
It's time to fire up the grill & savour the flavors of life!
Click here to get this book for FREE
° ° ° ° ° ° ° ° ° ° ° ° ° °