On Sunday I just couldn't take it anymore, so I cut down all the passion vines that were growing over my shed in the side yard. I couldn't even get through the gate anymore, it had grown so much. What has prevented me from trimming it back this whole time was the amount of caterpillars that I had living on it. I knew it would be a giant chore to trim and inspect each little clipping. BUT… I did. This picture below shows just a few of the caterpillars I relocated to a passion vine I was keeping in another part of the yard. CRAZY!!!!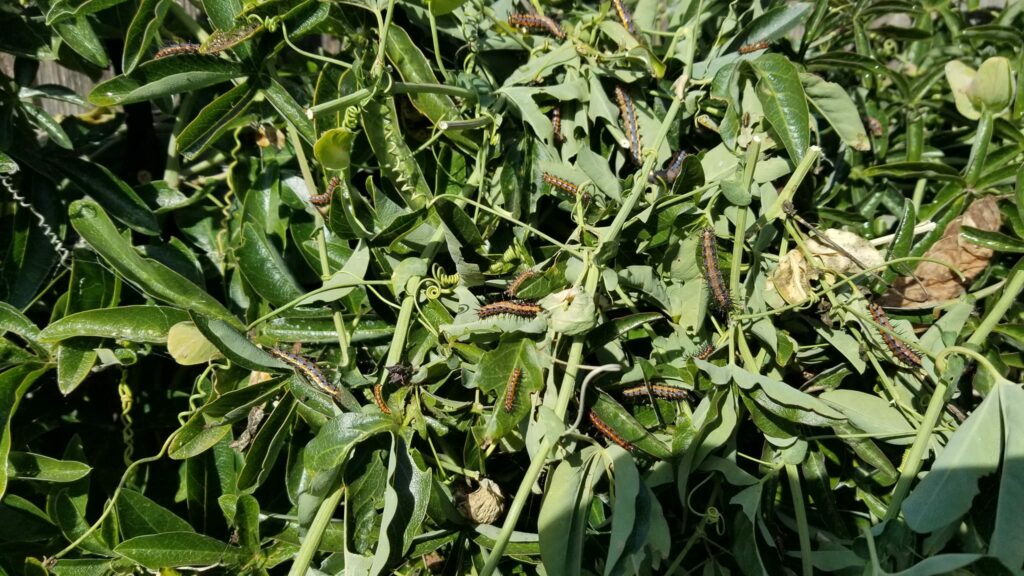 Kill Shot: an absolutely gripping mystery and suspense thriller (The Fighting Detective Book 1)
by Blair Denholm


(134 Reviews)
Genre: Thrillers | Crime Fiction | Sports
FREE for a limited time
Violent crimes
Missing people
Dark secrets
When only one brand of justice will do…
A body found in the mangroves appears to be evidence of a frenzied crocodile attack. But it soon becomes obvious, this is a horrific murder.
And when a popular MMA fighter disappears, police now face a possible double homicide. The list of suspects grows longer, but no one in the closed fighting community is talking.
Can hard-nosed ex-boxer Jack Lisbon solve the mystery before the panicked town of Yorkville goes into total meltdown?
Join DS Lisbon and his partner Detective Claudia Taylor on a heart-thumping ride through the steamy tropics of Northern Australia as they hunt for a killer out of control.
Justice served with a side order of vengeance.
Kill Shot is the first full-length novel in the stunning Fighting Detective thriller series. Perfect for fans of Lee Child, Cameron Curtis & David Baldacci.
Click here to get this book for FREE
° ° ° ° ° ° ° ° ° ° ° ° ° °
Eight Years: A steamy romance wrapped in a suspenseful thriller. (The Trident Trilogy: Book One)
by Donna Schwartze

(212 Reviews)
Genre: Action & Adventure | Women's Fiction | Romance
FREE for a limited time
A steamy romantic suspense novel that can be read as a standalone or as part of The Trident Trilogy.
A single-minded lone-wolf. A burnt-out team leader. Will a joint operation heal their souls or end their lives?
Millie Marsh is obsessed with finding the truth. Still mourning her beloved father's passing, the fierce CIA agent has poured all her energy into solving the mystery of her real mother's identity. So when she's saddled with a designated protector on a dangerous mission that could finally give her the answers she's sought, the driven woman barely spares the handsome man a second glance.
Mason Davis doesn't do relationships. But the jaded Navy SEAL's latest assignment watching the back of a sweet, smart, and strong-willed operative has him ready to break his own rules. And undeterred by her apparent lack of interest, the relentless alpha male channels his strategic training into breaking down her defenses.
Focused on the payoff of her years-long quest, Millie desperately tries to ignore her attraction to her companion's well-muscled frame and hidden tender heart. And Mason fears that as they zero in on a terrorist cell, the first woman to touch his soul will fall to enemy fire.
Will the duo's red-hot chemistry scar them for life, or will they surrender to a happy ending?
Eight Years is the thrilling first book in The Trident Trilogy of romantic suspense novels. If you like free-spirited heroines, smoldering tension, and edge-of-your-seat action, then you'll adore this passionate page-turner
Click here to get this book for FREE
° ° ° ° ° ° ° ° ° ° ° ° ° °
Growing Up Between Stops on the A-train: A Memoir
by Jennifer Y. Johnson-Garcia


(153 Reviews)
Genre: Biographies & Memoirs
FREE for a limited time
Hit songwriter Jennifer "JJ" Johnson's true story! A girl from Colorado with type 1 diabetes beats tough odds to become a hit songwriter in New York City. But can she survive life offstage? Now with links to music!
Jennifer Johnson is blessed with a beautiful singing voice but cursed with type 1 diabetes and stepparents who are dead-set on making her life miserable. By seventeen, Jennifer leaves home and supports herself through her senior year of high school. But she has much more to prove. Determined, Jennifer kisses Colorado goodbye and sets off on a one-way trip to New York City. However, on her ascent towards success, naivete, missteps, and unexpected hard knocks set her on the rockiest road to dreams come true.
Click here to get this book for FREE
° ° ° ° ° ° ° ° ° ° ° ° ° °
The Crime at the Lake: A Razzy Cat Cozy Mystery Series #3
by Courtney McFarlin


(86 Reviews)
Genre: Women's Fiction | Mystery
FREE for a limited time
Hannah and Razzy Cat thought they were taking a relaxing week at the lake away from it all, but when Hannah discovers a dead body, there's no time to kick-back. The local cops don't appreciate outsiders poking around, and time is running out to solve the case.
Click here to get this book for FREE
° ° ° ° ° ° ° ° ° ° ° ° ° °
Theo and the Forbidden Language (Book of Theo 1)
by Melanie Ansley

(47 Reviews)
Genre: Teen & Young Adult | Fantasy
FREE for a limited time
For fans of REDWALL and LORD OF THE RINGS comes a fantasy adventure about courage, friendship, and the power of the written word.
In the land of Mankahar, where reading and writing are punishable by death, a battle is raging. The human empire is robbing animals of speech using a poison called "pacification," and is marching to the furthest corners of the land to enslave animals large and small for use on their farms. The only thing standing against them is the Order, a society of free animals determined to defend their way of life.
On the western fringes of Mankahar, the rabbit Theo hides a secret: he knows the forbidden language, the symbols used to "catch words". When his village exiles him, he joins Brune, an axe wielding bear and loyal member of the Order, in the epic fight against the empire.
But the Order's cause proves dangerous. Whom can Theo trust, when the empire punishes those who read or write with death? Worse, his fellow animals view the written word as sacrilegious. As the war for Mankahar's fate looms, Theo must risk everything to learn the full power of the forbidden language, or be silenced forever.
Click here to get this book for FREE
° ° ° ° ° ° ° ° ° ° ° ° ° °