My poor little Junebug is always cold. She is a mix between a Chihuahua and a dachshund, so that means she has very little fur. My partner in crime bought her little pup a pair jammies, but they didn't fit, so she offered them to Junie. Technically they fit. But they seem to be crushing her soul. She is warm though, so maybe her soul just needs top get used to them. She hasn't moved from her spot for five minutes now. I will wait another few minutes and see what she does.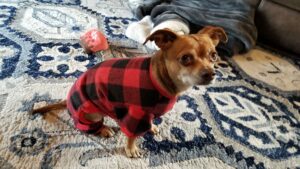 Frankie B – The Ghost Ship: A Witch Cozy Mystery (Marina Witches Mysteries Book 1)
by Andie Low


(121 Reviews)
Genre: Mystery | Fantasy
FREE for a limited time
The coven's being haunted and witches are disappearing. Jinxed witch Frankie, and Dex her familiar, have to solve the case, or they're next..
Not yet over the death of her mom, jinxed witch Frankie B is in a new city, without family, a home or her full powers. Thank goodness for Dex, her muffin-loving, snarky Jack Russell.
After being evicted, they're faced with moving into a flea-pit motel, when Dex spots a vacancy at a nearby marina. But this is no ordinary marina, and before they've finished unpacking, life takes a deadly turn.
Will Frankie solve the mystery of the missing witches and rid the coven of the ghost of Captain Russell Garnet? Or will she be the next to disappear without trace?
Either way, she isn't going down without a fight and with her Bruce Lee moves and Dex and Zane, her mysterious — but drop-dead gorgeous — neighbor, helping how can she possibly fail?
Click here to get this book for FREE
° ° ° ° ° ° ° ° ° ° ° ° ° °
Happy Ending: A Fling to Forever Romance (Finding Forever Book 1)
by Amali Rose


(470 Reviews)
Genre: Romance
FREE for a limited time
Warning: Don't let the cute cover fool you. Happy Ending is a steamy contemporary rom com that contains risque scenes suitable only for adults.
She doesn't want a happily ever after. She just wants a happy ending. Cue the online dating app…
It may have begun as a drunken attempt at a virtual booty call, but when Ben Mackinnon sets his sights on the intentionally lovelorn, Skye Emery, he pulls out all the stops in an attempt to convince her that romantic ideals like soulmates and forevers really do exist.
Skye doesn't want to believe a word. But try as she might, she can't help but catch feelings for the sexy, reformed ladies-man. It's his corny sense of humor that does it — along with his self confidence, and of course, his very dirty mouth.
Their relationship blossoms, and just as these two lovebirds start to believe they've beaten all the odds, Ben's unresolved past becomes a barrier that sends him reeling and Skye running for the door.
The aftermath leaves Skye with two — well, three — choices: fight for her happily ever after, accept that her relationship with Ben was just one booty call too many, or eat her weight in ice cream.
While the ice cream option seems enticing, Skye already knows what she needs to do…
Click here to get this book for FREE
° ° ° ° ° ° ° ° ° ° ° ° ° °
Blue Sun Armada: A Military Scifi Epic
by Scott Moon

(170 Reviews)
Genre: Science Fiction
FREE for a limited time
War is coming.
Duke Uron Marlboro led his mighty house to victory in the Zezner war. The last thing he expected was for his allies to turn on him.
With a new civil war brewing, the Duke and his family have one option to survive the king's wrath —
They must flee.
Will they survive the political games of their past? Can they escape their doomed planet and find a new place to thrive before their once great house is destroyed… forever.
Blue Sun Armada is the first in a new epic space opera set in the far-flung future. Legendary mech battles, intense fleet engagements, and deadly politics all make Blue Sun Armada a magnificent read. Pick your side and buy now to start the fight for survival!
Click here to get this book for FREE
° ° ° ° ° ° ° ° ° ° ° ° ° °
Frenzied – A Suspense Thriller
by Brandon Massey


(161 Reviews)
Genre: Suspense | Horror
FREE for a limited time
LIVE… WORK… PLAY… DIE…
South Haven is the premier mixed-used community in metro Atlanta, a vibrant place where old-fashioned country living gets a modern update. There's the town square where residents watch family movies on the lawn on warm summer nights. The corner market stocked with organic foods. The bakery with fresh coffee and Wi-Fi. The stately homes on shaded, gently winding streets. The water park where children splash, laugh, and run…
There's also something deadly lurking.
The first incident is dismissed as an aberration: a college student goes berserk and hacks his family to chunks with a machete. But a day later, a young woman riding her bicycle is chased through the streets by her own neighbors. Then a teenager takes a deadly joyride, using his pick-up truck to mow down everyone in sight. As the incidents pile up, the only thing they share is that each person launched into an inexplicable, uncontrollable frenzy.
Mark Deacon, an ex-cop and chief of South Haven's private security force, has never seen anything like it. And it's about to get a whole lot worse.
Within twenty-four hours, South Haven is declared a quarantine zone, with every entrance barricaded and military snipers positioned outside the perimeter with orders to shoot on sight. Fearful residents huddle inside, uncertain whom to trust, anxiously watching one another for clues of where the terror might strike next.
Together with Dr. Hannah Bailey, a brilliant CDC scientist dispatched to investigate the threat, Deacon teams up with a motley crew of neighbors, and they hatch a desperate plan to find out answers–and stay alive.
But the spreading menace might not have arrived by accident…
Click here to get this book for FREE
° ° ° ° ° ° ° ° ° ° ° ° ° °
Escape from Fort Benton (Palmer and Morgan Book 1)
by Scott Connor


(7 Reviews)
Genre: Classics | Westerns
FREE for a limited time
Nathan Palmer and Jeff Morgan happen across an ambush too late to help the victims, but a dying man gives them a gun, a key and a cryptic message about 10,000 dollars being available in Fort Benton in five days' time.
Now Nathan and Jeff set about getting their hands on the money. However, Fort Benton is the private empire of Mayor Decker and his ruthless form of justice. Before the day is out the pair are beaten up and thrown in jail.
In Decker's clutches, they're going to need all their courage if they are ever to escape.
Click here to get this book for FREE
° ° ° ° ° ° ° ° ° ° ° ° ° °