It is really hard not to think that it is Spring already. Yesterday, while I was cleaning out a few bee boxes to set out as bait boxes, a few bees landed on the frames and were checking it out. Then two Passion Vine butterflies fluttered by. It seems way too early for either of these guys to be out. Although it might not be. Every year the sun tricks me into thinking it's time to plant. Every single time I spend way too much at the nursery, then a surprise freeze threatens them all. Some plants even die and I have to hide the bodies from hubby so he doesn't tell me "I told you so!" Maybe I should learn my lesson and not plant a bunch of Spring flowers prematurely. Patience! I have no patience. Thankfully I planted a  a lot of bulbs that I can already see coming up. My daffodils should be in full bloom by next week. These will be followed by the hundreds of Crocus that have just started peeking up. I have plenty on my ToDo list to keep me out of the nursery. Let's see if that long list can keep me out of trouble.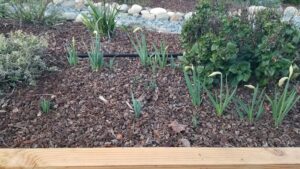 Murder By Chocolate (A Bite-sized Bakery Cozy Mystery Book 1)
by Rosie A. Point


(569 Reviews)
Genre: Mystery | Women's Fiction
FREE for a limited time
What's the worst that can go wrong on a date? Murder…
Ruby Holmes wants to travel, sell delicious baked treats from her food truck, and never stay in one place for too long. Then the unexpected happens: upon arriving in Carmel Springs, Maine, she's asked on a blind date by a handsome fisherman. When Ruby goes to meet him, she finds his dead body instead.
A murderer has struck, and the cunning detective who 'runs' the town names her as the prime suspect. Ruby can't run, but staying might mean falling victim herself. Can she solve the murder in time?
Have your cake and eat it too. Buy this two-hour pocket read today!
Click here to get this book for FREE
° ° ° ° ° ° ° ° ° ° ° ° ° °
The Last Kingdom: Padling
by Saige J Oliver, Janis May


(14 Reviews)
Genre: Children's eBooks | Fantasy
FREE for a limited time
Once there was a Union. Tied by the bond of peace and harmony, were the four kingdoms of Ariath, who's soldiers each were together a brotherhood, and apart were nothing. But that peace can be disturbed, not even the strongest bond can remain true if there is a disease amongst it. Power and greed.Once the Union is broken, war is sure to follow, and it does. Only one man can save the last kingdom of the Union. Jayk, chosen by the Great High spirit himself who descends from his high council and takes the mortal form of a wolf. Man and beast connected in a bond so fierce it can bring back all others. Though, this destined chosen one, Jayk and the High Spirit, Sheenan, are only to set the example. Death befalls the two, and leaves the remaining fate and hope in the hands of a boy, who might not be ready for the weight of the Last Kingdom.
Click here to get this book for FREE
° ° ° ° ° ° ° ° ° ° ° ° ° °
THE RUSTLERS OF PECOS COUNTY: A Wild West Adventure
by Zane Grey


(475 Reviews)
Genre: Westerns | Action & Adventure
FREE for a limited time
This adventure classic follows two Texas rangers. They are sent to small town of Linrock in order to beat the gang of rustlers who are controlling the town. However, they will fall in love with two girls who may be related to the leader of the gang of rustlers…
Zane Grey (1872-1939) was an American author best known for his popular adventure novels and stories that were a basis for the Western genre in literature and the arts. With his veracity and emotional intensity, he connected with millions of readers worldwide, during peacetime and war, and inspired many Western writers who followed him. Grey was a major force in shaping the myths of the Old West; his books and stories were adapted into other media, such as film and TV productions. He was the author of more than 90 books, some published posthumously and/or based on serials originally published in magazines.
Click here to get this book for FREE
° ° ° ° ° ° ° ° ° ° ° ° ° °
Angel Advocate: The Hero From Another World (The Epic Hero Quest Book 1)
by Jalen Jasso


(3 Reviews)
Genre: Science Fiction & Fantasy
FREE for a limited time
Justin's life changes when an angel lures him into the woods…
Reclusive teenager Justin prefers to keep to himself. And for good reason; people in his life let him down. Breaking character, he follows a woman into the woods, only to find himself transported to another world.
Gone are his video games and solitude — but Justin embraces the opportunity to become the man he's always wanted to be.
Making friends and enemies in a magical realm filled with monsters, elves, dwarves, demons, and adventurers, he's thrust on a journey that'll change the world. The woman he followed is actually an angel, whispering for him to do good deeds. Deeds he carries out without question. But what if his angel isn't trying to save the world… … and instead wants to destroy it?
Click here to get this book for FREE
° ° ° ° ° ° ° ° ° ° ° ° ° °
Charlie: Sam Ireland Thriller 1 (Sam Ireland Thriller Series)
by Finn Og


(156 Reviews)
Genre: Sea Adventures | Thrillers | Crime Fiction
FREE for a limited time
A blistering international thriller novel drenched in realism, enjoyed by fans of Reacher, Milton, Orphan X and The Gray Man. A father with a clandestine CV wants to raise his daughter in peace, but is drawn from a quiet life at sea into the dark corners of conspiracy, terrorism and exploitation. Much as he wants to, Sam can't ignore the abuses brought before him, exacting retribution in unusual style, drawing on a skillset no adversary could have predicted.
Click here to get this book for FREE
° ° ° ° ° ° ° ° ° ° ° ° ° °
More Love: Experiencing God's Love (The MORE Series Book 2)
by Betsy Duffey

(56 Reviews)
Genre: Religion & Spirituality
FREE for a limited time
More Love provides 30 short exercises, prayers and reflections to help you experience God's love. For those who have never known God, those who desire a deeper connection with God, or those who feel unworthy of love, this book is for you. It is small enough to carry along or to slip into an envelope to mail to a friend.
Click here to get this book for FREE
° ° ° ° ° ° ° ° ° ° ° ° ° °