This little red dot might not look like much, but it's actually a huge relief to me. The Peony that hubby bought for me last year for Mothers Day is waking up! I was certain that I had killed it somehow. Just a few feet away is another much smaller variety of Peony that is already almost a foot high, and that is what I was comparing it to. YAY! Now I can worry about something else and stop thinking of ways to replace it without hubby finding out. Which was going to be pretty hard since he keeps asking about this one.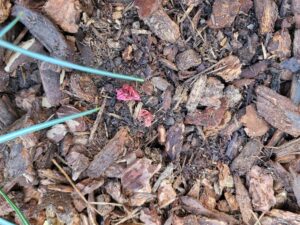 Survive: A Thriller With a Dystopian Twist (Live Free or Die Book 1)
by Shawn Underhill


(96 Reviews)
Genre: Thrillers | Science Fiction
FREE for a limited time
"We must, indeed, all hang together, or most assuredly we shall all hang separately."
~ Benjamin Franklin in the Continental Congress before signing the Declaration of Independence.
Set against the backdrop of the isolated forests north of New Hampshire's White Mountains, while camping on family land, Tom and Lori Thornton (and their dog, Buck) find themselves in a sudden SHTF scenario.
No cellular service. Dangerous roads. Limited supplies. And far more questions than answers.
After the shocking murder of Tom's uncle by a band of looters, the couple's already faltering marriage reaches the breaking point amid the chaos. Trust and loyalties are challenged, old friendships are put to the test, and while immediate answers and solutions elude them, they must rely on raw instincts in order to survive.
Click here to get this book for FREE
° ° ° ° ° ° ° ° ° ° ° ° ° °
No More Bad Dates: A laugh-out-loud sweet romantic comedy of love, friendship… and tea (High Tea Book 1)
by Kate O'Keeffe


(610 Reviews)
Genre: Foreign Languages | World Literature | Humor & Entertainment
FREE for a limited time
The No More Bad Dates Pact: stop dating the wrong guys and start dating the right ones – weirdos and jerks need not apply.
Every part of my life is a mess — and not even a hot one. My so-called career is on hold, I keep disappointing my family by not doing "something important" with my life, and I always, always choose the wrong guys.
Case in point: getting dumped during the romantic vows at a wedding. I've officially hit rock bottom. It's time I got serious about finding a decent man. So, I form a dating pact with two friends who are just as bad at choosing men as me. We agree to vet one another's dates to weed out the weirdos and jerks.
The No More Bad Dates pact is officially born.
But when my roommate surprises me by joining the pact, he finds something wrong with every single guy I meet. Jason Christie is confident, sexy, and good looking in a movie star kind of way. Sure, we're good friends, but he's only ever been Jason, the serial dater. Totally off limits.
That is until I start to have feelings for him. Feelings I should definitely not be having. Feelings like wondering what it'd be like to kiss him.
No. I can't go there. Not only will it destroy our friendship, but I know he'll break my heart.
Only now I've begun to fall, I don't know how to stop.
No More Bad Dates is a fun, heart-warming friends to lovers rom com for fans of Sophie Kinsella, Bridget Jones's Diary, Lindsey Kelk, and TV shows like Jane the Virgin. It's a light-hearted, humorous, and fun full-length novel that can be read as a standalone title. High Tea is a spin-off of Kate O'Keeffe's bestselling Cozy Cottage Café series.
Click here to get this book for FREE
° ° ° ° ° ° ° ° ° ° ° ° ° °
Flatlined: Science Fiction/Mystery/Suspense
by John Meany

(173 Reviews)
Genre: Science Fiction
FREE for a limited time
Before losing control of the car I heard Annie yell, "No! No way! No! Luke! Luke! Turn the wheel back! Turn the wheel back!"
The car skidded on the wet pavement, fishtailed.
Then we crashed into the tree.
Boom!
All thoughts stopped.
The medics rushed me to the trauma center.
The next thing I remember I was suddenly floating above my body, I heard the cardiac monitor flat line, indicating that either my heart had just stopped or that I had died.
I wasn't frightened though. No.
In fact, I felt fine.
I experienced a tremendous sense of calm, well-being and painlessness.
My body might have been in trouble, but not me.
As I watched the operating procedure from the ceiling, aware that I no longer had any attachment to my physical self, none whatsoever, I realized I had become a mist, a vapor, a subatomic particle, something.
I hovered in the air, near the ultraviolet lights like a crumb on the back of a moth. I was still in tune with my senses, actually, I was more in tune with them than I had ever been; my senses were heightened.
Among the handful of surgeons and assistants, all of whom were dressed in green gowns and caps, there seemed to be a lot agitation. The medical team worked on my injured body in a decidedly critical manner. The fact that I had just flat lined had caused a great deal of confusion.
Extraordinarily, the next thing I became aware of was two ghostly beings, which were human-like in that these phantasmagoric beings were shaped like people. Based on the mold of their bodies I could distinguish that one of the beings was male, the other was a female. These entities were floating in the air with me, hovering near the ceiling. However, they made no distinguishable sound; all I could hear was the surgeons down below talking among one another.
Click here to get this book for FREE
° ° ° ° ° ° ° ° ° ° ° ° ° °
Death by Scones: a Danger Cove Bakery Mystery
by Elizabeth Ashby, Jennifer Fischetto

(189 Reviews)
Genre: Mystery
FREE for a limited time
From USA Today bestselling authors Elizabeth Ashby and Jennifer Fischetto comes a deliciously devious murder mystery…
Someone's about to get their just desserts.
Riley Spencer is officially the new owner of the Cinnamon Sugar Bakery in the small town of Danger Cove. She's excited about the grand re-opening, but when she learns a hoax letter went out to the residents of Danger Cove informing them of free baked goods, she panics and does the only thing she can — quickly sets out plates of muffins, cupcakes, and cookie bars. Crisis seems to be averted… until the body of local recluse Nathan Dearborn is found in the bakery bathroom. The cause of death: peanut allergy. Riley's certain not a single item made with nuts left her kitchen, but no one believes her, least of all the police. To save her bakery and her reputation, Riley is determined to figure out who brought in the fatal pastry. With support from her best friend, Tara, and her long-time crush, Jared, Riley discovers secrets from Nathan's past that make her question if his death was truly an accident or something more sinister. With suspects galore, the police breathing down her neck, a love life in turmoil, and a bonanza of baked goods, Riley has her work cut out for her catching a killer… before he strikes again!
Click here to get this book for FREE
° ° ° ° ° ° ° ° ° ° ° ° ° °
The Silence of Trees
by Valya Dudycz Lupescu


(381 Reviews)
Genre: Historical Fiction | Family Life
FREE for a limited time
In Chicago's Ukrainian Village, Nadya Lysenko has built her life on a foundation of secrets. When she was sixteen, Nadya snuck out of her house in Western Ukraine to meet a fortuneteller in the woods. She never expected it to be the last time she would see her family. Decades later, Nadya continues to be haunted by the death of her parents and sisters. The myths and magic of her childhood are still a part of her reality: dreams unite friends across time and space, house spirits misplace keys and glasses, and a fortuneteller's cards predict the future. Nadya's beloved dead insist on being heard through dreams and whispers in the night. They want the truth to come out. Nadya needs to face her past and confront the secrets she buried–in The Silence of Trees.
Click here to get this book for FREE
° ° ° ° ° ° ° ° ° ° ° ° ° °