So this is Hank. He is my new plant. Tee hee hee hee. He is going to be nine feet tall. BWAHAHAHAHA. At no point in all of my gardening life has a plant made me giggle so much. Follow Hank's life story on my blog Pollen Patch by clicking here!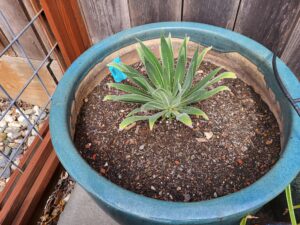 The Lost Witness (A Lena Gamble Novel Book 2)
by Robert Ellis


(240 Reviews)
Genre: Law | Movie Tie-Ins | Thrillers
FREE for a limited time
Someone Saw the Killing. Someone Knows…
For eight months Detective Lena Gamble has been working only the most mundane cases, her career DOA for embarrassing the chief by exposing the truth behind a series of gruesome murders haunting the city. So when a young woman's body turns up in Hollywood, sliced and diced and tossed in the trash, Gamble wonders why she got the call.
The victim has no ID and there's no evidence — not a single clue. Just rumors that someone witnessed the murder and has gone into hiding.
Gamble races to find the witness. And when she unearths the killer's lair — the knives, the blood, the murder victim's clothing — she can feel it in her gut: a monster's loose in the city, and on the payroll of a drug company owned by a depraved corporate bigshot. Worse still, everyone is on the take. And everyone wants the witness dead and in the ground.
With the chief and his crooked minions blocking her every move, with the body count rising and time running out — Gamble fights her way through corruption and outright savagery before making a discovery so shocking it takes her breath away.
Who is the lost witness?
And with the killer standing right behind her, will Lena Gamble survive long enough to find out?
Click here to get this book for FREE
° ° ° ° ° ° ° ° ° ° ° ° ° °
No Bad Days: A New Adult College Romance (The Fisher Brothers Book 1)
by J. Sterling


(378 Reviews)
Genre: Romance | Family Life
FREE for a limited time
From New York Times Bestselling Author, J. Sterling, comes another smash hit in the college romance department!
They say once a player, always a player. And Nick Fisher is definitely a player. You can't really blame him though, with the way girls follow him around and flock to him at parties. He's always in high demand and rarely seen alone.
This fact should have me running as far away from him as possible, but it doesn't. I want to be immune to his deep blue eyes, but once he sets them on me, I'm done for and we both know it.
They say the right girl can make a guy change his player ways. I guess I'm about to find out.
THE FISHER BROTHERS is a series of stand alone romance novels that can be read in any order! 🙂
No Bad Days
Guy Hater
Adios Pantalones
Happy Ending
Click here to get this book for FREE
° ° ° ° ° ° ° ° ° ° ° ° ° °
The Manatee Did It (Southern Beach Mysteries Book 1)
by Kay Dew Shostak


(382 Reviews)
Genre: Mystery
FREE for a limited time
Jewel Mantelle has never lived in the South, much less on the coast, so moving from Chicagoland to the historic North Florida coastal town of Sophia Island seems like just the adventure to fix her marriage. However, when she arrives she finds that it's awfully hot and humid there and that these Southern folks really like to hug.
Her husband's past on the island includes a creaky old house in the historic district and lots of nosy relatives he'd forgotten to mention. When one of the Mantelle cousins turns up dead, Jewel needs something she's never really had before — friends. As her lunch bunch puts on their detective caps to get to the bottom of this murder, Jewel discovers that she may get more than she bargained for out of Sophia Island.
THE MANATEE DID IT is a clean and cozy beach mystery set in a historic small town. It'll keep you turning pages well after bedtime and slathering on more sunscreen to get a few more poolside pages in.
Click here to get this book for FREE
° ° ° ° ° ° ° ° ° ° ° ° ° °
From the Ashes of Amiens
by Jana Petken

(215 Reviews)
Genre: History | Historical Fiction
FREE for a limited time
Jana Petken, the multi-award-winning author of "The German Half-Bloods," presents her new standalone novel, "From the Ashes of Amiens."
"In war, good men are not always good, and the bad ones are sometimes heroes."
January 1944 — a senior member of the French Resistance betrays his comrades to the Abwehr and Gestapo, but who?
Within hours, the Germans arrest hundreds of suspected resistance fighters and incarcerate them in the infamous Amiens prison.
When a Resistance spy inside the prison informs his leaders, Dominique Ponchardier and Boniface Monier, of German plans to conduct mass executions within weeks, they are helpless to respond.
In a last-ditch effort to free their Résistants awaiting death or deportation to labour camps, they turn to the British for help. Only a Royal Air Force strike can knock down the prison's walls and free the inmates before it's too late.
Will the British agree to the audacious request? Will a bomb attack kill more prisoners than it will save? Which squadron could carry out such a low-level precision bombing raid? As the RAF and MI6 debate these questions, the Germans are executing prisoners by firing squad.
Click here to get this book for FREE
° ° ° ° ° ° ° ° ° ° ° ° ° °
Stop People Pleasing: How to Start Saying No, Set Healthy Boundaries, and Express Yourself
by Chase Hill

(218 Reviews)
Genre: Health, Fitness & Dieting
FREE for a limited time
Do you say yes to people so often, you've forgotten how it feels to say no?
You're not alone.
Many people spend years putting aside their own wants and needs in order to please the people in their life and avoid conflict. Although there will always be situations where diplomacy is important, you cannot define your life through other people.
There's a fine line between being considerate of others, and compromising your individuality, and you can slip into living as a people-pleaser without even realizing it.
Maybe you've been going through the routines of life feeling that you must keep quiet, and take responsibility for the feelings of others.
Or, maybe you think it's more important to avoid "rocking the boat" than it is to be your most authentic self.
While these habits might seem to dominate everything you do, there are actionable steps you can take to create a new world–one where you are open and confident in what you say and do.
Just like the relationships you have with others, everyone's experiences with people-pleasing are unique. However, this individuality often stems from common roots that are keeping you trapped in the box of others' expectations.
By helping you identify the steps that will assist you the most, Chase Hill shows it is possible to start changing, right here and right now.
In Stop People Pleasing, you will discover:
• How the fear of disappointing and upsetting others may be changing who you are as a person that's going undetected
• The 10 signs that indicate people-pleasing characteristics, besides the inability to say no
• Why understanding the roots of this habit will empower you to recognize the situations where you're most likely to ignore your own needs, and act in a more positive manner
• A step-by-step 14-day action plan to help you achieve instant and notable improvements
• The 4 defense mechanisms specific to people pleasing, how to identify them, and how to respond to them
• Multiple exercises and approaches to help you rediscover who you are at heart, breaking free from feeling the need to seek validation from others
• Coping mechanisms designed to help you overcome discomfort or frustration as you redefine the boundaries in your life
And much more.
If you believe it's impossible to finally stand up to your in-laws or be honest with your friends, think again.
You deserve to make the choices that YOU want to make, and speak your mind without fear or anxiety.
There's no quick fix for people-pleasing. Like most important things, changing your patterns will take time.
With the right tools and techniques by your side, you will be able to hit the ground running and be one step closer to living your life the way you want to live it.
Click here to get this book for FREE
° ° ° ° ° ° ° ° ° ° ° ° ° °