It is so weird that it is raining right now. I love it, don't get me wrong. We need this rain desperately. I doubt it will do anything to help our drought situation here in Northern California, but my plants are happy. It is always great when they can get a good soak. I planted a few ground covers in the garden yesterday and I am sure I didn't give them a good enough watering when I was finished. I think today will be the perfect day to get a few chores done in the house. I bought a bunch of Christmas decorations off a few people yesterday and I need to go through them to see what I will keep for myself and what I will be selling. Hubby has been patient with me so far, but my thrift store finds are making there way all over the house. (you can check out my awesome finds or latest garden updates by visiting my other blog Pollen Patch by clicking here). Today I will clean the house and hide most of the stuff in drawers and closets that he doesn't normally go into. I really don't want him to know how much I have accumulated. EEK!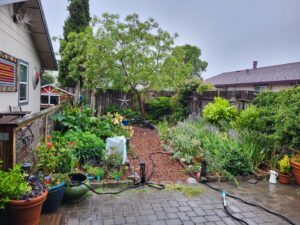 The Pharaoh's Stone (The Stone Collection Book 8)
by Nick Hawkes


(91 Reviews)
Genre: Mystery | Action & Adventure
FREE for a limited time
Upon his release from one of England's most fearsome prisons, Peter wanders aimlessly down to London's docks. Through an act of kindness, his life becomes entangled with that of a history professor, Alex, who is grieving the death of his brother in suspicious circumstances.
Investigations into the death lead them into the secret world of Freemasonry and its passion for collecting ancient Egyptian artefacts. Alex calls on Beth, an expert in Egyptian hieroglyphics, for her specialist help.
From London to Paris, New York, and the ancient temples of Egypt — the three of them band together to uncover the clues. As they get closer to solving the mystery of the murder, death stalks their every move. To survive, Peter must discover qualities about himself he never knew he possessed… and counter the audacious plot of a secretive organisation to grasp at international power.
Click here to get this book for FREE
° ° ° ° ° ° ° ° ° ° ° ° ° °
The Cowboy's Daughter (Three Sisters Ranch Book 1)
by Jamie K. Schmidt

(1,023 Reviews)
Genre: Romance
FREE for a limited time
She's moved home, but can she move on?
One night with professional bull rider Trent Campbell had been everything that Kelly Sullivan had fantasized about. Unfortunately, it cost her everything. When she became pregnant, her father threw her out because she wouldn't tell him the baby's father was his rodeo hero — the hero who ghosted her when she tried so many times to tell him about their daughter.
Trent Campbell never forgot the best night of his life. It was what kept him going when a 2,000-lbs bull ended his career and almost his life. Throughout his long recovery, thinking of Kelly and wishing he still had his stolen phone so he could contact her, were what got him through the tough days — that, and his bull-headed stubbornness that he'd not only walk again, he'd ride.
When Kelly returns to Last Stand, Texas, in a last-ditch effort to keep her family from selling the Three Sisters Ranch, she has a plan to make her father proud of her again by turning part of the land into a portrait studio location. Her father, however, has already temporary leased Trent some land for a rodeo school. Kelly and Trent still have the same explosive chemistry, but now the stakes are higher. If she lets Trent into her life, it won't only be her heart he breaks this time if he leaves, it will be their daughter's.
Click here to get this book for FREE
° ° ° ° ° ° ° ° ° ° ° ° ° °
At the Time Appointed: A Western Murder Mystery
by Anna Maynard Barbour


(6 Reviews)
Genre: Small Town & Rural | Westerns
FREE for a limited time
A train is robbed by masked robbers on its way to the gold-mining region of the Rocky Mountains and a man is murdered ruthlessly in the process. Our hero who is the sole witness of the crime suffers a terrible brain fever and loses his memory including, the name of the murderer. But as fate would have it, the murderer is the leader of the gang but pretends to be a law-abiding citizen of the same town where our hero now lives with a new name and new identity. Will the murder be ever discovered? And will the justice be served in this hostile region? Read on!
Click here to get this book for FREE
° ° ° ° ° ° ° ° ° ° ° ° ° °
Josiah Trenchard and the Might of Fortitude: Space Navy Series Book 1
by Jonathon Fletcher


(58 Reviews)
Genre: Science Fiction
FREE for a limited time
Readers 18+
The "Space Navy" series is a blend of space opera with a heavy dose of military science fiction and horror. A sci-fi thriller series which has been described as "Star Trek meets Full Metal Jacket".
Josiah Trenchard is a no-nonsense, foul mouthed, alcohol-fuelled action hero. He's one of the roughest, toughest troopers in the fleet; a soldier of distinct morals and a renowned lack of tact, who is less "space marine" and more Sean Bean's "Richard Sharpe".
Trenchard's been fighting hard in the bloody war that's been raging between the United Worlds and the insurgents, ever since the uprising on Mars, soon after colonization. The insurgents wage a guerrilla war of I.E.D. ambush, assassination and terror attacks. The navy troops live, fight and die by their motto: "Honour, strength and unity!"
Trenchard was almost killed during that first great battle; scarred both physically and emotionally. He lost friends and comrades and was given a scar by an unknown assailant, a woman he's searched for ever since. Now, he's fighting the increasingly desperate insurgents once more when he's unexpectedly re-assigned to an untested, prototype vessel and thrown into a series of deadly adventures that will test his mettle to breaking point.
The Wolverine class vessel, the "Might of Fortitude", has been designed to be the deadliest hunter-killer star-ship in the fleet. The cramped, submarine-like spacecraft is about to be launched on her maiden voyage. While hunting bloodthirsty pirates who have unleashed a reign of terror throughout the asteroid belt, Trenchard struggles to cope with a woefully inexperienced crew of misfits and reprobates and puts his life on the line to save his ship, his crew, and the honour of the Space Navy.
Can Trenchard save the day? Will he ever get a quiet glass of rum and a smoke? Snap on your armour, grab your trusty "Vicar" rifle and board the Might of Fortitude to find out.
Click here to get this book for FREE
° ° ° ° ° ° ° ° ° ° ° ° ° °
New Coastal Times
by Donna Callea


(38 Reviews)
Genre: Humor & Satire | Science Fiction
FREE for a limited time
Everything you never knew you wanted in a post-apocalyptic novel:
Wal-Mart residents enjoying a parking lot bonfire and sing-along.
Religious fanatics waiting for Jesus in Okeefenokee Swamp Park.
Sexed-up displaced youths enjoying each other in government-sponsored free-love communes.
References to an ungodly number of Broadway musicals.
And more. Much more. Except no ravenous zombies (sorry).
Still, it's no day at the beach when Hurricane Walter just about swallows Florida. And Walter is just the beginning, ushering in a world-wide disaster-filled era. But former reporter Mia Fine knows she doesn't have it so bad as she, her adorable doctor husband, and a quirky band of fellow travelers head for New York State. Because there's no place like home.
Click here to get this book for FREE
° ° ° ° ° ° ° ° ° ° ° ° ° °
Breachman: A Medieval Fantasy Adventure Story
by Chris Barker

(42 Reviews)
Genre: Horror | Fantasy
FREE for a limited time
Join the Breachmen!
Volchak, Commander of the Breachmen, has spent a lifetime fighting. Now he has time for just one more war. But when you have to fight to find peace, how can it ever end?
With the advancements he has made in the art of anatomy, Stirc will perform miracles of medicine. If a few more subjects need to be sacrificed along the way, then so be it.
Kaelith is a dashing warrior, a soldier of fortune, a famed intellect and quite the looker. Or so he will tell you. But he's running out of friends, and is about to play the last trick he has up his sleeve.
And Flea? She is just happy to be alive. When you're a seventeen-year-old convicted murderer fighting for the Breachmen, being alive is something to hold on to.
The people of Yrfrite will soon be crushed under the boots of the Royal Guard. The rebel Duke can't stand against the might of the King's army and the ferocity of the Breachmen. Yet someone is pulling the strings of this conflict. Soon, something will change the fight forever.
Click here to get this book for FREE
° ° ° ° ° ° ° ° ° ° ° ° ° °
A Fall of Bones: Angie and Bernie Mystery 4 (Angie & Bernie Mystery Series)
by K.L. Kovar


(13 Reviews)
Genre: Mystery
FREE for a limited time
A teacher is missing. Problem is she went missing 95 years ago.
Angie Kramer, advice columnist, is on the case, with little help from the local police. They're busy trying to stem a crime wave. Residents of the Morning Sun long-term care facility are being scammed in a fake animal shelter scheme. And the McGill family is smack in the middle of the crime wave. Cattle rustlers, thieves, brawlers, and land barons, the McGills have plagued the county for over a century. Now they appear to be at the center of the case. Bobby Lee McGill, a resident of the Morning Sun, is a favorite of all the female residents. Suave, handsome, and charming, Bobby Lee has his fans — including 92-year old Maude, who believes people love obstreperous old ladies. Can she protect Bobby Lee?
When Angie's dog digs up a human femur, the missing teacher case heats up. Angie pursues it aggressively — working with a private forensic medical examiner, who determines the teacher was "probably" murdered. Law enforcement still isn't interested — the murderer is certainly dead of old age — but Angie is determined to solve the case and bring some measure of closure to the teacher's family.
Click here to get this book for FREE
° ° ° ° ° ° ° ° ° ° ° ° ° °