Good morning book lovers. Please enjoy this tiny succulent garden. I thought it was just adorable! – The Apprentice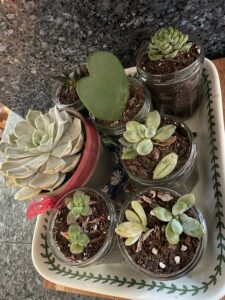 Haunting in Hartley
by Janice Tremayne, Momir Borocki


(87 Reviews)
Genre: Religion & Spirituality | Horror
FREE for a limited time
A town under siege. A malignant force plaguing its people. Can this warrior for good cleanse the sickness before they all fall prey to darkness?
Clarisse Garcia walks the arduous path of a spirit hunter. Arriving in the small Australian township of Hartley for work, she immediately senses the area is mired in a centuries-old curse. And when a local paranormal expert shares his evidence, the prescient woman finds herself face to face with a malevolent demon.
Flirting with danger, Clarisse engages in a battle of wits with the wicked creature. But even as she fends off the foul manifestation's attempts to sour her faith, she fears she may never escape her high-stakes parlay with evil incarnate.
Can she maintain her grip on sanity before the tight-knit community is doomed?
Click here to get this book for FREE
° ° ° ° ° ° ° ° ° ° ° ° ° °
The Purple Haze: A Humorous Fantasy Novel 
by Andrew Einspruch


(31 Reviews)
Genre: Fantasy | Literature & Fiction
FREE for a limited time
Her twin abducted. A treacherous rescue mission. Can an unproven princess escape a prophecy of doom?
Princess Eloise Hydra Gumball III prefers things just exactly so. As the meticulous Future Ruler and Heir with an almost-useless magical gift, she's in no hurry to take the throne. But when a seer foretells her royal twin's peril, a simple quest with her champion friend to rescue the girl becomes a complicated journey filled with danger.
Thrown completely out of her comfort zone and with her wayward sister slipping through her fingers, Eloise's desperate hunt turns to disaster when she's slammed behind bars in an unfamiliar realm. And even though she persuades the stern monarch to set them free and help them secure a ship, she soon finds herself sailing headfirst into a menacing violet fog.
Can Eloise find her sister and her own strength before they fall to the deadly mist's lethal embrace?
Click here to get this book for FREE
° ° ° ° ° ° ° ° ° ° ° ° ° °
Bridgers 1: The Lure of Infinity (Bridgers Series)
by Stan C. Smith

(270 Reviews)
Genre: Science Fiction | Action & Adventure | Thrillers | Fantasy
FREE for a limited time
Some worlds are better left alone.
Infinity Fowler has been fighting all her life. As a child, she had to fight for survival. Then she fought professionally. But when humans obtained the technology to bridge to alternate versions of Earth, she saw a chance for a new life. She signed up to become a bridger — an elite fighter and survival expert who protects tourists bridging to alternate worlds.
Desmond Weaver is a tourist making a last-ditch effort to complete his PhD in evolutionary biology. He has booked the excursion of a lifetime, a data collection mission to a vastly different version of Earth. If he fails, his career will be over.
Infinity is Desmond's assigned trainer and bridger. She is one of the best, willing to die protecting tourists. And also willing to kill. When it's time to bridge, Desmond and his two college roommates feel well prepared.
But they aren't. Naked and weaponless, on an extraordinary world teeming with lethal predators, the team becomes entangled in a life-and-death struggle more terrifying than anything they could ever have imagined.
Click here to get this book for FREE
° ° ° ° ° ° ° ° ° ° ° ° ° °
A Cowboy to Keep
by Multiple Authors


(7 Reviews)
Genre: Religion & Spirituality | Romance
FREE for a limited time
This collection from six of your favorite Christian fiction authors includes 1200+ pages of page-turning romance, perfect for a weekend of binge reading.
The Rancher Takes a Cook by Misty M. Beller: When their South Carolina home burns to the ground, Anna Stewart's only choice is to move with her younger brother to the wilds of a Texas ranch.
The Mechanics of Mistletoe by Liz Isaacson: Bear can be a teddy or a grizzly. Sammy's a genius with a wrench. Can the pretty mechanic tame this cowboy's wild side, or will they both be left broken-hearted this Christmas?
Knox by Susan May Warren: Montana rancher Knox Marshall's life is stable, expected, and… ordinary… and then trouble walks in. Kelsey Jones, the lead singer of the Yankee Belles has outrun her past — or has she?
Dillon by Linda Ford: Dillon Brown has learned to guard his heart. He has no intention of going along with his matchmaking boss's plans to find him a wife. But when Abby shows up at the ranch, broke, homeless, and about to have a baby, he finds himself drawn to her.
Crumpets and Cowpies by Shanna Hatfield: Rancher Thane Jordan and English rose Jemma Bryan butt heads from the first moment they meet. Jemma is forced to choose between poverty or marriage to the cowboy she can't stand.
His Small-Town Girl by Lacy Williams: Molly arrives in Sutter's Hollow out of gas and out of options. The rundown ranch seems like a perfect place to hide. Cord tried to escape his hometown but finds himself back where he started and resurrecting old ghosts. He doesn't need a complication like Molly. So why can't he stop thinking about her?
Click here to get this book for FREE
° ° ° ° ° ° ° ° ° ° ° ° ° °
The Jungle Book 
by Rudyard Kipling, John Lockwood Kipling


(7,806 Reviews)
Genre: Children's eBooks
FREE for a limited time
The Jungle Book is a collection of stories. The tales in the book are fables, using animals in an anthropomorphic manner to give moral lessons. The verses of The Law of the Jungle, for example, lay down rules for the safety of individuals, families and communities. Kipling put in them nearly everything he knew or "heard or dreamed about the Indian jungle." The best-known of them are the three stories revolving around the adventures of an abandoned "man cub" Mowgli who is raised by wolves in the Indian jungle. The most famous of the other four stories are probably "Rikki-Tikki-Tavi", the story of a heroic mongoose, and "Toomai of the Elephants", the tale of a young elephant-handler. As with much of Kipling's work, each of the stories is preceded by a piece of verse, and succeeded by another.
Click here to get this book for FREE
° ° ° ° ° ° ° ° ° ° ° ° ° °