My pup Casper absolutely loves to pee on this plant. He has great taste, but it still kinda pisses me off.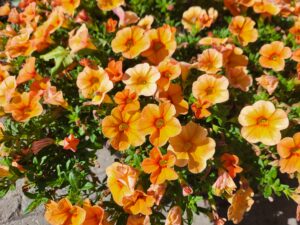 Mind over Murder (A Kalli Ballas Mystery Book 1)
by Kari Lee Townsend


(101 Reviews)
Genre: Romance | Mystery
FREE for a limited time
Kalliope Ballas and Nikos "Nik" Stevens are not a good match, despite the wishes of Kalli's mother and the rest of her tight-knit adoptive Greek family.
Kalli's a shy, slightly OCD fashion designer with a prissy calico cat and hand sanitizer always at the ready. Nik's a loud and boisterous half-Greek homicide detective with a big sloppy St. Bernard and a devil-may-care attitude. And besides, ever since a freak accident gave Kalli the gift of reading minds, her long-standing low expectations for romance have dipped even further. But when Kalli's best friend becomes the number one suspect in a murder, the mismatched pair find themselves increasingly crossing paths over the course of the subsequent investigation. Kalli knows she must use her newfound ability to clear her best friend's name, but how can she explain how she knows what she knows without confessing her mind-reading ability to Nik?
Click here to get this book for FREE
° ° ° ° ° ° ° ° ° ° ° ° ° °
Blackmark (The Kingsmen Chronicles #1): An Epic Fantasy Adventure
by Jean Lowe Carlson


(946 Reviews)
Genre: Fantasy | Action & Adventure
FREE for a limited time
Can a banished warrior save his nation from a hidden evil? Or is he doomed to fail?
Ten years ago, Elohl den'Alrahel's people – the Alrashemni Kingsmen, elite protectors of the throne – disappeared without a trace.
Now, labeled as a traitor to the crown, Elohl seeks to undo the black stain on their legacy and clear his name.
As a dark power rises, threatening the young Queen, Elohl is pulled into a vast weave of danger.
A danger only he and the last surviving Kingsmen can stop.
Before a bloody war brings all nations to their knees.
Click here to get this book for FREE
° ° ° ° ° ° ° ° ° ° ° ° ° °
Water Darling
by Evan Ramspott


(76 Reviews)
Genre: Literary Fiction | Historical Fiction
FREE for a limited time
There are things we know nothing about. Rainmaking, for instance. Believers will tell you it's as real as the ground beneath your feet. Imogene Parker would have been the first to count herself a skeptic, until the day she met Thomas Finn. From that day on, nothing in her life would ever be the same.
Return now to the summer of 1921. Tulsa is about to burn. A young black man is accused of assaulting a white woman in broad daylight and the incendiary opinions of one newspaper stoke the passions of this divided city — a stage for the worst racial conflict in American history, and events for which we may never know the truth.
For history buffs and readers who loved To Kill A Mockingbird and Sometimes a Great Notion, this is a must-read book about the Tulsa Race Massacre of 1921. A gripping, tragic love story, Water Darling lays bare the heart and soul of a nation and its people in a time of change.
Click here to get this book for FREE
° ° ° ° ° ° ° ° ° ° ° ° ° °
THE BAR-20 TRILOGY – Complete Western Series: Wild Adventures of Cassidy and His Gang of Friends
by Clarence Mulford, Maynard Dixon


(11 Reviews)
Genre: Westerns | Action & Adventure
FREE for a limited time
Bar-20 is the name of a notorious group which includes Hopalong Cassidy, the famous Cowboy hero played by William Boyd on-screen with his loyal and boisterous friends. Travel back in Wild West and enjoy the amusing and intriguing adventures of the gang:
Bar-20
Bar-20 Days
The Bar-20 Three
Excerpt:
"The town lay sprawled over half a square mile of alkali plain, its main Street depressing in its width, for those who were responsible for its inception had worked with a generosity born of the knowledge that they had at their immediate and unchallenged disposal the broad lands of Texas and New Mexico on which to assemble a grand total of twenty buildings, four of which were of wood. As this material was scarce, and had to be brought from where the waters of the Gulf… " (Bar-20)
Clarence E. Mulford (1883-1956) was a prolific author whose short stories and 28 novels were adapted to radio, feature film, television, and comic books, often deviating significantly from the original stories, especially in the character's traits. Many of his stories depicted Cassidy and other men of the Bar-20 ranch. But more than just writing a very popular series of Westerns, Mulford recreated an entire detailed and authentic world filled with characters drawn from his extensive library research.
Click here to get this book for FREE
° ° ° ° ° ° ° ° ° ° ° ° ° °
Rogue Force (A Troy Stark Thriller—Book #1)
by Jack Mars


(532 Reviews)
Genre: Thrillers
FREE for a limited time
From #1 bestselling and USA Today bestselling author Jack Mars, author of the critically-acclaimed Luke Stone and Agent Zero series (with over 5,000 five-star reviews), comes an explosive new, action-packed thriller series that takes readers on a wild-ride across Europe, America, and the world.
When elite Navy Seal Troy Stark is forced into retirement for his dubious respect for authority, he dreads the quiet life awaiting him with his brothers and buddies in Yonkers, New York. But the quiet doesn't last long: the NYPD needs Troy's military expertise to help find and stop a major terrorist threat to New York City. To pre-empt the attack, they need him to fly to Europe and stop it at its source — using any means necessary.
Troy finds himself partnered with an Interpol agent who is as different from him as can be, and their instant dislike is mutual. But they have an attack to stop, and only a few days to do it, and together they'll need each other as they criss-cross Europe in a high-octane cat-and-mouse chase to shut these terrorists down.
But what starts off as a straightforward mission (and an opportunity to clear his name) soon catapults Troy headfirst into a global conspiracy. These criminals are more sophisticated than they appear, and even with Troy's unparalleled military skills, he and his team find themselves constantly one stop behind. With the fate of New York City on the line, the stakes couldn't be higher.
Where will they strike? And when? And can Troy stop it before it's too late?
Click here to get this book for FREE
° ° ° ° ° ° ° ° ° ° ° ° ° °
Stars In Our Eyes: A light-hearted, small town romance (Rich In Love Book 1)
by Marion Myles


(43 Reviews)
Genre: Contemporary Fiction | Women's Fiction | Romance
FREE for a limited time
Is it true love if he doesn't even know your real name?
What happens when world-famous pop star, December Sparks, goes incognito in a small town and falls in love with Dr. Theo Goodwin?
Well. Let's just say there's lots of snarky banter and kissing and picnics and dancing under the fairy lights at the town strawberry festival. Also, some really hot adult happy times.
But all good things must come to an end. Or do they?
Now December has a decision to make… Walk away safe and keep Theo as a happy memory or risk everything for love and reveal her true identity?
Grab your copy today and find out how this story ends.
Click here to get this book for FREE
° ° ° ° ° ° ° ° ° ° ° ° ° °
Old Times in the Colonies
by Charles Carleton Coffin


(4 Reviews)
Genre: History
FREE for a limited time
"Old Times in the Colonies" is an outline of some of the principal events that transpired during the colonial period of our country, and portrays the hardships and sufferings of those who laid the foundations of a new empire. It will show how the Old World laws, habits, and customs were gradually changed; how the grand ideas of Freedom and the Rights of Man took root and flourished. It covers the period from the discovery and settlement of America to the Revolutionary War.
Click here to get this book for FREE
° ° ° ° ° ° ° ° ° ° ° ° ° °