Today I have to go grocery shopping. I know it's going to be crazy so I took a picture of Junebug to calm me down when things get crazy. I will share it with you so you can use it as well to put a smile on your face. Enjoy!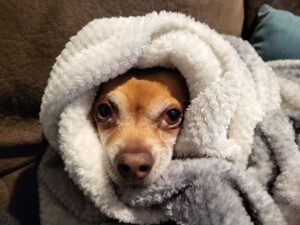 Death on Windmill Way: A Cozy Mystery (Hamptons Murder Mysteries Book 1)
by Carrie Doyle


(260 Reviews)
Genre: Mystery | Literature & Fiction
FREE for a limited time
First book in the Hamptons Murder Mysteries cozy series! Antonia's looking for some peace and quiet… too bad she moved to the Hamptons!
Featuring the quirky chef and amateur sleuth Antonia Bingham, this new mystery book is:
• Perfect for Fans of Denise Swanson and Louise Penny
• For readers of classic murder mysteries and scenic town cozy mysteries
The Hamptons are known for beautiful beaches, luxurious living, millionaire mansions, and now… murder! Antonia Bingham, a renowned chef and the new owner of East Hampton's Windmill Inn, escaped to the Hamptons to get away from a harrowing past. Yet she finds herself in more danger than ever when she learns about a curse that haunts the inn — all previous owners have died suspiciously.
When she's not cooking sumptuous meals for her guests Antonia digs into the investigation to uncover who's behind the curse. Could the culprit be a guest at the inn, or is there a killer on the road? And the closer she gets to the truth, the closer she gets to being the next victim — will she solve the case in time to save herself?
This highly anticipated new cozy mystery release is full of superb dinners, walks on the beach, and baffling clues.
Click here to get this book for FREE
° ° ° ° ° ° ° ° ° ° ° ° ° °
Amber in the Moment
by Kirk Vonnegut


(83 Reviews)
Genre: Action & Adventure
FREE for a limited time
Nominated for the Media Ecology Association's Mary Shelley Award for Outstanding Fictional Work.
SUMMARY
When unrelated thoughts burst into his mind, a Customer Service Representative finds that he has been selected as the conduit of a famous author's final novel as well as become the target of a sociopath with extraordinary means.
Nearing the end of his life, Vonnegut volunteered to participate in a secret Thought Transfer Experiment. Given his age, he believed it would help him write his final novel more quickly. The Experiment stored his thoughts in bubbles that were unable to be decoded until a much later time. Those in the future had to send the bubbles into the psyche of an unsuspecting individual who had lived within ten years of the Thought Transfer experiment. The protagonist must rise to the challenge of having his mind bombarded with Vonnegut's final novel as well as evade the grasp of a maniacal, billionaire sociopath who has selected him for termination.
Click here to get this book for FREE
° ° ° ° ° ° ° ° ° ° ° ° ° °
Devine's Mission (Marshal Devine Book 2)
by I. J. Parnham


(4 Reviews)
Genre: Westerns | Action & Adventure | Men's Adventure
FREE for a limited time
When Lachlan McKinley raided Fairmount Town's bank, the four-thousand dollar bounty that was posted on his head attracted plenty of manhunters, but everyone that went after him ended up dead.
Bounty hunter Jonathon Lynch reckoned he could do better. Lachlan was Jonathon's step-brother and his mission was personal, but when he joined the hunt he soon discovered that all was not as it seemed and Lachlan may, in fact, be innocent. Worse, U.S. Marshal Jake Devine was also after Lachlan.
Devine is more likely to destroy the peace than to keep it, and so can Jonathon bring the guilty to justice before Devine does his worst?
Click here to get this book for FREE
° ° ° ° ° ° ° ° ° ° ° ° ° °
Before the Ripcord Broke: Stories
by Charlie Close


(6 Reviews)
Genre: Humor & Satire | Literary Fiction | Short Stories
FREE for a limited time
In his new collection of short stories, Charlie Close gives us people who try, succeed, and sometimes fail to connect with others.
He gives us a poor family celebrating its first Halloween in a rich neighborhood, a waitress trying to get the attention of the silent new man in town, teachers talking about their students' crushes, a boy stuck in a car with the kid he beat up, a roadie who finally busts loose during sound check, a business consultant who assassinates her client, and a disgraced accountant who frames his wife for his own murder.
The stories are told with Charlie Close's unique insight, compassion, and biting sense of humor. They are dark, comic, sweet, ironic, and… weird.
Click here to get this book for FREE
° ° ° ° ° ° ° ° ° ° ° ° ° °
Easy Plum Cookbook: A Plum Book Filled With 50 Delicious Plum Recipes (2nd Edition)
by BookSumo Press


(135 Reviews)
Genre: Cookbooks, Food & Wine
FREE for a limited time
Cooking with Plums 101.
Come take a journey with us into the delights of easy cooking. The point of this cookbook and all our cookbooks is to exemplify the effortless nature of cooking simply.
In this book we focus on how to cook with Plums. The Easy Plum Cookbook is a complete set of simple but very unique Plum recipes. You will find that even though the recipes are simple, the tastes are quite amazing.
So will you join us in an adventure of simple cooking?
Here is a Preview of the Plum Recipes You Will Learn:
• Homemade Asian Plum Sauce
• Countryside Plum Crisp
• Potato and Plum Dumplings
• Easy Homemade Plum Cake
• Cinnamon Clove and Plum Bread
• German Plum Cake
• Fruity Plum Rolls German Style
• Plum Poblano Salsa
• Plum No Sugar Butter
• Asian Inspired Chicken
• Autumnal Warm Baked Plums
• Miami Spritzers
• Latin Orange Buttery Flan
• Zesty Sorbet With Plums and Orange
• Much, much more!
Again remember these recipes are unique so be ready to try some new things. Also remember that the style of cooking used in this cookbook is effortless. So even though the recipes will be unique and great tasting, creating them will take minimal effort!
Click here to get this book for FREE
° ° ° ° ° ° ° ° ° ° ° ° ° °