The garden has ears! Or I am just very impatient. I was just complaining last week that none of my daffodils in the front yard were popping up. I had wasted my money (three years ago)! Some horrible beast ate the bulbs! I am CURSED!!! Nope to all of those things. I was just being dramatic and impatient. Today I found a bunch peeking their little heads out. All is well. I am going to check on the rest of the garden and see what I can complain about. I think there are a few Summertime blooms that are falling behind.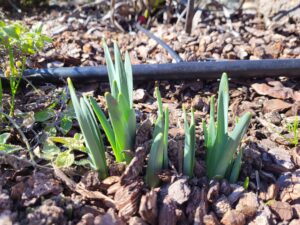 The Mine (Northwest Passage Book 1)
by John A. Heldt


(1,411 Reviews)
Genre: Romance | Historical Fiction
FREE for a limited time
In May 2000, Joel Smith is a cocky, adventurous young man who sees the world as his playground. But when the college senior, days from graduation, enters an abandoned Montana mine, he discovers the price of reckless curiosity. He emerges in May 1941 with a cell phone he can't use, money he can't spend, and little but his wits to guide his way. Stuck in the age of swing dancing and a peacetime draft, Joel begins a new life as the nation drifts toward war. With the help of his 21-year-old trailblazing grandmother and her friends, he finds his place in a world he knew only from movies and books. But when an opportunity comes to return to the present, Joel must decide whether to leave his new love in the past or choose a course that will alter their lives forever. THE MINE is a love story that follows a humbled man through a critical time in history as he adjusts to new surroundings and wrestles with the knowledge of things to come.
Click here to get this book for FREE
° ° ° ° ° ° ° ° ° ° ° ° ° °
A Long, Cool Rain (The Delaneys of Cambria Book 1)
by Linda Seed


(1,623 Reviews)
Genre: Literature & Fiction | Romance
FREE for a limited time
He's uncovered a long-held family secret. She's shocked to learn the truth — and to find herself caught between love and loyalty…
Colin Delaney's wealthy family has been a Central Coast fixture for generations. When the Delaneys are rocked by the sudden death of Colin's uncle, a shareholder in the family fortune, Colin learns something that throws all he'd thought he knew about the man into question.
Julia McCray knows that her brother, Drew, has been hiding something that's been tearing him apart. The day Colin turns up on Julia's doorstep, he reveals a secret that will throw both her world and his into turmoil. Her growing feelings for Colin are decidedly inconvenient — and will test her allegiance to her own family.
A Long, Cool Rain is the first book in the Delaneys of Cambria series. It can also be enjoyed as a stand-alone romance, with an HEA an no cliffhangers.
Click here to get this book for FREE
° ° ° ° ° ° ° ° ° ° ° ° ° °
Raccoon Racketeer (Pet Whisperer P.I. Book 7)
by Molly Fitz

(326 Reviews)
Genre: Mystery | Literature & Fiction
FREE for a limited time
Is this nosy trash panda a sleuth or a suspect?
Lately my life has seemed pretty perfect — great house, great gig as my own boss, great new boyfriend, and the world's most awesome talking cat. Turns out I shouldn't have let my guard down…
Even though my private investigation firm is brand new, I've already got some not-so-friendly competition, and it's coming from the sticky-fingered raccoon who lives under my front porch. I have no doubt he's robbing his clients since he's stealing from mine, too.
Things go from irritating to downright dangerous when he foists a little trinket from my attic, one that suggests dark secrets and spells big trouble for my beloved Nan. I need to learn more, but that's not going to be easy since the person of interest lives under the same roof.
Can I trust this raccoon racketeer with something so dear? Unfortunately, I haven't got any other options.
Click here to get this book for FREE
° ° ° ° ° ° ° ° ° ° ° ° ° °
Worthe's Village (Haunted Village Series Book 1)
by Ron Ripley, Scare Street, Emma Salam

(344 Reviews)
Genre: Religion & Spirituality | Horror
FREE for a limited time
A ghastly experiment takes a sinister turn…
Professor Abel Worthe is brilliant, wealthy, and utterly immoral. He is an expert in a very particular field: the study of fear and death. Using his vast resources, Worthe has purchased a collection of haunted houses and paranormal sites, hidden across the world. And he intends to subject a captive to each location in his collection of horror, all in the name of science.
All he needs is a test subject, a human lab rat to undergo his experiment in terror. And the target of his sinister attention is Marcus Holt. A veteran of the Vietnam War, the tough old soldier is haunted by nightmares of brutal conflict. Marcus soon finds himself kidnapped from his own home, and forced to endure a never-ending barrage of horror.
But Marcus is no stranger to fear and death. He's a fighter. And he is determined to survive long enough to find and kill his malicious captor.
Let the games begin.
Click here to get this book for FREE
° ° ° ° ° ° ° ° ° ° ° ° ° °
The Detourist: How to Get Out of Your Own Way (The Uncommon Traveler Book 2)
by Matthew Emmorey


(180 Reviews)
Genre: Self-Help | Religion & Spirituality
FREE for a limited time
The Detourist tells the tale of Apenimon, a man down but not out. When Apenimon is tempted by shortcuts to the life he longs to live, he must choose what kind of man he wants to be. Will be take the easy way, or will he walk the long way to permanence?
In the interludes between Apenimon's story, we take a look at the construction of our elegant universe. The Detourist meanders between quantum physics, the law of attraction, imagination, willpower, and scripture, tying it all together with Jesus Christ.
"I have never had more clarity on my faith than I do right now." – Mike E.
"This is a book for people who have a faith life but also love science." Bella P.
The Detourist is a Path out of competition and into cooperation, into a world that means you well. The Detourist will transform your inner state into one of greater trust, belief, exploration, play, discovery, and peace. If you are searching for evidence of a loving Creator, The Detourist will show you where to look.
The Detourist is for you if you want to:
1) Find a way to your dream life without exhausting yourself with effort
2) Feel like yourself more often
3) Magnify the relationships with your loved ones
4) Exist in a state of abundant joy
5) Be able to operate with full acceptance of your reality
6) Get out of your own way
7) Feel the glee of great purpose
8) Be effortlessly authentic
We are all on a journey like Apenimon's, with fear and uncertainty, where trust is paramount. When courage and vulnerability become vital, at the crossroads between the easy way and the Way that creates ease, will you choose the uncommon Path?
Click here to get this book for FREE
° ° ° ° ° ° ° ° ° ° ° ° ° °
The Homemade Pizza Cookbook Bible
by Mike Gandolfini


(183 Reviews)
Genre: Cookbooks, Food & Wine
FREE for a limited time
Who Else Want To Learn How To Easily Make Amazing Homemade Pizza No Matter What Kind Of Oven You Have, and With No Experience?
Pizza is no doubt the favorite food in America and in most countries throughout the world. Still, so many people find it difficult and are scared of making their own pizza at home.
Don't have the right equipment? World-class chef-level skills? Simply takes too much time?
Trust me. Making delicious homemade pizza much healthier than some of the top restaurant's pizzas is not nearly as difficult as it may sound.
And inside this cookbook, I will teach you exactly how to do it and what it actually takes to become your own homemade pizza chef.
Check out what's inside:
• What pizza style is your favorite, and what are some of the more popular options you should try?
• Must-have ingredients for each and every pizza you make
• Tips and tricks to make your pizzas more delicious, healthier, and easy to enjoy
• What are some of the optional and mandatory tools you should have? Won't cost a fortune!
• Want to bake a perfect pizza dough? Here is how!
• A massive collection of all types of pizza recipes: meat, vegetarian, sweet, traditional, spicy, etc.
• Common questions you should know the answers to if you want to make pizza right each time
• Beautiful pictures and step-by-step easy to follow instructions next to each recipe
• So much more!
So, if you want to bake a perfect pizza each time and surprise your family with some of the most amazing homemade flavors, look no further.
Click here to get this book for FREE
° ° ° ° ° ° ° ° ° ° ° ° ° °
The Dead Worlds: Set in The Human Chronicles Universe (The Adam Cain Saga Book 1)
by T.R. Harris


(165 Reviews)
Genre: Science Fiction | Fantasy
FREE for a limited time
Deadwood… meets Star Wars!
Blamed for a theft he didn't commit… Pursued by some of the most dangerous creatures in the galaxy…
Adam Cain is BACK… and ready for more alien ass-kicking!
International bestselling science fiction author T.R. Harris introduces the first book in his new space opera series set in the universe of The Human Chronicles, a thrilling tale of Human Superiority in the galaxy and the unfortunate aliens who get in our way.
You've heard of him. He's Adam Cain, The Alien with an Attitude.
Now he's back… in a series of new adventures as a badass Human showing the galaxy who's the boss.
Accompanied by his buddies Riyad Tarazi and Sherri Valentine, Adam is struggling to make ends meet on a distant tropical world running Capt.Cain's Bar & Grill. The problem: They picked the worst place in the galaxy to run a legitimate business… smack dab in the middle of lawless Dead Zone. Comprised of a hundred dead worlds left in the wake of one of Adam's old enemies–Kracion–The Zone is a gold-rush-like region of salvagers, pirates and scoundrels, all looking for their piece of the action. And in the center of all this activity is the oasis planet of Liave-3, the home of Capt. Cain's.
In The Dead Worlds: After a supply of prototype super weapons goes missing from one of the dead worlds, suspicion falls on Adam and his friends as the thieves. Our heroes find themselves being hunted, kidnapped and otherwise abused… until they say enough is enough. That's when the aliens learn the galaxy's most important lesson: You don't mess with the Humans!
The Adam Cain Saga takes Adam and his friends back their basic raw talents, as supermen among the aliens of the galaxy. Set in the familiar universe of The Human Chronicles, this new series rediscovers the wonder and excitement of the earlier books, when it was just Human vs. Alien.It also retains all the humor,witty banter and gritty realism of the first series.
So, if you've never experienced an Adam Cain adventures before, this is a great place to start. And for existing fans, you'll find all of the elements you loved in The Human Chronicles… and more!
Click here to get this book for FREE
° ° ° ° ° ° ° ° ° ° ° ° ° °